St. Louis Blues Must Call Alex Ovechkin Their Daddy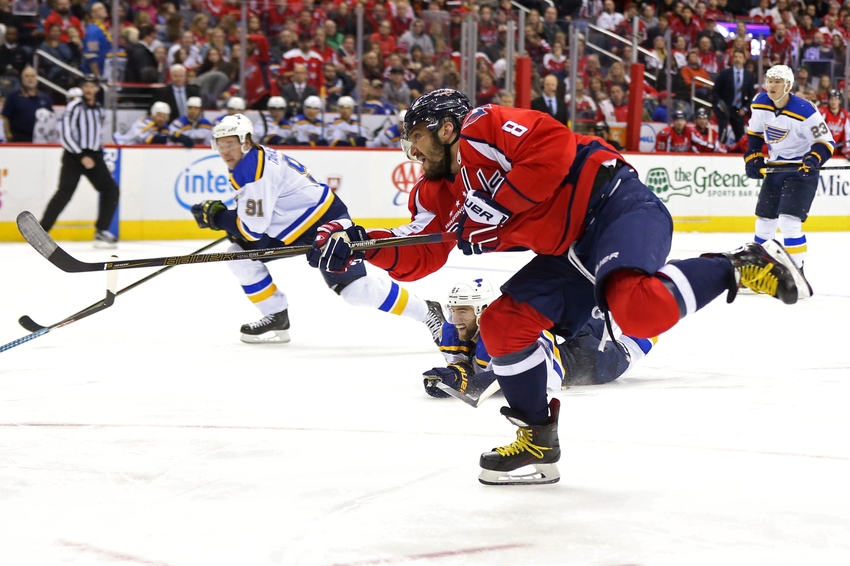 The St. Louis Blues were playing the second game of a back-to-back against Washington. That doesn't fully explain the team being owned by Alex Ovechkin.
The St. Louis Blues came into Washington riding high. They were on a four game winning streak, had been scoring with regularity and playing a solid brand of hockey.
That all disappeared for the majority of the game against the Capitals. The Blues fell by the final score of 4-3, but it was never even that close.
The Blues all but lost the game to Alex Ovechkin by himself. The man called Ovi had three goals by himself and the Blues could only muster three as a team.
Ovechkin opened the scoring with his patented shot from the left circle. Interestingly, it was not a blistering slap shot that did the Blues in, but a slick wrister.
Ovechkin made up for that with his second goal. After blasting one wide, the Blues bizarrely left him unmarked and allowed him to do it again.
The third goal was just a pure individual effort.
The only thing that could have been done there would be to attack Ovechkin. Jay Bouwmeester did what you do in those situations by taking away the pass.
You have to know that Ovechkin is not going to dish it there and attempt to knock the puck off the stick. Easily said by someone tapping away at a keyboard though.
On the positive side, the Blues played poorly in just about every aspect. Despite that, they almost found a way back into the game.
They only had two shots in the first period and took way too many dumb penalties again. Though they left it way too late in the contest, they still found a way to summon a little spark and push right until the end.
The Blues were not done any favors by the schedule makers. Clearly you have to get these games played and much depends on building availability.
Still, you could tell the Blues were gassed. It was their fifth game in nine days and after getting bruised by Boston, the Blues did not have the legs to keep up with the Capitals for a full 60 minutes.
As fans, we want that top effort game in and out. Reality is the body just won't do what the mind wants some nights. This seemed to be one of those nights.
For whatever reason, the game was taken over by the Russians though and that made for an interesting side note. Of the seven goals scored in total, six were scored by Russian born players.
Ovechkin obviously had the hat trick. Vladimir Tarasenko scored twice in an attempt to match his buddy and Evgeny Kuznetzov chipped in as well.
Watching the goals put in during this game, it is a wonder why the Russian national team does not perform better in international tournaments. That is a different argument for a different day.
Focusing on the Blues, they just didn't play well enough for long enough to deserve anything from this game. The disappointing thing is Carter Hutton played quite well.
Carter Hutton with a great extension to rob Burakovsky with the left pad. #stlblues pic.twitter.com/9ccNsNp9Tu

— Cristiano Simonetta (@CMS_74_) November 24, 2016
There was just no stopping #8 on this night.  To borrow a phrase made famous by Pedro Martinez, all the Blues can do is tip their cap to Ovechkin and call him their daddy. The guy has hat tricks in the last two games played against St. Louis after all.
At that rate, if the Blues and Caps were in the same division, Ovechkin might give Gretzky's record a run for its money.
St. Louis is going to be disappointed coming home and the turkey might not taste as good. The Blues still have plenty to improve on.
The penalties they are taking are just mind boggling sometimes. This team just can't keep taking the kinds of penalties they are.
We keep saying that and they keep doing it though. Might be best to get used to it.
The Blues still hung in there and if they could have done something about any one of those goals, maybe the Blues get a point. You can't be too mad at a team getting beat by one of the best in the league though.
They need to just enjoy their Thanksgiving holiday, load up on some good food and move on. Come into Saturday's game with a fresh mind and start a new streak.
Maybe guard the opponent's best player a little tighter too. Just a thought.
More from Bleedin' Blue
This article originally appeared on