St. Louis Blues Morning Links: Year To End Curses?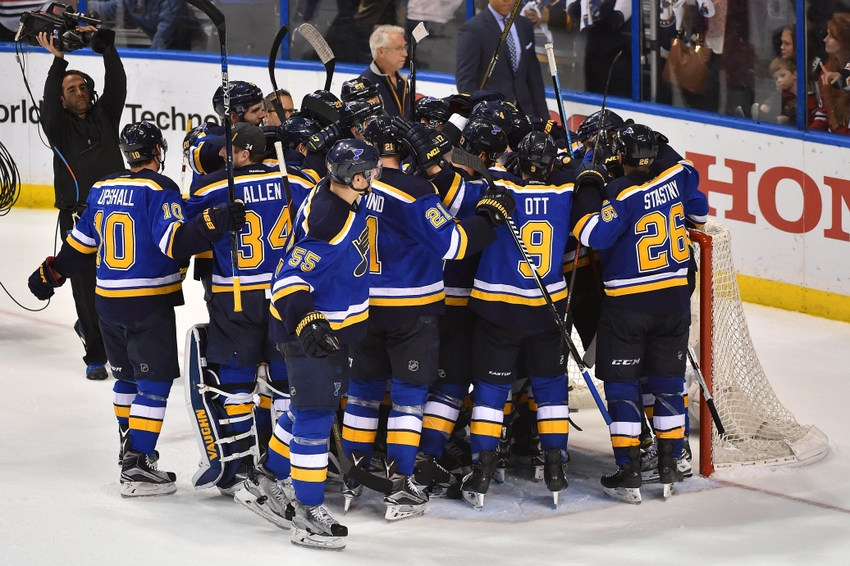 Good morning Blues fans! Well, it is officially hockey season for the entire city as the haters can finally turn their focus away from the diamond and focus their energy more positively on the ice.
The St. Louis Blues are focused on the Dallas Stars right now. As fans, it is hard not to take hope (even as St. Louis fans) from the Chicago Cubs winning a championship.
St. Louis fans almost never cheer for anything Chicago related and that is their right. The feeling is usually mutual, with exceptions here and there – usually due to family or friends.
However, the Blues have been labeled the Chicago Cubs of hockey due to their habit of finding ways to screw it up instead of winning. Now, we are all hoping that moniker might stick around come the summer, because that will mean the Blues are champions.
That's a bit of a stretch right now seeing as the Blues aren't as deep as they were last season, they are struggling to score and have injury problems again. As fans, you can't help but wonder.
This has been an odd year in sports. Cleveland ended it's drought when the Cavaliers won the NBA Title. Those that follow English football know that Leicester City – a team playing in the second division a few years ago – won the English Premier League. Now the Cubs have ended things.
Surely it's the Blues turn. Right?
As a guy in my 30's, I haven't experienced all the hurt and none of us come close to Cubs fans. Still, we've all been waiting for it.
Maybe the stars have aligned to bring an end to the pain. Time will tell.
Here are your St. Louis Blues Morning Links to get your day started right.
The injury problems are hitting the Blues again. They aren't as bad off as Dallas, but they are having to make roster moves. With Bortuzzo on IR and Alex Pietrangelo a gametime decision, the Blues had to bring up some fresh legs from the Wolves. (Arch Authority)
In case you missed it, we updated our picks for potential roster picks for the Winter Classic Alumni Game.  (Bleedin' Blue)
The Blues are playing the Stars tonight.  Dallas is going through a lot more woe than St. Louis, but they are like a cornered animal waiting to strike with their offense.  The Stars didn't start their week off very well, which makes tonight's game even more important for both.  (Blackout Dallas)
St. Louis is trying to find their own offense in Dallas.  The Stars have struggled to keep pucks out, so we are all hoping that might be the cure.  Still, it's going to be nervy because there have been several changes to lineup.  (STLToday)
Want your voice heard? Join the Bleedin' Blue team!
Jon Cooper of the Tampa Bay Lightning began his rise to the NHL with the St. Louis Bandits of the NAHL.  While he has almost reached the mountain top, he gains inspiration from a 17 year old in Florida.  (NHL)
Mike "Doc" Emrick is an inspiration to many broadcasters, myself included.  He had to find his own 25 years ago as he had his own battle with cancer.  Now he takes every day as a blessing.  (NHL)
The trade deadline is far away, but the Penguins got the deals going early.  Thinning out their goaltending ranks, they dealt Mike Condon to Ottawa.  (ESPN)
Have a great day Blues fans!  Keep the faith.  Our time will come.
This article originally appeared on