St. Louis Blues Morning Links: We're Gonna Need A Bigger Boat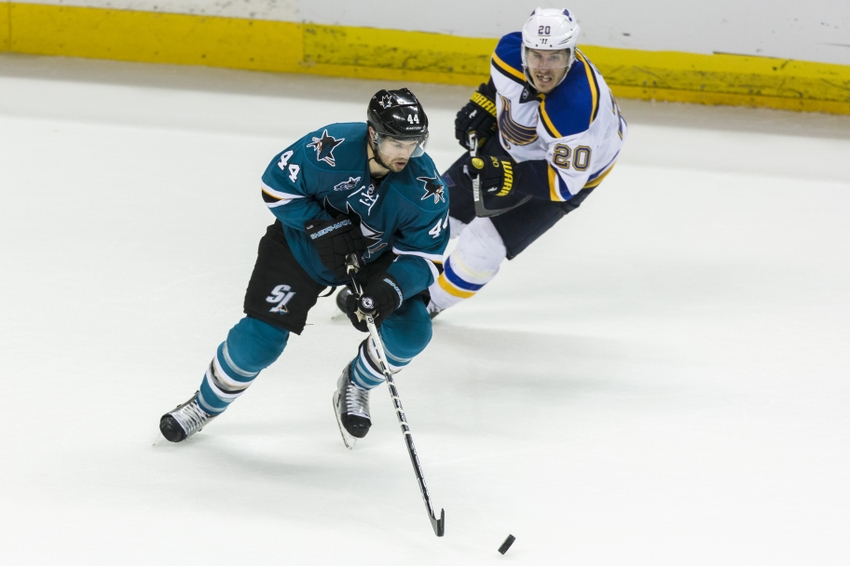 Good morning Blues fans! Another gameday upon us and tonight we welcome in some little fishies with some large egos.
The St. Louis Blues have their second game of a three game homestand tonight. They won the first with a decent bounce-back game against Buffalo.
Even though the score of 4-1 says otherwise, there was still some lingering things from the bad losses the previous week. Now, it's up to the Blues to iron those out and attempt beginning a winning streak.
San Jose comes to St. Louis for the first time this season and thus the first time since they beat the Blues in the conference finals. It will be an interesting battle of wills.
I say interesting because it is interesting how similar these two teams are this season, though from differing points of view.
Both teams are not at all where they want to be and haven't played to expectations. Though both are currently in third in their divisions, they haven't felt all that great about their play so far.
The Sharks are struggling to score goals, but defending fairly well. Even so, their goal difference is not what they would like at only +1.
The Blues are actually scoring reasonably well compared to the rest of the conference, save Chicago and Winnipeg. The Blues just can't keep goals out right now.
The odd thing is that is happening across the conference. If the playoffs started today, there would be two teams in that have scored fewer than they have allowed.
So, circling back to the game, you have a battle of teams trying to right the ship on the fly. The Blues are trying to keep goal totals against low with a goaltender looking for things to go right and a defense that can't not pass to the other team. The Sharks have a solid goaltender and defense, but aren't scoring as much as they'd like even with some big names up front.
The Blues are 4-4-2 in their last ten, but won their last. The Sharks are 6-4-0 in that same period but lost their last game 1-0 to Carolina.
So, what wins out? The Blues can make it a winning streak for them and a losing one for San Jose or the Sharks can stop both "streaks" at one game. Here's hoping for the former.
Here are your St. Louis Blues Morning Links to get your day started off right.
In case you missed it, we posted a piece yesterday about St. Louis' Winter Classic. It is an honor to host such an event, but it always feels like the city has to play second fiddle and that is happening with the league's showcase event. (Bleedin' Blue)
Going with the theme of the two teams being similar, the Blues are not the only one with roster issues.  St. Louis has had a revolving door of healthy scratches, sometimes making fans scratch their head.  The Sharks are in a similar boat due to their own depth.  (Blades of Teal)
The fact that the Sharks ended the Blues season is not lost on the players nor is it forgotten.  This year is a new season, but that never means players wouldn't get a little extra satisfaction by beating San Jose this time around.  (STLToday)
In a story involving the St. Louis Blues in a roundabout way, the league is considering changing the way shootouts take place.  In an item brought up by Doug Armstrong, we could see the repeating TJ Oshie option in the shootout.  (TSN)
There is a continuous stream of stories still discussing the likelihood of Kevin Shattenkirk getting traded.  The ones containing any suitors or potential return are much slimmer, if they exist at all.  With that in mind, our friends at Puck Prose put together a list of trades that might actually happen (not including Shattenkirk) and who might go where.  (Puck Prose)
Want your voice heard? Join the Bleedin' Blue team!
Speaking of Shattenkirk, many fans probably still wish the Blues had pulled the trigger on a trade with Edmonton earlier this summer.  Now, it looks like they may have dodged a bullet as Taylor Hall will be out around a month with a knee tear.  (ESPN)
With so much season left, most of us don't want to even ponder missing the playoffs, much less being in a spot to land the number one draft pick.  It never hurts to keep options open.  Although using the word hurt is apropos since the projected top pick is injured.  (NHL)
Have a great day Blues fans!
This article originally appeared on