St. Louis Blues Morning Links: The Search For Answers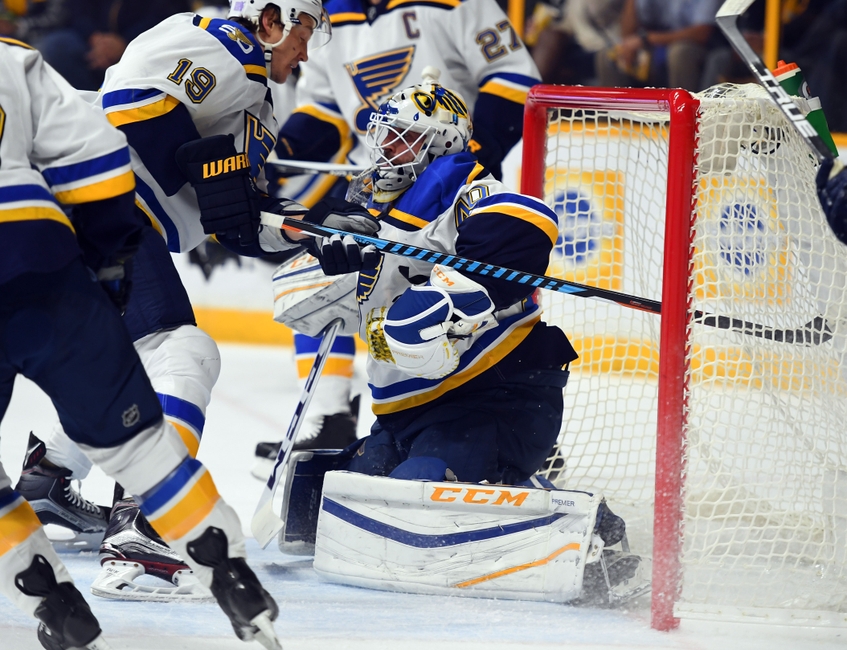 Good morning Blues fans! We are all still stinging after that terrible loss to Columbus over the weekend and on the hunt for answers.
The St. Louis Blues have left us all looking to the heavens, scratching our heads and much worse with their recent play. Now, they are on the search for answers because it seems like even know-it-all fans like you or me are out of them.
The Blues are bleeding goals like the victim in an 80's horror movie. There doesn't seem to be a way to stop it and that's a frightening fact.
Coming into this season, we were all wondering where goals would come from. Nobody imagined the defense would be this bad since nobody was lost on the blue line.
Haters and detractors will say the Blues should have kept a certain goaltender or lay too much blame on Jake Allen. Allen has not been as good as he should be on a regular basis, but to blame him for this slide is way too shortsighted.
Now, the Blues are in a chicken and the egg scenario. Is the team losing because they cannot score or because they are allowing too many?
Both of the above statements are true, but would the defense make less mistakes if they had more support? Or would the offense be more inclined to fly forward with gusto if they weren't worried about making up for defensive lapses?
Only the team can figure that out at the moment. In typical Blues fashion, they are saying all the right things.
The players are striking the right chords. We have heard that sort of talk before though and it usually is not followed by a completely different tone.
In theory it should get easier for the Blues. They have Buffalo up next and they are currently third from last in the Eastern Conference.
The problem with that thinking? They are only three points behind the Blues in the point total category, so it isn't like they are performing so much worse.
They are negative-eight in the goal difference. Sadly, the Blues are worse at -10.
St. Louis needs to get something going in a positive direction. It would be nice to have another five goal output like Colorado, but at this point another 1-0 win like the one over LA looks just fine.
Here are your St. Louis Blues Morning Links to get your day started off right.
The St. Louis Blues are toying with Ty Rattie in some sort of cruel game of yo-yo. The guy has not shown his best in the very few chances he has gotten this season, but with all the poor play we've seen, what would the difference be? He went down to Chicago for conditioning, but if he isn't going to play with the Blues, what's the point of bringing him back up? (Arch Authority)
In case you missed it, the striking the right chords I was discussing was the post game comments of guys like Kevin Shattenkirk and Paul Stastny.  The piece served as a game wrap up, but Tom Timmerman's article shined a light on what the locker room feels (or at least are willing to share)  (STLToday)
The Blues have been hit by injuries this season, but they can't really be blamed for their woes overall.  Their next opponent, Buffalo, has not fared much better in the IR department as some of their big name players are battered and bruised. (Sabre Noise)
With the Blues making a roster move, that opened up some space for the Chicago Wolves.  As they are in as much a search for the right combinations as their parent club, they looked to their affiliate, Tulsa, for some answers.  (Wolves)
Want your voice heard? Join the Bleedin' Blue team!
It is much better for his development for him to get exposure in college.  The way the Blues are playing, they could use Tage Thompson in the lineup.  At least he is finding ways to score.  He recently helped his team take on a nationally ranked opponent from the Big10.  (Boston Globe)
Since the trips that deep in the playoffs have been rare in my lifetime, I would not trade a Western Conference Finals.  That said, you almost wonder if the Blues should have tanked.  There are some special looking players that are performing at an incredible level as rookies. (NHL)
This article originally appeared on