St. Louis Blues Morning Links: Taming The Predators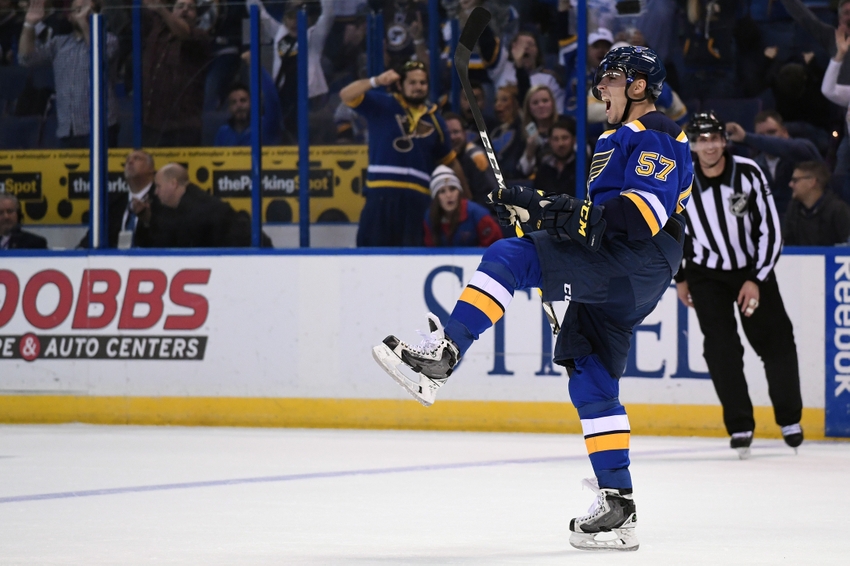 Good morning Blues fans! The Note took down the Predators by the exact same score they lost by in Nashville just last week.
The St. Louis Blues have an uncanny knack of making of think the world is ending and then saying "nah, it's all good" in the next breath this season. The team has definitely ended this week on the latter part with a good win over Nashville.
The Blues ended up beating the Preds by the score of 3-1. They got goals from David Perron, Kyle Brodziak and Vladimir Tarasenko.
It would have been nice to get a fourth goal since the team had an empty net at the opposite end. There always seems to be some sort of hex on the Blues when they have a empty nets opposing them.
Nevertheless, it was an important win. The Blues extended some streaks and also beat a divisional opponent.
The Blues have now tied their longest winning streak of the season at three games. It might not sound all that impressive, but like in baseball, if you string some of those together, it adds up.
On a much less important note, the Blues also improved their Saturday record as well. By improving to 8-1-2 on home ice, the Blues moved to 5-1 on Saturday games.
So, if we can just have more home games on Saturdays, we will be set. Someone get on the horn and let the NHL know we're going forward with this plan.
Perhaps just as important as the winning was Jake Allen's play. Allen turned aside 30 of 31 shots and began to look like his former calm self we saw before the Blues defense was imploding on him and he expected everything to go wrong.
The Snake made some key saves throughout and also made a big play that spurred the Tarasenko goal. Those are the kind of moments you need from your goalie.
The Blues still took penalties, but they finally kept it under five. Go-figure, they allowed a powerplay goal though, which won't help their percentage but who cares.
They won and that's the main thing.
Here are your St. Louis Blues Morning Links to get your day started off right.
A bit of house keeping. A technical glitch, aka me being stupid, was responsible for there not being a links post yesterday morning. It did get posted eventually though for any that were wondering.
The Blues' fourth line is becoming a regular contributor on the scoresheet instead of just in those behind the scenes ways. They were a big key in the recent homestand and also the win over Nashville. (Post-Dispatch)
Mum was the word when it came to Ken Hitchcock's job security when the team was struggling a brief time ago.  Now, Doug Armstrong says there was no danger of letting Hitch go and the team knew there would be days like this, so to speak.  (STLToday)
The Blues aren't the only ones that have had defensive struggles when nobody thought they would.  When the Predators picked up PK Subban, it was said to be a win-win scenario.  There are some drawbacks to his game and the kind their entire backline play though.  (Predlines)
For those that missed yesterday's links, the chatter about a Shattenkirk trade never really went away.  There simply was no buzz about any partners or names in return.  That's trending the other way now and, as usual, the thought is to look east.  (STLToday)
We all knew he would be able to score in college.  Tage Thompson's transition to the pros is still more of a question mark.  That said, he's doing what is asked of him given the competition he is facing at UConn.  (Hockey Writers)
Though he scored a goal, the Chicago Wolves did not perform well as a team in Jordan Schmaltz' return to the ice on Friday.  Saturday proved a little better in terms of team play.  (Wolves)
Want your voice heard? Join the Bleedin' Blue team!
Speaking of the AHL, there was a scary incident that happened in Tuscon.  The captain of the Roadrunners collapsed prior to a game that was postponed until a later date and had to be taken to the hospital.  (ESPN)
At the rate he had been producing, there were not many firsts left for Connor McDavid.  Check one more off that list as he netted a hat-trick for the first time.  (NHL)
This article originally appeared on