St. Louis Blues Morning Links: Smile You Son Of A…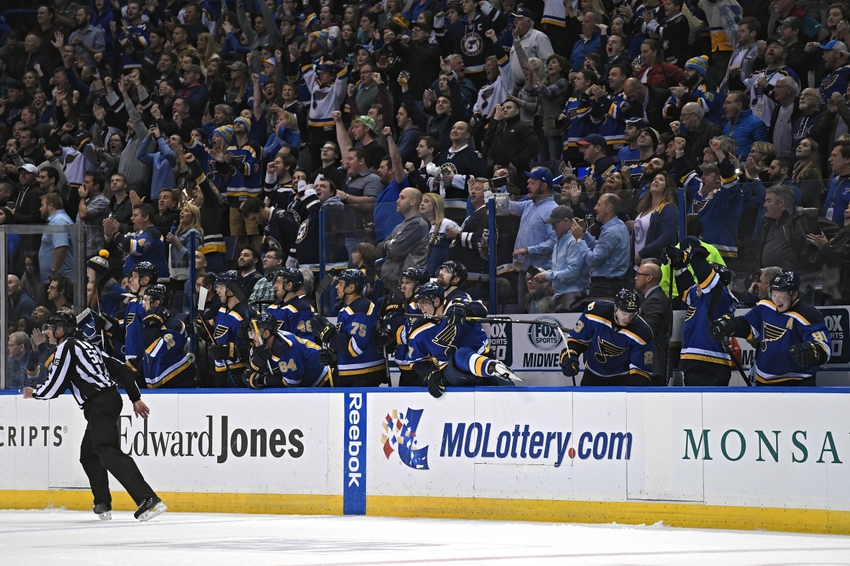 Good morning Blues fans! Last night we all got to feast on the delicacy known as shark fin soup without all that other stuff like having a bad conscious or PETA throwing paint at you. Good times.
My apologies for the constant Jaws references with the titles, but get used to it. The St. Louis Blues play the San Jose Sharks two more times and it's probably going to happen again.
It's less annoying and more fun after a win. That's for sure.
Ah, I do love my gifs. Don't judge me.
Anyway, the Blues managed to pull off a win despite the same old problems creeping up. Perhaps that means they have turned a corner.
Perhaps it means they were lucky. Either way, we'll take the two points as they have lost too many points in situations where they should not have so far this year.
The Blues didn't play a spotless game. They were on the penalty kill six times.
Those things happen over the course of a year. They're averaging about five per game recently though and that is not something to be proud of.
It does not matter how good your penalty kill is. Either you'll wear out those players or you'll never get enough opportunity for your skill players since they're on the bench. That's not a good thing especially for a team struggling to score anyway.
Still, despite all our whining and demands that things change, the Blues aren't that bad off. They're currently in second in the division and right on par with what everyone else in the conference, except Chicago, is doing so far.
We all see the Blues so much that we don't see the forest through the trees. In actuality, the rest of the teams are either struggling to score, struggling to defend or a combination.
The test will be who figures it out first. Hopefully it is the Blues and they can solidify a comfortable, secure playoff spot.
For now, they just need to focus on themselves and Nashville. Let's all drink to that.
Here are your St. Louis Blues Morning Links to start your day off right.
The Blues were without Alexander Steen last night. We're all told it's not significant but we all know how much water that statement tends to hold. On the bright side, Dmitrij Jaskin filled in and seems to be gaining confidence with all the ice time he's been receiving lately. (STLToday)
Last night's win served a two-fold purpose.  It helped ease some of the bad taste left over from the Western Conference Finals.  It also showed that the Blues have learned some of the lessons given from the recent blow out losses.  (Post-Dispatch)
As good as the Blues penalty kill has been, there is always a different way to view it.  From the Sharks point of view, they are wondering what is going on with their powerplay since it has so many big name performers on it.  (Fear the Fin)
The Blues aren't the only team that has struggled with injuries.  In fact, it seems to be a league wide epidemic.  We talked about Taylor Hall going down in yesterday's links.  Now, the Tampa Bay Lightning lost their big gun.  (ESPN)
Want your voice heard? Join the Bleedin' Blue team!
When you're potentially the greatest player of all time, there are not many things you have not done.  When you're one of the longest running shows of all time, there aren't many things you have not done yet either.  Wayne Gretzky and The Simpsons will both have a first on December 11.  (NHL)
Have a great day Blues fans!
This article originally appeared on