St. Louis Blues Morning Links: Missed Opportunities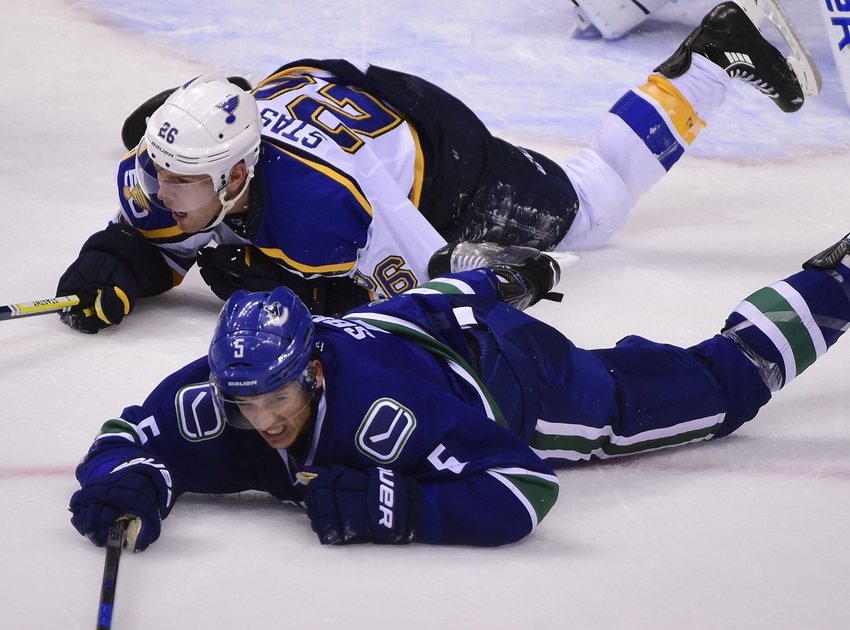 Good morning Blues fans! It's our first taste of defeat of the 2016-17 season. While it doesn't sting terribly, it left a rather sour taste.
Well the day we all knew would come came a little faster than we had hoped. The St. Louis Blues lost their first game of the season in overtime to the Vancouver Canucks.
The sad part of the game, which I pointed out last night, was that even though the stats leaned the Canucks way, the Blues should have won. Even playing as poorly as they did at times, the Blues were still the better team.
It is their own fault for not showing it more thoroughly and consistently. Vancouver did enough to hang in the game, as they have in all three of their wins this year, but the Blues should have found a way to shut the door before that.
Yes, St. Louis is dealing with some key injuries at a very early stage in the season. They had little practice time with their current lineup and things may stay in limbo with players being day-to-day.
Still, the Blues just did not get the job done. It was a missed opportunity.
St. Louis could have started a season 4-0-0 for only the second time. They could have really given themselves a nice cushion atop the division as other teams are getting warmed up.
Instead, they had to settle for a point. A point is better than nothing, but it feels like a point dropped as opposed to one gained, even though the team had a less than stellar game overall.
Now, it's on to Edmonton where the Oilers offense is clearly cooking with grease. St. Louis will be tested as to how good they are defensively with the invigorated Oilers flying around and being energized in their new building.
Here are your Blues morning links to get your day started right
Blues fans might have been sour after last night's game, but in Vancouver they're starting to like this come from behind thing.  Here's the viewpoint from way out west. (Vancouver Sun)
In case you missed it while stewing over the Blues' lackluster play, there was an interesting story going on in net with Vancouver. Ryan Miller pulled out of the game due to stiffness, so the Canucks turned to a 23 year old college goaltender to fill in as their backup for the night. (CBC)
There are obvious connections between Vladimir Tarasenko and Brett Hull as scorers.  The Blues' coach says the two greats are similar in a way most people don't realize though.  (STLToday)
The Blues' AHL affiliate, the Chicago Wolves, got off to a less than stellar start.  They lost both games in a home-and-home with Grand Rapids.  They are looking to get going more this week (Wolves)
The first power rankings of the year came out before the Blues loss.  In an interesting bit of coincidence, the Blues and their next opponent, Edmonton, are prominently featured.  (Fansided)
Want your voice heard? Join the Bleedin' Blue team!
The Chicago area is definitely stinging about their beloved baseball team.  Marian Hossa gave them something to cheer about though, as he hit the 500 goal milestone at home.  (BlackhawkUp)
In a story that got buried, apparently the Stanley Cup champions were up for sale.  They are no longer, but that's a bit of a shocker.  (ESPN)
Have a great day Blues fans.  Let's hope for better luck and play in Edmonton.
This article originally appeared on