St. Louis Blues Morning Links: Flames Cooled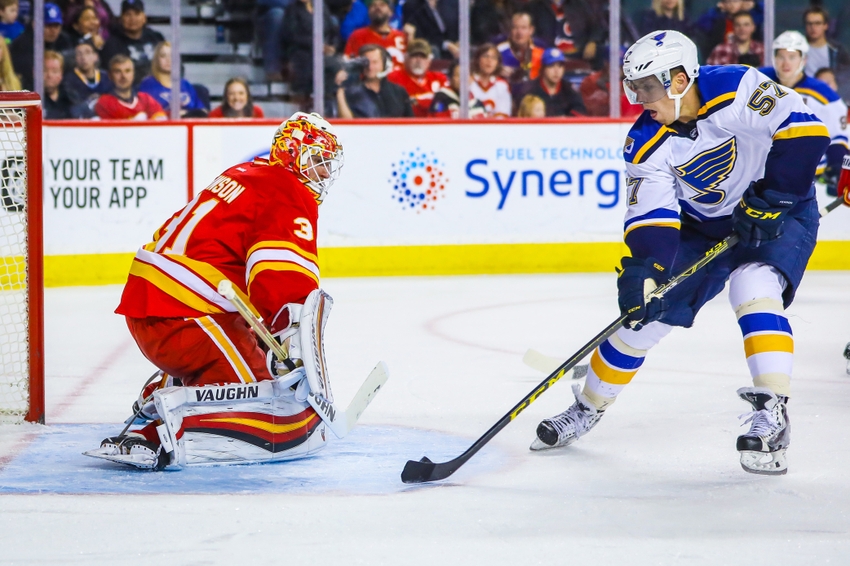 Good morning Blues fans! It's always nicer to wake up after wins, even when they come late in the evening.
Before we get into the normal stuff, I wanted to acknowledge a few very dedicated and loyal St. Louis Blues fans.  They traveled from St. Louis to both cheer on their team and also some former players.
It's good to see people sticking by players who gave their all for the Blues.  If I'm honest, I'm not always that way since I'm loyal to the team itself to a fault, but I admire people who do follow guys after they are gone.
The couple made a sign and everything.  Players are usually very focused, but I hope either Elliott or Brouwer at least gave them a nod.
As far as the game, the St. Louis Blues salvaged their western Canadian road trip with a win in Calgary last night. Thanks to the heroics of David Perron, the Blues finished their trip 1-1-1.
The problem over the entire slate of road games was the Blues should have won all of them. They outplayed all three teams, though Edmonton put up the most fight.
Still, their own mistakes ended up costing them far to much. Over the course of the season to date that seems to be the biggest problem. The opponents are doing a good job of taking advantage, but the Blues put their opponents in those positions to begin with.
That can be seen two ways. One, the Blues may well get in their own way all year and cost themselves down the road. Or, two, if the Blues are their only enemy right now then that can be fixed and St. Louis should be in for good things this year.
The reality is probably somewhere in the middle, as usual. However, it's both frustrating and uplifting to know we have not seen this team completely click on all cylinders yet.
What is good to see is the guys getting rewarded who are putting in the work. Nail Yakupov has four points in six games after a beautiful play set up a goal last night. Of course we all know about Perron's triple twine tickler.
Those are two guys that were big question marks coming into 2016-17. Nobody is expecting gigantic numbers, but if they keep playing as hard and as smart as they have been, the results will speak for themselves.
Here are your St. Louis Blues Morning Links to get your day started right.
In case you want to relive any of the goals or check up on who assisted on what, the NHL has got you covered. Video highlights as well as the box score are all available. (NHL)
Perron was ecstatic after last night's performance.  One is definitely going to his son, but Perron has a lot of pucks to figure out what to do with now.  (Instagram)
Speaking of Perron, he was the man of the moment for the media after the game.  Jaden Schwartz also discussed his second game back from injury.  (Blues)
Following some strong additions and a fantastic draft, the Flames were expected to do well this season.  It has not gone according to plan and Ramina Shlah looks at why (Flame for Thought)
As Blues fans we know what it is like to lose your starting and backup goaltenders.  Therefore, we aren't going to shed any tears for the LA Kings.  Still, it stings to lose Quick and now Zatkoff to similar injuries that can be difficult for goalies to return from.  (ESPN)
Want your voice heard? Join the Bleedin' Blue team!
The Winnipeg Jets and Edmonton Oilers are playing in an outdoor game known in Canada as the Heritage Classic.  Those of us without the NHL Network will not be able to see it.  Still, there are several interesting facts and figures about the game (NHL)
The Heritage Classic also added its own alumni game.  With so many huge names on the Oilers, the result was not what you would have expected.  (Yahoo Sports)
Have a great Blues fans!  Enjoy your Sunday.
This article originally appeared on