St. Louis Blues Morning Links: Blues Bottle Lightning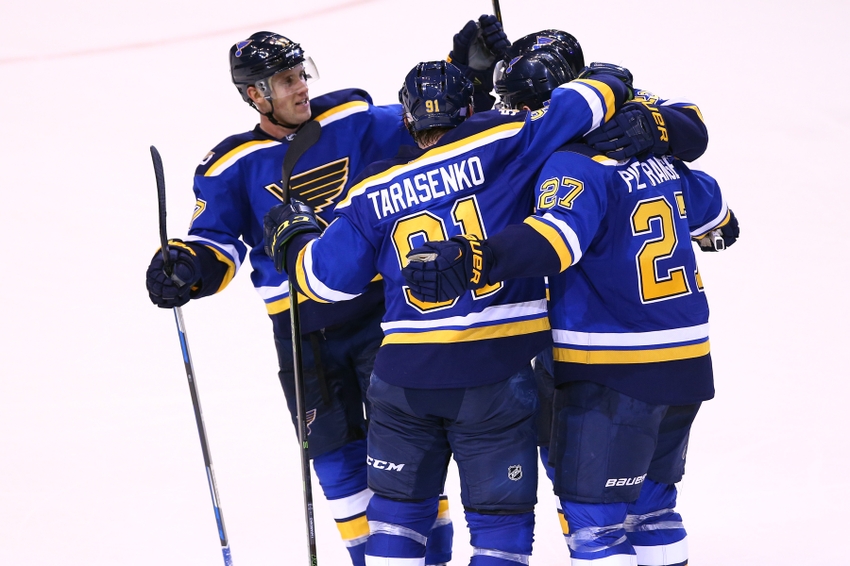 Good morning Blues fans! The St. Louis Blues bottled up the Tampa Bay Lightning last night, though the defensive showing by both teams was not what anyone would expect.
The St. Louis Blues got off to a fantastic start last night. Before everyone was in their seats, the Blues were already up by two goals over the Tampa Bay Lightning.
From then on out, it wasn't quite as pleasant. For those that love offensive hockey there was plenty to like.
A total of nine goals were scored as the Blues won by a final of 5-4. The bad thing was the Blues were up by two goals three times and could not make it easy on themselves.
Fortunately, the team got some fantastic performances from their top line. Alexander Steen returned and returned to his status of the team's overall best player.
Vladimir Tarasenko had three goals to lead the team. Kevin Shattenkirk had two goals and a four points.
Tarasenko's last goal wasn't exactly his best, but he'll take it. It was a good reward for his efforts all game long.
Tarasenko's other goals were more what we've come to expect from him. It was good to see the goals come so freely after he'd been out in the cold for a few games not long ago.
The Blues defense wasn't terrible, but they won't be pleased with their overall effort. Anytime you give up four goals, you can't have done everything right.
The one thing the defense does need to do a better job is finding ways to let Jake Allen see more. Whether you think he's played well or not, there are so many goals that the Snake doesn't even see, it's not funny.
The rules prohibit just knocking guys out from the top of the crease, but you still need to create some lanes. The defenders are doing a good enough job of screening their own goaltender themselves.
Still, there is only so much complaining we can do. The Blues have won their last six at home, have points in their last 11 at home and are riding a three game win streak overall.
Here are your St. Louis Blues Morning Links to get your day started off right
Jori Lehtera's production has gone down over the last few seasons.  He had better find a way to turn it back up if he wants to stick in the lineup, because he is no longer attached at the hip to Tarasenko.  Right now, he is looking like a disappointment.  (St. Louis Gametime)
Speaking of Lehtera being separated from Tarasenko, the beneficiary was Alex Steen.  He is now the top center on a line with 91 and Robby Fabbri.  Though he looked good, he says he still has plenty to learn.  (STLToday)
Many were quite shocked when the Nashville Predators traded Shea Weber to the Montreal Canadiens for PK Subban. The Predators may win the deal in the long run to to having the younger player, but in the short term, the Canadiens look like the winners since Weber is an early candidate for best defenseman. (NHL)
Want your voice heard? Join the Bleedin' Blue team!
Stop the presses, there is no need to vote for the All-Star teams.  They have been chosen.  That's a joke, but the rosters have been guessed at by a vote of several NHL staffers.  (NHL)
Have a great day Blues fans!
This article originally appeared on