St. Louis Blues Morning Links: A Little Sabre Rattling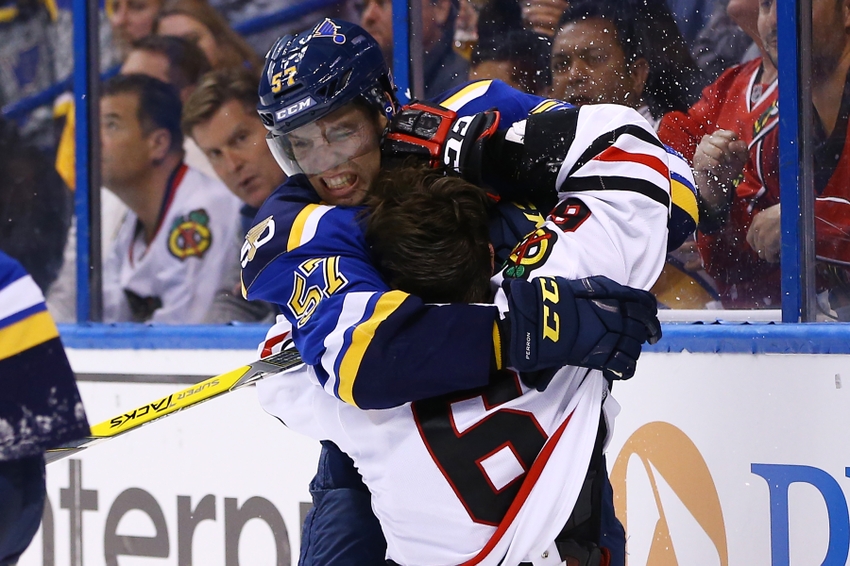 Good morning Blues fans! It is gameday again but that brings mixed feelings given how things have panned out in recent games, but hope springs eternal.
The St. Louis Blues are getting ready to open a three-game homestand tonight with a game against the Buffalo Sabres. Usually gamedays bring excitement, but the way the team has been playing lately, it only brings trepidation.
The Blues are floundering right now and even the players are starting to openly discuss it. Whether it is locker room rhetoric or genuine feelings, there is talk of guys not playing for everyone in the room.
It was not said in a sense of blame or trying to point the finger at one person or another. It was more a general sense of players not playing as a team.
Even that is not exactly filling anyone outside the locker room with confidence. A squad of individuals, even if you had All-Star talent on all nine forward spots, isn't going to perform as good as a well-oiled team.
So, the Blues are left looking for answers. Unfortunately, they don't have a peg to hang their hat on.
The goaltending is not to blame for this slide, but it has not always been part of the solution. The defense is allowing way too many goals for any offense to keep up with. The offense has not scored with any regularity to make the defense believe they could do anything but pitch shutouts the entire time.
Will Bufflo coming to town ease any tension? History tells us yes.
The Blues have not lost to the Sabres at the Scottrade Center since 2010. Before that, the last L came in an overtime loss in 1999.
The Blues have won over 67% of their home games in their history against Buffalo. Unfortunately, the team has done nothing to give us confidence lately.
Even though they are better off in the standings than Buffalo, the Blues have a worse goal difference. St. Louis has scored more, but have allowed more as well.
So, we are left with little to rely on for prognosticating the game. We can only wait and hope the Blues we want to see will show up instead of the ones we have been seeing.
Here are your St. Louis Blues Morning Links to get your day started off right.
Regardless of where you get your Blues news/opinions, we've all spent a great deal of time dissecting what the team's issues are. There has been a vain effort to solve the problems as well. Mike Poepping is the latest to jump in with some ideas on what's going on. (KSDK)
For years, anytime the Blues had something bad happen – particularly after postseason exits – they had some tried and true excuses.  The one we all fell in love with was the "buy-in" or lack thereof by the group.  Now, the team is saying they aren't playing for each other.  (St. Louis Gametime)
Jeff Gordon of the Post pointed out that the Blues are not the only NHL team performing well under what they expected.  That brings up some interesting decisions for GM's as to whether they want to offload players or hang in there.  (STLToday)
Year to year, month to month and sometimes day to day, there was always a different reaction as to the worth of David Backes as a player.  Now that he's gone, there is all this talk of lack of leadership.  It seems hard to believe that he and one or two other players that were not here as long had that big of an effect by leaving, but the facts say it may be true.  (STLToday)
The Sabres knew this season was going to be an uphill climb even with all their guys healthy.  When they lost their top player, Jack Eichel before the season even began, things got a lot tougher.  They come into St. Louis with what feels like half an AHL roster.  (Buffalo News)
Want your voice heard? Join the Bleedin' Blue team!
Last season, the Montreal Canadiens opened up like a house on fire before Carey Price got injured.  Now, the Habs goaltender is poised to do something no other has in 89 years.  (NHL)
For a good, long while it seemed as though there was no way the Coyotes would be staying in Arizona.  They were sold, then not sold, run by the league and all sorts of mess.  Now, they seem to have plans in place to be staying a long time.  (ESPN)
Have a great day Blues fans!
This article originally appeared on