St. Louis Blues: Ken Hitchcock Playing A Dangerous Game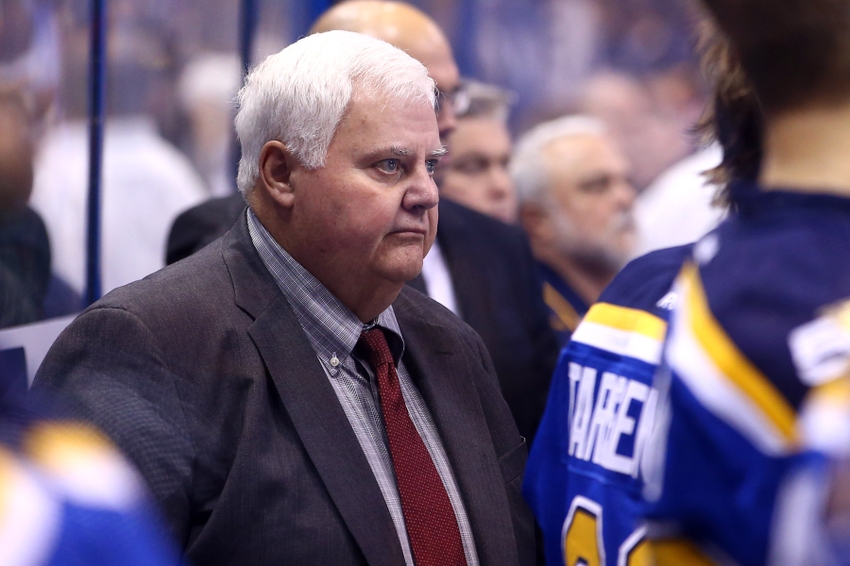 The St. Louis Blues are having a pretty decent season this year. Of the things that could go wrong though, Ken Hitchcock using the media more than normal didn't seem like it would be one of them.
The St. Louis Blues have had five full seasons under Ken Hitchcock. They are in their sixth year under the bench boss and are off to a pretty decent start to the 2016-17 campaign.
It has not been a season without incident. Still, the Blues have gotten off to a pretty good beginning and there should not be any issues behind the scenes.
Whether that last statement is true or not is up in the air. Recent statements make it more of a question mark than any of us would have thought.
Hitchcock has always been one to speak his mind. He generally answers the media with straight forward answers, but nothing over the top.
He's always been critical but in a fairly calm way. Sure, he has gone off here and there but it was usually with purpose.
This season has had a different air to it. Hitch has taken the same tact with a slightly different angle and it's starting to skirt a dangerous line.
In 2016-17 he's begun to name names a bit too often compared to years past. He's discussed things a little too bluntly of late.
Coach would always have a complaint following most games and said it to the media. However, this season he seems to be pointing out specific players and specific incidents.
Maybe I'm not remembering correctly. Maybe it has been that way the entire time, but the specificity of his remarks this year seems to be a little too on the nose this time around.
Additionally, Hitchcock seems more exasperated than in the past. The Blues are 14-7-4 as of writing this and he seems to constantly take issue with something all the time.
I can't say I disagree with him. Even when the team has been winning, they play poorly, give the puck away, depend on their goaltending too much and more.
Consistently pointing out the bad to the media is a bit dangerous though. You run the risk of alienating players instead of pushing buttons for a positive aim.
Then there is the issue of his comments following a loss to the Winnipeg Jets. Again, he was up front and honest and nothing he said was over the top.
He made the odd comment of flat out saying him being there too many years might have something to do with the team's poor play sometimes. The implication seems to be that he knows they're tuning him out.
We have all wondered about such things. There was even talk of letting Hitchcock go during the team's recent slide in late October due to just that thing, that perhaps the team had tuned him out.
For Hitchcock to publicly state it seems to be pushing the boundaries. He's playing a dangerous game for a number of reasons.
He flat out said he wasn't going to worry about what others think when he announced this would be his last season with the Blues. That's fine if true, but do you really want to actually risk pushing the players away by singling them out in the media instead of confronting them in private?
On the other hand, there are many rumblings about him potentially going to another team. I don't personally subscribe to that, but if he spent his entire last year here singling out players and saying whatever he wants to the media, would that not make him less trustworthy (despite his resume) for another team?
It's true that a mountain could be made of a mole hill in regards to the postgame comments. It was somewhat of a throw away comment that we might be reading too much into.
The guy has always spoken his mind to a degree and still wins.  He's the second winningest coach in Blues history, so clearly he has a handle on how to deal with the team on most occasions.
Nevertheless, Hitch is doing a lot of talking this season. It's one thing to be up front and another to be "too honest." Right now, he's tip toeing on that line.
More from Bleedin' Blue
This article originally appeared on