St. Louis Blues: Jake Allen Outdueled By Corey Crawford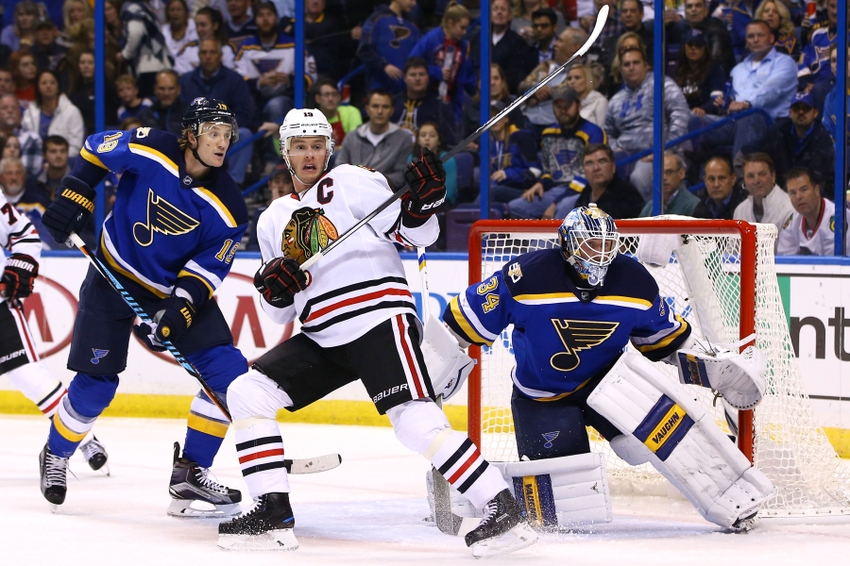 The St. Louis Blues fell to their rival the Chicago Blackhawks. While it was in overtime, it was still an example of the team's offense failing to convert.
The St. Louis Blues returned to their snake-bitten ways on offense. That was no pun either seeing as their own snake, Jake Allen, did everything he could to help the team win.
The Blues had a total of 28 shots on goal and created several good chances. Even through two periods, they only had 16 shots but were still appearing close to scoring if they were not facing a goaltender in the zone.
Corey Crawford ended up getting the final point in a heck of a goaltending duel with Allen. Crawford was 2:11 away from getting a shutout and claiming all the points in regulation.
He was fantastic and that makes my skin crawl to admit. I have said for years that he isn't a top tier goaltender and turns around and stuffs it in the Blues' faces just about every time they play each other.
So, regardless how any of us feel about Crawford or his abilities, he manages to win. He beats the Blues with regularity and wins.
Much of that is due to the team in front of him, but he did his best to take this one as well. As disappointed as we all are in the Blues for dropping one to their rival, they played about as good as you can – minus the penalties – without winning.
More importantly was the play of Allen. Even as a fan of his, he has been hit or miss this season.
Within single games he has made sparkling saves and then let little dribblers get through. For people waiting to jump on him after the departure of Moose, it wasn't the recent stretch he needed.
This was a great bounce-back game for the Snake. Unfortunately, the Blues could not muster any support for him in goals.
The goaltenders all but cancelled each other out in this one, so it was the offenses that made up the difference.
St. Louis just could not solve Crawford until the very end and then took a stupid penalty right before the end of regulation. While they technically killed it off, not having a full contingent of guys on the ice allowed the screen on Allen in the first place.
Still, the Blues should be pleased (not happy) they got a point from the game. They were right in the contest at times and were outplayed at others.
Managing to force the game into an extra period showed plenty of resolve. That has been something the team appeared to lack in recent times, regardless of the outcome.
Negatives
The Blues can't keep putting themselves in a spot where they have to kill penalties. It's great that the PK unit has shot back up the way it has.
Even so, you cannot give a team like Chicago as many as five powerplay chances. It's just not a sustainable issue.
The Blues may have killed off all five, but it took away valuable energy.
There were also too many dumb penalties. Alex Pietrangelo's slash was blatant and the too-many-men penalty was just awful.
These are things that just shouldn't be occurring.
Positives
Allen was spot on all night. I'm sure there are haters out there whining about rebound control with the lone goal in regulation, but that's just proof you can't please everyone.
Jake the Snake had to bail the team out several times. If not for him, the game never even comes close to overtime since it probably would have been 2-0 or 3-0 by the third period.
[insert snake emoji here] pic.twitter.com/vvDavsuhMd

— St. Louis Blues (@StLouisBlues) November 10, 2016

The Blues have leaned on their goaltending a little too much in the past, but it was understandable in this game. Chicago has been red-hot and the Blues needed a lift from their netminder. Unfortunately, he couldn't get any goals to make the performance stand out as much as it should have.
Looking Forward
The Blues are back at it tomorrow night. They go on the road for their first chance to play Nashville.
The Predators are off to a much worse start than any of us thought. The Blues have a tendency to be the team other squads have a bounce-back game against, so they will need to be sharp.
Nashville, for their part, are more rested and feeling good. They had a 3-1 win over Ottawa on Tuesday at home, so they haven't had to leave the Music City.
St. Louis will likely need another top performance in net. While it hasn't been announced, it would not be shocking to see Carter Hutton get a crack at his old team.
This article originally appeared on