St. Louis Blues Fourth Line Coming Up Big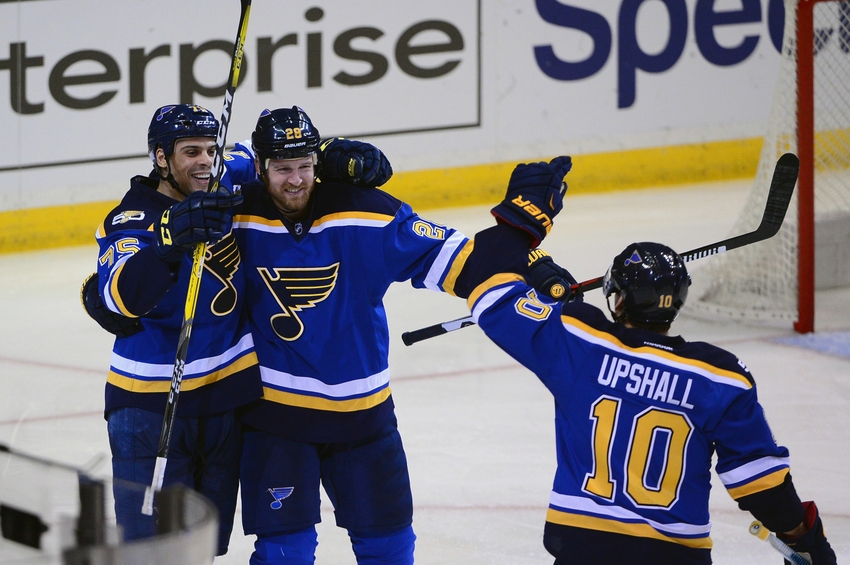 The St. Louis Blues have always gotten contributions from unusual sources. This year's fourth line was not on the radar for that source.
The St. Louis Blues usually get somebody to step up that they had not expected. This year has been quite topsy-turvy.
Cats are living with dogs, our future president is a member of the WWE Hall of Fame and the Blues are relying on their fourth line more than anyone could have imagined. In the end, it's working out so far.
The Blues are getting huge contributions from all their fourth liners right now. On top of that, they have been the most consistent unit of the team so far this season.
The line hasn't been insanely productive, beyond anything imaginable. They have 11 points out of a total of 129 (as of writing this).
Still, the guys have been playing their butts off lately. It is just now they are now getting some numbers to back it up.
The Blues have mixed their lines up to varying effect. However, the team lacked jump and punch – sometimes literally – when the team broke up the players on the fourth line.
Kyle Brodziak's injury really through the team for a loop. They were not only down a center, but a right-handed center and a hard-nosed player.
They mixed and matched, but the Blues just looked out of sorts.  Granted, Brodziak was back when the team had their worst stretch, but it was more like the team going through early season growing pains almost a quarter of the way through.
Now, the fourth line is becoming a force to be reckoned with.  Because of that, there are even whispers they are technically being used as the third line right now.
That was probably the case the other night against Nashville.  The Blues needed a bit more physicality and Ken Hitchcock has a history of not wanting to play Ty Rattie much.  Well, if you don't want to break up the fourth line, whoever gets paired with Rattie will not see as much time.
The guys deserve a bit more playing time as well.  Brodziak and Scottie Upshall have been two of the team's best penalty killers for two years now and Reaves is playing above and beyond after being relegated to the press box so much last year.
"I think my game has gone from chasing hits first and just trying to be just a physical presence and then something might happen after," Reaves said. "Now I think we're trying to create more offense by playing physical, but playing in a smart way. Not running around chasing hits. Before, especially with myself, I can either get the puck or get a big hit, I'm going for the hit every time. Now, if I can get the puck, I'm going for the puck first and maybe shying away from the hit so we can have that offensive time. It's not saying that I'm ever going to shy away from a hit, but there are more of those 50-50 situations where if I can get a hit and maybe the puck is coming out of our zone because I laid a hit, now I think I'm keeping the puck in the zone and waiting for a better opportunity for a hit."
Reaves got in better shape after some advice from the coach.  He also got some advice from a teammate.
"What I said to him was lead with his stick," Kevin Shattenkirk said. "We obviously know how well he is at tracking pucks and everyone knows how big a guy he is and how big a bruiser he is, but he's really good at following the puck on the forecheck and knowing where it's going to go. I just told him as a D man, it's easy to take a hit like that, if he's not leading with this stick, because I'm still going to be able to make the play. So if you lead stick-on-puck first and then make the hit, you're going to break up more plays and cause more turnovers."
That is how the entire line has been playing and it has been paying dividends for the Blues.  The entire line has been doing plenty including possessing the puck instead of just dumping it in and playing defense.
Beyond just getting more point production than we are used to seeing, they're getting put in more important positions.  The coach put them on the ice in the late moments of a tight game against San Jose.
Again, they rewarded the faith shown by their coach.  They shut down the Sharks top line, including the always pesky Joe Thornton and helped preserve a 3-2 lead that would become a win by the same score.
We all love the fact that these guys are getting rewarded with their efforts with points and ice time.  More important is the little things they are doing.
It's the things that only pass the eye test since there isn't as much of a statistical way to show it.  They're helping the team win by making it harder to play against.
Any team that can roll out four lines and actually expect there to be a chance of production from everyone is tough to beat.
Can we expect this all season?  Probably not.
It's unreasonable to expect guys this late in their career to have done almost a 180.  However, Brodziak and Upshall have been higher up the lineup earlier in their careers and Reaves is having a special year.
Even if they don't keep up the scoring, they can still be huge parts of this team.  If they simply keep playing with the energy and heart they've had lately, they could be a big part of how far this team goes this season.
This article originally appeared on