St. Louis Blues: Five Things Fans Should Be Thankful For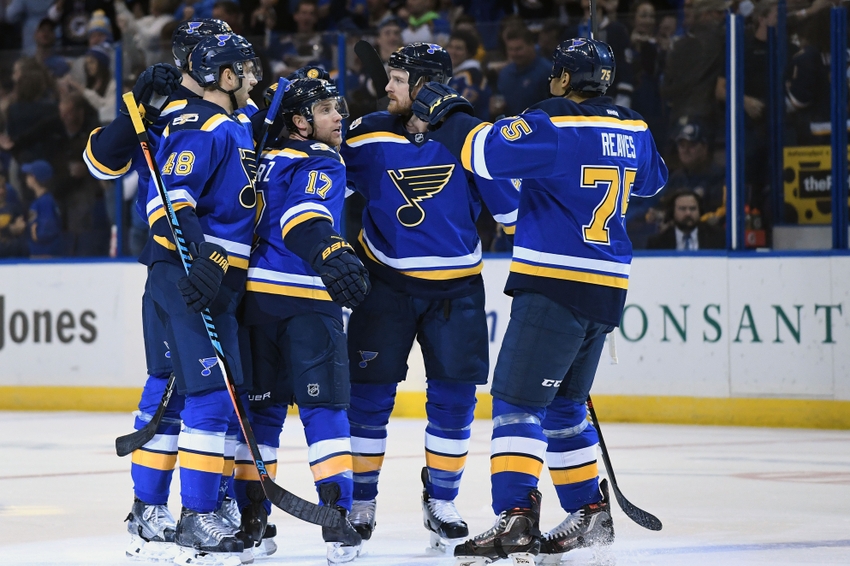 The St. Louis Blues frustrate, infuriate and drive fans crazy. They are still and will always be our team and there are several things to be thankful for about them as well.
The St. Louis Blues are far from a perfect team. Even in the best of years the team does things that makes you scratch your head or want to throw things across the room.
In the end, they are still our team. Like a family member, we love them regardless of their faults.
Like part of a family, there are always things to be thankful for as well. Tis the season, so let's take a look at the five things Blues fans have to be thankful for.
5. Goaltending
Many Blues fans have a love/hate relationship with the goaltender position. Some expect too much and others (like myself) are too soft and accepting of whatever happens.
The majority of fans reside somewhere in the middle. Regardless of where you are in that category, we should be thankful we have and have had some high quality goaltenders recently.
Jake Allen has not received the kind of goal support he deserves this year or the last few years. Admittedly, he has let in some bad goals, but he has also bailed the Blues out plenty of times as well.
The Blues have relied on their goaltending way too much in years past and this year has been the same even when shot totals are kept low. Fortunately, Allen has been up to the task more often than not.
His stats aren't incredible a quarter way through the season. He's still got a save percentage over .900 and a goals against just a shade over 2.30. Those aren't numbers to be sneezed at.
Carter Hutton is much, much better than his stats imply also. Giving up a hat trick to Alex Ovechkin never helps your bottom line, but Hutton has filled the shoes of his predecessor more than any of us thought possible.
While the Blues are giving Allen the majority of the games, they still have a solid duo. With a slow start, the Blues aren't likely to have another Jennings Trophy, but they still have guys they can depend on.
The Blues have two guys that are going to give you a great effort night in and out. The team doesn't usually have to worry about the guys in net on most nights and that is something to be thankful for.
4. The Winter Classic
Over the last few weeks, we've taken a few shots at the upcoming outdoor game. Our initial reaction to the jerseys wasn't overly positive (though I've warmed to them), the announcement of the alumni rosters was underwhelming from the opponent and the game seems like it has taken a back seat to other festivities.
All that said, it's still a big deal. Blues fans have been wanting to have an outdoor game for years.
Most Blues fans would have been happy with a Stadium Series game. Any game played at Busch Stadium would have been quite an event and given the fans and city a boost.
Instead, the league awarded the city the showcase game. The 2017 Winter Classic will be played in the shadow of the St. Louis Arch.
We can hem and haw over whether this is the priority game for the league, given they are having another outdoor contest to celebrate the league's 100th year. The Blues have only been around for half that time after all.
When it comes down to it, it is still a big deal. It's going to be nationally televised.
You're still going to get all the bells and whistles. The Blues will be the focus of the documentary leading up to the game, NBC will be there with all their pageantry and St. Louis will be the focus.
Given all the bad things that have happened over the last few years, it will be good for St. Louis to be seen in a positive light. Once the game gets here, all our worries will disappear.
It will be nice for us to just sit back and enjoy something totally our own. If you aren't Chicago, these games only come along so often.
We may never see another Winter Classic in St. Louis in our lives for all we know. It is a spectacle and something we'll all remember and be thankful for.
3.  Vladimir Tarasenko
This one almost goes without saying. The Blues have been longing for a true scorer and it took years to finally find one.
In fact, it almost did not happen. The Blues took Jaden Schwartz with their 14th overall pick in 2010.
That was the team's only original pick. They had acquired the 16th pick from Ottawa in return for David Rundblad.
The Blues wisely picked Vladimir Tarasenko with the choice. The interesting thing is they were surprised he had fallen that far, but wanted Schwartz enough to take him first.
Thank goodness they still made the move to get that other pick. Tarasenko is looking like he could have been worth a top five pick, if not the overall number one – no offense to Taylor Hall, who was taken first that year.
It took a little longer to get Tarasenko into the NHL. That was not so much due to talent as he was just comfortable playing in his native Russia.
It did not take him long to convert to the game, even if getting used to the culture took a little longer. His rookie season, he put up 19 points in 38 games.
He scored 21 goals and 43 points in his first full season. His goals went up each year, having a 40 goal season in 2015-16.
He doesn't have the blistering shot like his countryman, Alex Ovechkin. He may never lead the league in goals or scoring, simply because he looks to his teammates more than many superstars.
Even so, he is a bona fide scorer. That's something the Blues have not had since Brett Hull left.
Sure, there were guys like Demitra or Tkachuk. The odd name would pop up like Young or Boyes.
As a pure scorer though, it has been the Golden Brett that we all wanted someone to replicate. Tarasenko may never put up 80 in a season, but he's the kind of player you expect to score every game.
That's good enough.
2. Blues Fans
This one seems odd on the surface. Why should we be thankful for each other?
We drive each other nuts. We rarely agree on anything.
There are people out there that think everything is the fault of the goaltender. Some fans blame all the team's problems on the coach.
There are crazy theories from the Lounge that make us wonder what kind of environment – perhaps heavily laced with lead – they were raised in. Then there are other fans that act as though everyone is trying their best and we should not get mad at anything.
Such a wonderful dichotomy. That's almost what makes it so great.
We all come from different backgrounds and have such differing points of view about one single thing. Nevertheless, we all come together to cheer our hockey team.
When we are sitting in the arena or watching in a sports bar, all our differences melt away. We are all just Blues fans for that brief period of time.
All the fans are unified in wanting the team to win on that night. We all band together in the hopes of one day seeing a championship parade down Clark St., so aptly named Brett Hull Way in front of the arena.
The thing that has impressed me about Blues fans, as well, is how far reaching we are. Sometimes the team forgets that.
Much of the marketing is done to the West County people or those in and around the city. Blues fans are all over though.
There are lots of them out west, near the Kansas City area. They go down south in small towns like DeSoto or Bonne Terre or even further to Cape Girardeau.
There's Blues fans in Illinois and Kansas and Iowa. We even have fans of the Note as far away as Canada.
There are lots of issues we may never see eye to eye on. That's part of life.
As much as we all annoy each other at times, I would not trade this fan base for any other.
1. The Fact We Have A Team
This fact used to be taken for granted. Once you had a team, you figured that was your team for life.
When you live in St. Louis, though, nothing can be taken for granted except the baseball Cardinals.
The city has now lost an NFL team twice. Not only twice, but twice in many people's lifetimes.
The first time was bad enough. We blamed the ownership and they had a part in it, but the city was also short-sighted in being so rigid against a new stadium.
Then came the Rams. Fans were assured that if the city did its part, then good faith efforts would be rewarded.
The city wasted millions making plans. Fans wasted thousands attending games.
The NFL was always going to let the Rams move. Stan Kroenke never cared about the city, the fans or anything but money and always intended to take his team to L.A.
The same almost happened to our beloved hockey team. In 1983, the Blues almost moved to Saskatoon.
Given the size of that city, that may have been a bigger slap in the face than the NFL leaving. There was also a worry the team might leave when Bill Laurie sold the team.
Fortunately, Tom Stillman and his wonderful ownership group stepped up to the plate. Now we have what makes teams successful.
There is a stable ownership group that is committed to the team and to the city. Stillman is that perfect mix of being a fan, but also keeping a sensible business mind too.
He's not going to throw money at the problems as the Laurie's did. He's not going to pinch every penny and leave us with a garbage product like Kroenke either.
This may be one of the best times in history to be a Blues fan. The owners are in place. Management is solid. There is a great group of young players that are hungry to win.
Now, they just need to put it all into place. Easier said than done, but it is exciting to think of the possibilities.
It's much better to have the hope than not have our team at all. As much as I loved the Rams, you get over it and either don't watch football or just move on.
It would not have been possible to do with the Blues. For many of us, they are too ingrained in who we are as sports fans.
So, I'm thankful we have a team. I'm thankful it is this team.
Want your voice heard? Join the Bleedin' Blue team!
Sure, it would be nice to have multiple championships or have guys that light the lamp every other night. Our time will come though.
For now, I'm thankful for the Note and that we have the ability to cheer a team worthy of our love.
More from Bleedin' Blue
This article originally appeared on