St. Louis Blues Defensive Prospects Getting A Chance To Step Up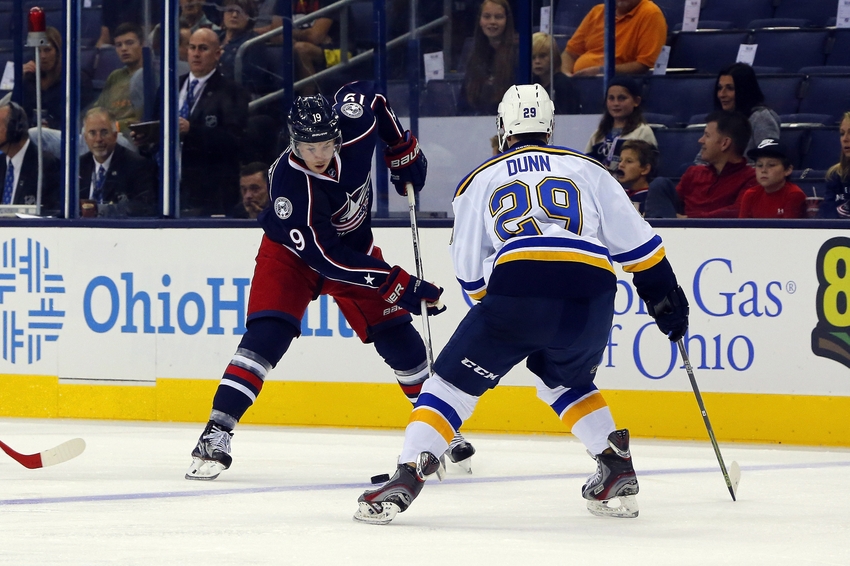 The St. Louis Blues announced their annual prospect tournament roster. There were no big surprises, but the tournament comes at a good time.
The St. Louis Blues have been having their prospects attend the tournament in Traverse City for several years. The fact they are going is nothing new.
There were no real surprises in their roster announcement either. If you're looking for surprises, it was a bit of a shock that Tage Thompson was not included.
It was always expected that he would have one more season at the University of Connecticut though. So, it's really not that big of a shock.
What the tournament will hopefully be good for is the defensive prospects of the Blues. Some of the names have been laboring in the lower levels for several years now and it's time for them to make a move.
Vince Dunn was only drafted in 2015 and he's already featured in some preseason games with the Blues. Guys like Jordan Schmaltz and Thomas Vannelli have been in the system longer and have not made their push toward the pros yet.
The Blues have had a steady defensive core, so there has been no rush to push these guys into the lineup. While there is still not great urgency, these guys need to start pushing for playing time.
Whether he is traded or simply walks in the offseason, it is still likely Kevin Shattenkirk will not be on the team next year. That alone will create a spot in the lineup.
The Blues have a solid group of defenders already on the team. Colton Parayko and Joel Edmundson were huge surprises last season and are poised to lead this team from the back for years to come.
However, although they are both signed for a handful more seasons, Jay Bouwmeester and Carl Gunnarsson are not getting younger. Eventually they will cede their spots to younger players.
Free agency is always an option, but if the Blues prospects are as good as we hope they are, they need to start pushing for games now. Players that are NHL ready can only be held down so long before you must either play them or get a return for them.
This year's prospect tournament and then perhaps NHL training camp is the perfect time for the names mentioned and others to make their mark. It's high time to see a little more of a surge from these guys.
The Blues are going to have a new head coach come 2017-18. Mike Yeo may want to bring in his own kind of guys.
If the current group of prospects don't want to get left in the dust, they need to start impressing. No better time than now, with a year before those decisions would even be made.
Again, there isn't a huge rush. The Blues are pretty much set in their current roster unless someone makes an unbelievable showing.
Still, the time to be considered a prospect instead of a minor leaguer is waning. Having a good showing in Traverse City will only help the cause.
Vannelli is probably going to make the jump to the AHL this season. He already joined the Wolves for a brief run last year.
Like Colby Rasmus with the Cardinals, we've been hearing about Schmaltz for years. He's still only 22, but he has yet to force a serious look by the Blues.
Now is the time to make themselves noticed. There may not be spots immediately available, but there are going to be some soon. No time like the present to get that impact.
This article originally appeared on