St. Louis Blues Comedy Of Errors Against Boston
Todd Panula/FanSided via Bleedin' Blue

Fansided
David Backes got the kast laugh against his old team. The Blues gailed to show up against the Bruins and got run off the ice.
The St. Louis Blues have made a habit of not showing up in games this season. It would be one thing if they were just losing but it is getting sickening that they cannot put together anything close to similar performances game to game.
Alex Pietrangelo said it after the game. The Blues know they aren't giving the same effort each time out and he attributed it to a lack of focus.
That is extremely disappointing because this team knows how to win. The majority of this club went to the Western Conference Finals last year and noe they cant figure out how to win more than one game in a row.
People attribute it to coaching. I can't say that is 100%wrong, but I blame the team. If they dont have the mental fortitude to play for each other and get this solved, then this group can not win under amy coach and that hurts to think about.
The Blues just didnt know what the hell they were doing against Boston. They opened the game well enough but did not get anything offensive going. Two first period shots is just pathetic.
Even through much of the second period, there was not any push back. I love the Blues, you love the Blues but this team has about as much will as a leaf.
The team waited until the final five minutes of the second period to show some energy. Even then, the team could not get their minds around the game.
There were so many defensive turnovers. The Blues' passing was a joke sometimes. The way the puck was bouncing, it was one of those comedies that nobody finds funny. You only laugh so you dont cry.
Enough is enough with this stuff. We all know we can't give up because we are true blooded fans, but it's so hard to belive in the team.
St. Louis was outshot by a 2-1 margin. Thats just not good enough and things have not been good enough all year.
It is just the same old stuff every other might out. The Blues have not won back to back games in almost two months now.
Turnovers aren't cleaned up, players are not playing for each other and the goaltending is not good enough and not getting help. If St. Louis didn't have so many teams below them playing poorly, they might not be a playoff team.
Things need to change. This team needs a shakeup. Either Doug Armstrong needs to pull some strings or this year will be a waste.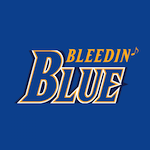 Apply to Bleedin' Blue.
Start your application process by filling out the fields below
I'm one of the most positive fans there are. Even positive thoughts can't cloud the fact this team is doing nothing but a spinning their wheels.
We all bleed blue. Too many of us are shedding blue tears these days as well.
This article originally appeared on