St. Louis Blues: Carter Hutton Overcomes Rangers, Blues Injuries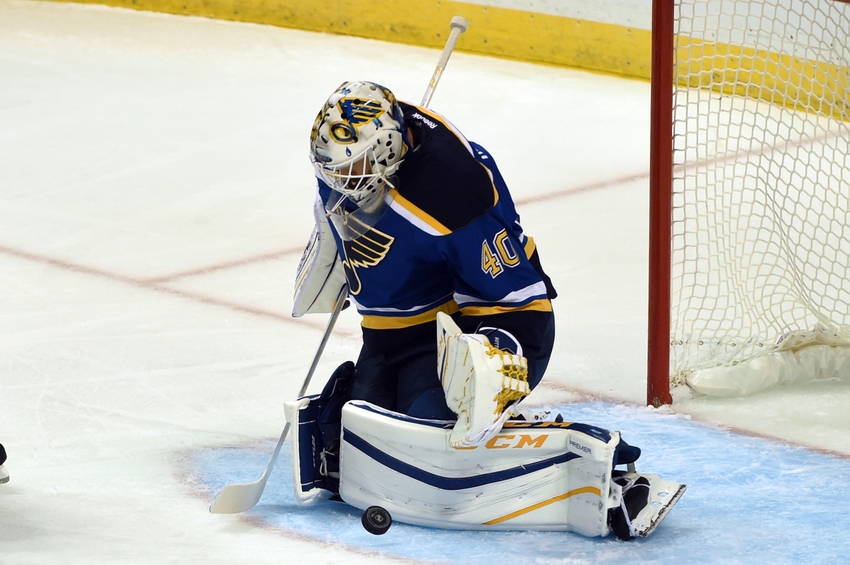 The St. Louis Blues looked sharp against the New York Rangers at first. By the end, they were hanging on for dear life.
The St. Louis Blues came into their only home game against the New York Rangers looking to improve to 3-0. While they did just that, it was not exactly easy in the end.
The game opened up quite well. The Blues defense was playing well for the third straight game.
They were limiting shots and the offense was flowing quite well. It didn't take long for the team to score the opening goal.
Vladimir Tarasenko continued his ownership of the Rangers. Tarasenko was sprung on a bit of a break and buried one past the blocker of Henrik Lundqvist.
It was not quite as spectacular as some of his other scores on the Rangers, but they all count. This one was big as things went a bit downhill from that frantic start.
The Rangers tied it up about four minutes after Tarasenko's goal. Then, Paul Stastny gave the Blues the lead back just before the break.
Stastny continued his hot start. He now has two goals and six points in three games played.
He is going to be even more important to this team coming up. A bit more on that later.
Alex Pietrangelo scored early in the third to double up the lead. 30 seconds later (felt more like two seconds) the Rangers cut the lead back to one.
From then on out, it was the Carter Hutton show. Hutton had 15 saves in the third period alone.
Many of those saves were of the spectacular variety.
Sometimes you're good… #stlblues pic.twitter.com/0FPSxg3fyT

— St. Louis Blues (@StLouisBlues) October 16, 2016
… and sometimes you're just good again. #stlblues pic.twitter.com/vTnihY5a6M

— St. Louis Blues (@StLouisBlues) October 16, 2016
Hutton did what good goaltenders are supposed to do. With the exception of the second goal, he stopped the shots he was supposed to and came up with big stops when the team needed it most.
Perhaps none was bigger than this third period beauty:
Our twitter feed has become a Carter Hutton highlight reel. #stlblues pic.twitter.com/oEYyUpwPvx

— St. Louis Blues (@StLouisBlues) October 16, 2016
On a side note, that would have been a nifty assist to Pietrangelo had that gone in. Thankfully it did not go in and the Blues picked up their third win of the season out of three games.
Sadly, that might be where the good news stops. Being at the game, I missed two of the injuries, however somewhere along the line the Blues lost three players.
Jori Lehtera, Kyle Brodziak and Carl Gunnarsson all had to leave the game. All three left with upper-body injuries, so who knows what the issue could be.
Gunnarsson I saw leave looking shaken up in the second period. It looked like he was limping, but if they are saying upper-body, you worry it could be a head injury since he seemed to labor toward the bench.
It's all conjecture right now and the team is not going to release any information about it until Monday.
For now, it looks like we should expect Landon Ferraro to get a call up from the AHL. The Blues have to bring him in for center depth. They would be able to move enough pieces around to have any other fill-in players be wings, but they need another true center.
We all said the same thing after the Jake Allen injury scare in the preseason, but it is way too early for this stuff. It is understandable injuries happen in a tough sport, but three at once is just ridiculous.
Let us all hope that it was just one of those things that heals up quickly and this will be a minor blip. Thank goodness the Blues continue to get good goaltending no matter who has been in there.
Notables
I was quite disappointed in the crowd. Yes, it's an Eastern Conference opponent, but it was a Saturday night game and only the second home game of the season. It was far too quiet for much of the game.
Speaking of the crowd, the Blues need to figure out their in-game entertainment. I don't know if they have a new staff running the scoreboard and cameras or what, but there were so many mistakes. They did not even show the featured serviceman of the game. Lots to iron out, but they seem to have changed things that did not need changing.
In an interesting coincidence, it was interesting how Kevin Shattenkirk seemed always matched up with Rick Nash.  Shattenkirk got the best most times, but it was just fun to watch after those two names were paired in so much trade talk together.
There was a pushback to call him EF Hutton, but I am jumping on the Jabba the Hutton name. I saw it on a meme and it made me laugh, so I'm pushing that one.
For awhile, I wondered why the Blues had to rely on their goaltender so much when they did not the previous two games. The injuries explained it, but we should still be thankful Hutton put his big boy pants on after that bad second goal given up.
Looking Forward
The Blues are off until Tuesday, which will hopefully give them time to heal up one or two guys at worst. They now go on their first western Canada swing.
The Blues open up their trip on the road against the Vancouver Canucks on the 18th.
You can expect Allen back in the net. However, if Hutton keeps coming up with nights like tonight, he may feature in more games than we originally thought.
This article originally appeared on