St. Louis Blues: Alumni Game Roster Guesses Round Two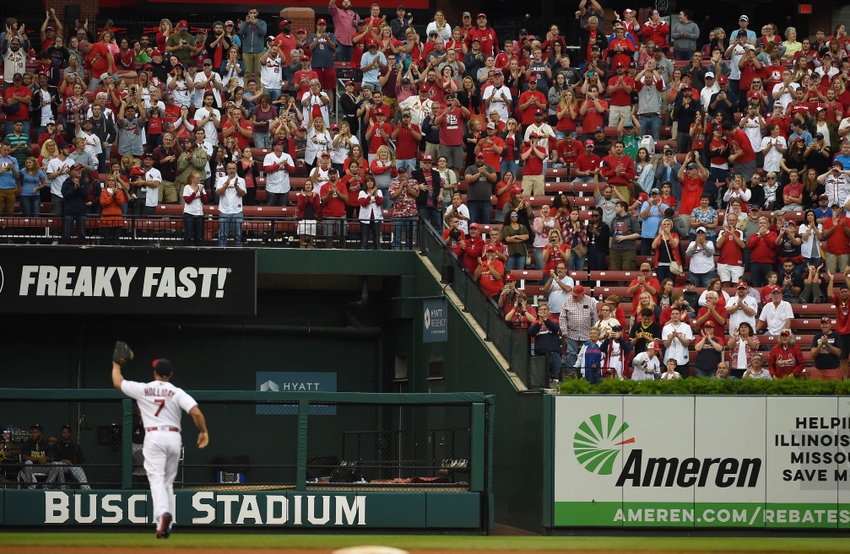 The Winter Classic is still a couple months away. Still, that leaves plenty of room for guesses as to who will suit up for the Alumni Game.
The St. Louis Blues are focused on the season at hand as they should be. There is plenty for them to focus on as well with their recent woes.
So, while the team focuses on the present, we can look forward a couple months. The Winter Classic is still on the horizon, but it isn't as far away as it seems.
We still don't have many official confirmations about guys wearing the Note for the Alumni Game, but there is more known now than when our first guesses were made. So, with more information comes new decisions.
Certain guys can be ruled out to a degree now and new names have popped up. With that, let's look at our new lineup for the Blues Alumni.
Forwards
Sutter/Shanahan, Oates, Hull
Young, Gretzky, Babych/Patey
Turnbull, Federko, Courtnall
Twist, Janney, Chase
Defenseman
MacInnis, Pronger
Brown, Butcher
Jackman, Ramage
Affleck, Brewer
Goaltenders
Joseph, Fuhr, Broduer
As you can see, there are not a ton of changes. Most notably will be the inclusion of Barret Jackman as a sure thing.
No announcement has been made, but it is hard to imagine he will not suit up. He literally just retired, so he'd be the freshest guy out there.
Some guys are now question marks due to scheduling. I originally had Joe Micheletti on defense, but since he works for MSG Network and the Rangers are in Colorado on the day of the Alumni Game. Not impossible to work out, but it makes his inclusion less likely.
So, why not put in Eric Brewer in his place? Brewer was a team captain and played well on some bad teams. He has not been retired for long, so that would help out the Blues as well.
Scott Stevens is currently working for the Minnesota Wild and they play on the date of the game as well, so he is likely out too. There were many fans questioning my exclusion of Garth Butcher the first time around, so he now has a spot there.
I almost thought about taking Chris Pronger out due to his concussion issues. However, I had forgotten that the team confirmed him way back in August.
On the forward side of things, there are a few more question marks. Given that Wayne Gretzky has been attending some alumni functions recently, it seems like he would be a lock to play, for name recognition alone.
The player who might not come is Brendan Shanahan. Shanny looks like he is in great shape, but as president of the Toronto Maple Leafs, you have to wonder if he will take the day off from team duties. Toronto is off the day of the game, but play Detroit on January 1.
That's quite a bit of travel around the holidays. He is not totally out since presidents aren't quite as busy day to day, but it makes him questionable.
Also questionable is Keith Tkachuk. I'm honestly not trying to be mean because I'd love to see him out there, but he looks twice as big as he did in his playing days.
If he can play, more power to him. Given the shape he is in, it just doesn't seem like the best of ideas, but who am I to deny it if he wants.
Since he is questionable to play much to me, I put Scott Young in there.
Perhaps the most interesting change is in goal. Again, nothing concrete has been laid out, but given the way the wind has been blowing it is all but a certainty that Martin Brodeur will strap on the pads in a Blues jersey.
Online, there was some questioning of that. I get where people are coming from. Brodeur played a total of 17 games with the Blues.
He works for the team now, so that makes it more palatable. If he is bumping another player out that played longer, it is understandable for some to question it. These games are just for fun though, so might as well have a guy in there that is only a few years removed from retirement.
The other goaltenders are still up in the air. Given that he just played for Edmonton in the Heritage Classic, you have to figure Curtis Joseph is going to be in between the pipes for the Blues.
Grant Fuhr makes the most sense to round out a goalie trio. He also just played for the Oilers, so as long as he didn't pick up any injuries, you would assume he'd be ok to go for the Blues.
If Fuhr doesn't go, Fred Brathwaite or Ty Conklin have worked with the Blues during training camp in recent years, so they might have to lace them up.
The bottom line is much of these discussions are probably just for us. In reality, these rosters probably won't be your typical 18 skater benches.
With the exception of Jackman, most guys are going to be gassed so there will probably be extra players out there anyway.
Still, it is fun to try and guess and mix and match.
So, with the changes, who do you still want to see in there? Let us know.
This article originally appeared on