St. Louis Blues: Alexander Steen Returns, Leads Blues Over Tampa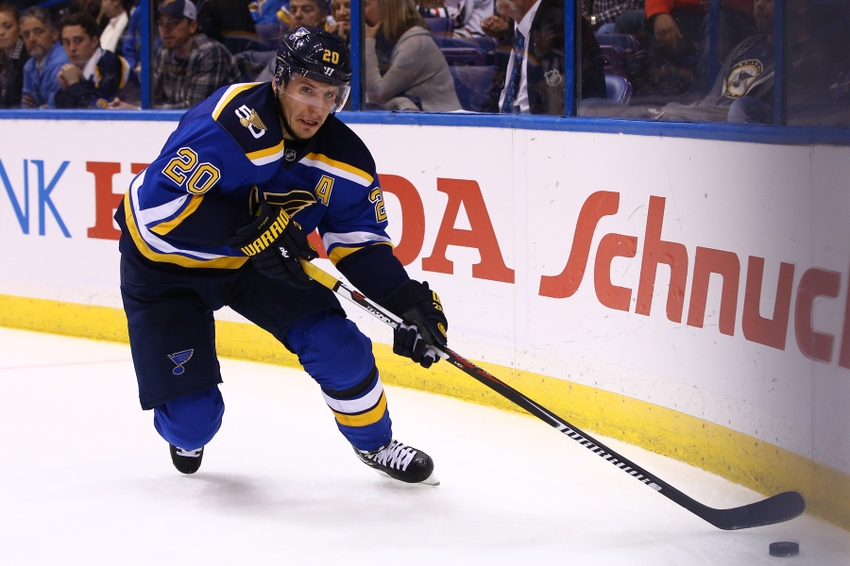 The St. Louis Blues started strong against the Tampa Bay Lightning. Their finish wasn't quite as good, but Alexander Steen's return helped get them over the hump.
The St. Louis Blues came out firing against the Tampa Bay Lightning. With plenty puns intended, they looked like they had captured Lightning in a bottle.
The Blues got things going less than two minutes into the first period. Their leading scorer, Vladimir Tarasenko scored right off the bat.
People might wonder why the article title doesn't have to do with Vlady, since he was so instrumental in the team's win. Well, he would have been star 1B or 1A but Alexander Steen had just as much if not a little more to do with it all.
He got a helper on Tarasenko's second goal. The Blues were rolling at 2-0 and seemed poised for a blowout game.
Unfortunately, I happened to turn the game on at that point. As usual, the Blues save their mistakes for when I get to see a game that has not been viewed from the start.
Barely a minute after going up by two, the Blues let the Lightning back into the game. That would become a theme for the rest of the night.
Steen's return was more than just a mental boost for the team though. He ended up with three assists in his first game back after an "upper body" injury that was claimed to not be a concussion, but was clearly head related.
He helped on that Tarasenko goal and then both of Kevin Shattenkirk's goals as well. Steen was clearly not suffering any ill effects as he and his entire line was flying around all night long.
Steen also came up with a crucial block at the end of the game. The Lightning had a player open in the high slot, but Steener went into goalie mode and made a fine kick save to knock it into the netting before it even got to Jake Allen.
Interestingly, despite his fantastic game, Steen ended up a -1. The plus/minus stat is becoming less reliable for how someone played though and that was definitely the case on this night as Steen returned to the label of the best overall player for the Blues quite quickly.
Huge Night For Several
Speaking of best players though, Tarasenko came up big. Any time you can get a hat trick, you know you've played well even if the third goal was a bit fortunate.
It was his first hatty since December 14. 2014. They weren't all the most highlight worthy goals compared to his normal stuff, but Tarasenko had some fantastic effort to get those goals.
Shattenkirk came up big as well. He had two goals and an assist to help out the cause in a big way.
Shattenkirk cooled off after a big start to the year, but he's still earning a lot of money for himself in the future. Deep down, we all know it won't be for the Blues, but at this point that's fine as long as he produces a good contract year season for us.
Robby Fabbri also came up with a solid game. He had two assists and the top line of him, Steen and Tarasenko looks like it could be a keeper (which means they will change it next game).
Looking Forward
The Blues have a couple more games left on this home stand. The next one will be against the offensively potent Winnipeg Jets.
Like Tampa, the Jets will be coming into the game playing less than stellar. However, despite the fact they lost to Edmonton, they still scored three goals and Patrik Laine is very dangerous.
The Blues put their six game home winning streak and three game overall winning streak on the line on Saturday.
This article originally appeared on