San Jose Sharks vs New York Islanders: Highlights, Recap, Final Score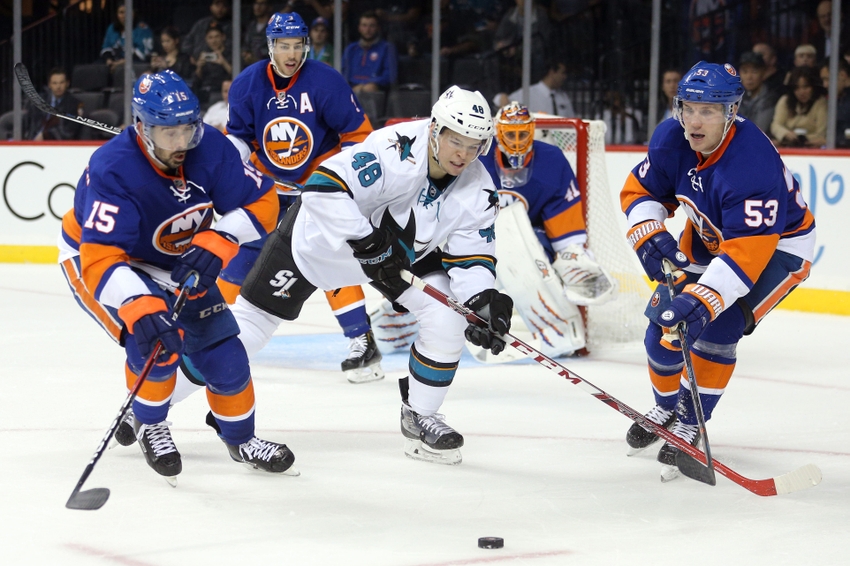 The New York Islanders were hosting the San Jose Sharks in their second home game of the season. How did they do against the tough Western Conference foe?

3

2
Despite the New York Islanders being the rested team, they came out rather flat to start the game. The San Jose Sharks were able to take a lead in the first period, as their energy level was much higher than the Islanders to start the game.
In the second period, the Islanders make their push back. A goal by Anthony Beauvillier really sparked the Islanders after he tied the game. Anders Lee would then score his first goal of the season quickly after. However, the Islanders would allow a late goal in the second period to Tomas Hertl, which tied the game.
In the third period, the Sharks were able to take the lead late in the period on a goal by Joe Pavelski. The Islanders had a chance on a power play to end the game, but they ran out of time without getting a good opportunity to tie it.
Three stars: 
Joe Pavelski, Sharks — With the game tied late in the third period, Joe Pavelski had the clutch goal for the Sharks. On a beautiful redirect, Pavelski scored his second goal of the season to give his team the win.
Joe Thornton, Sharks — On two of the three Sharks goals, they were assisted by Joe Thornton. On the second and third goals of the game, Thornton had the first assists, as he did a great job getting his teammates set up in scoring positions.
Anthony Beauvillier, Islanders — The Islanders' young forward was able to score his first goal of the season in the second period. The goal by Beauvillier seemed to have sparked the Islanders after a very poor first period.
Highlights: 
Next up for the Islanders will be another home game against the Phoenix Coyotes. This matchup also means that the Strome brothers might be playing their first game against each other as professionals.
More from Empire Writes Back
This article originally appeared on