San Jose Sharks Slump Extended by Pittsburgh Penguins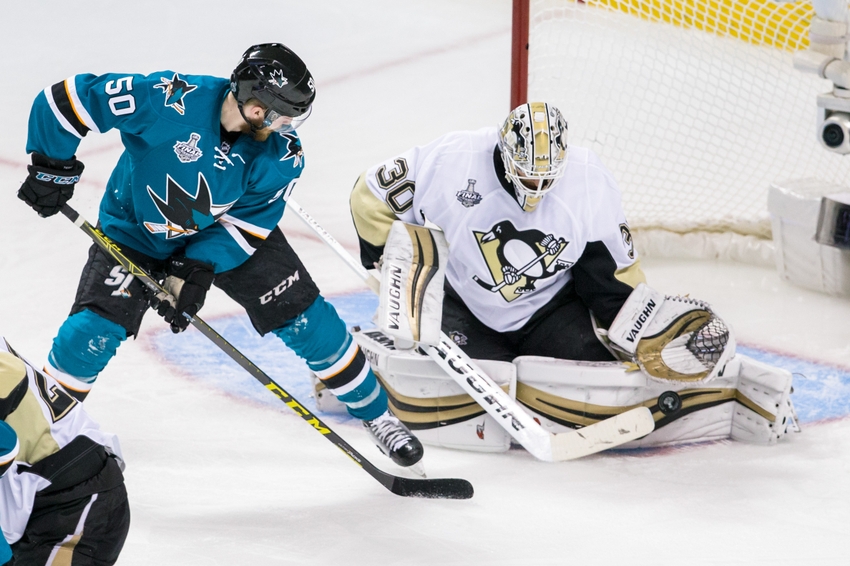 The San Jose Sharks slump officially took hold in an embarrassing performance against their Stanley Cup victors, the Pittsburgh Penguins…
The Pittsburgh Penguins showed why they are Stanley Cup champions against their finals foe Saturday, Nov. 5. In the process, the San Jose Sharks slump hit three games.
That is two straight home losses after going unbeaten in the first four 2016-17 NHL season games in San Jose. The third loss in the slump was in Arizona, and the team is now 6-6-0.
That loss dropped the Sharks to 2-4-0 on the road. Now they embark on the longest road trip of the 2016-17 NHL season—six games that start appropriately in the nation's capital on Election Night.
The way San Jose is playing, returning a .500 team would be overachieving. Four of the six games are against teams that made the 2016 Stanley Cup playoffs and are expected to again. Five are at least two time zones east of home.
Saturday's game was downright embarrassing. Blowing a two-goal, third-period lead to a shorthanded Stanley Cup champion last month in Pittsburgh was bad enough. This one was 5-0 by the last intermission and did not change.
The first thing the Sharks need to do is wake up offensively. Their offensive woes have been outlined ad nauseum in this column, but they are worsening.
They have 10 goals against a manned net in the last 22 regulation periods. Only two teams have scored fewer goals per game than San Jose's 2.25 average.
Imagine how bad it would be for the Sharks if not for their power play. Their eight goals are tied for 10th.
The Fix Is In
The challenge for head coach Peter DeBoer is to find a fix. To this point, he has only been willing to tweak.
DeBoer has juggled San Jose's lines but not pairs. There have been few personnel changes. The same six defensemen have dressed for all 12 games of the 2016-17 NHL season. Eleven of the 12 forwards dressing have also been constant.
Something more needs to be done. It is troublesome to see the Sharks show no fire against a team they squandered a late lead against in October. It is galling to see it against the team that beat them for the 2016 Stanley Cup.
When that happens, there should be consequences. A couple scratched veterans sends a message.
There are promising scorers with the AHL San Jose Barracuda. Kevin Labanc, Nikolay Goldobin and maybe even Barclay Goodrow could be worth a try right now. It is also time for Dylan DeMelo to get a shot—not because of blue-line failures but because he might help move the puck.
Finally, it is fair to ask whether the team's age is a factor—especially on the heels of last spring's deep postseason run. Three of the San Jose's four oldest players are struggling (Paul Martin, Joel Ward and Patrick Marleau). The other (Joe Thornton) is also not at his usual scoring pace—nine points in 12 games so far this 2016-17 NHL season.
It is too late in the season to chalk struggles up to anything that will fix itself. It thus qualifies as insane to do the same things and expect different results. Fortunately, there is plenty of time for trial and error to find the solution and the Sharks know they only need to right the ship in time for the playoffs.
This article originally appeared on