San Jose Sharks Shutout by Carolina Hurricanes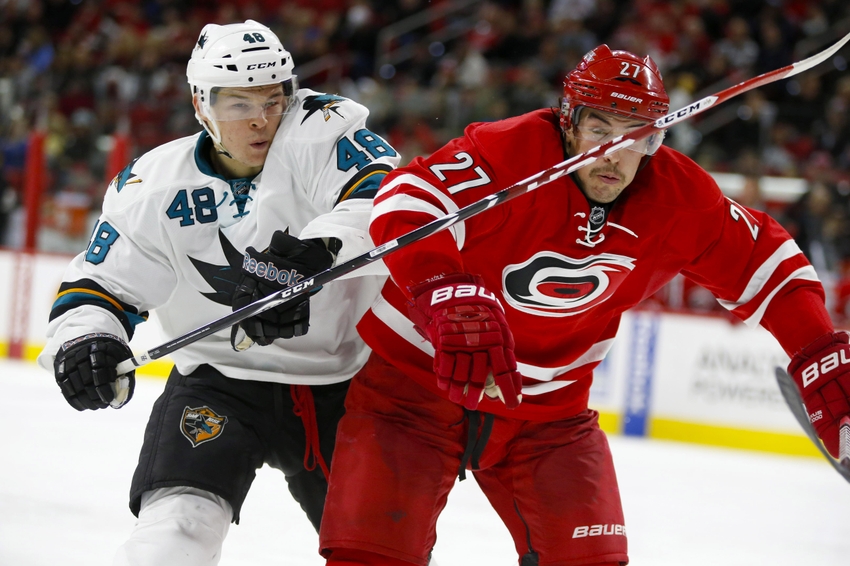 The Carolina Hurricanes achieved the third San Jose Sharks shutout of the 2016-17 NHL season Tuesday, Nov. 15…
The third San Jose Sharks shutout of the 2016-17 NHL season came in just their 16th game Tuesday, Nov. 15. They were shutout just six times in 106 games last season including the Stanley Cup playoffs.
The Carolina Hurricanes were not a good bet to accomplish this feat Tuesday. They came in with a 3.21 goals-against average (GAA).
That reveals how deep San Jose's scoring woes are. The offense has beaten an opposing goalie more than twice in just over 30 percent of games. Moreover, the sample size is significant enough a fifth of the way through the 2016-17 NHL season.
Tuesday's attack lacked urgency. The Sharks put just 22 shots on net. Cam Ward only faced a couple grade-A chances among them. Only one came after Joakim Nordstrom backhanded the game's only goal past Aaron Dell with 9:12 to play.
The event summary corroborates San Jose's almost across-the-board disadvantage: 15-34 faceoffs and 7-11 takeaways but 4-9 giveaways, 21-14 hits, 22-33 shots and 50-62 attempts. Even the 17-13 advantage in blocks had more to do with facing more shots to block than playing better defense.
The Sharks have been dominated in the faceoff circle for too much of the 2016-17 NHL season. They currently rank 26th after Tuesday's awful game in the circle.
Silver Lining
In the process, they wasted the best start of Dell's young career. He turned away 32 of 33 for a .970 save percentage (sv%). He now has a .932 sv% and 1.90 GAA over three appearances on the 2016-17 NHL season.
Last time San Jose started a rookie at Carolina, Troy Grosenick turned away all 45 shots faced. Now he is the starter for the AHL Barracuda, effectively switching places with Dell.
Still, each solid start from Dell has to make San Jose feel better about keeping him there. He was easily the best Shark Tuesday. He had to make a few highlight-reel saves to give his team a chance.
Good goaltending is one way the Sharks ensure a successful 2016-17 NHL season. However, they still must score to win.
It is hard to imagine the scoring will not come around. San Jose remains among the league leaders in shot percentage when the game is close. Nevertheless, it is time to accept some kind of changes be made.
This article originally appeared on