San Jose Sharks Scoring Woes Costly at Arizona Coyotes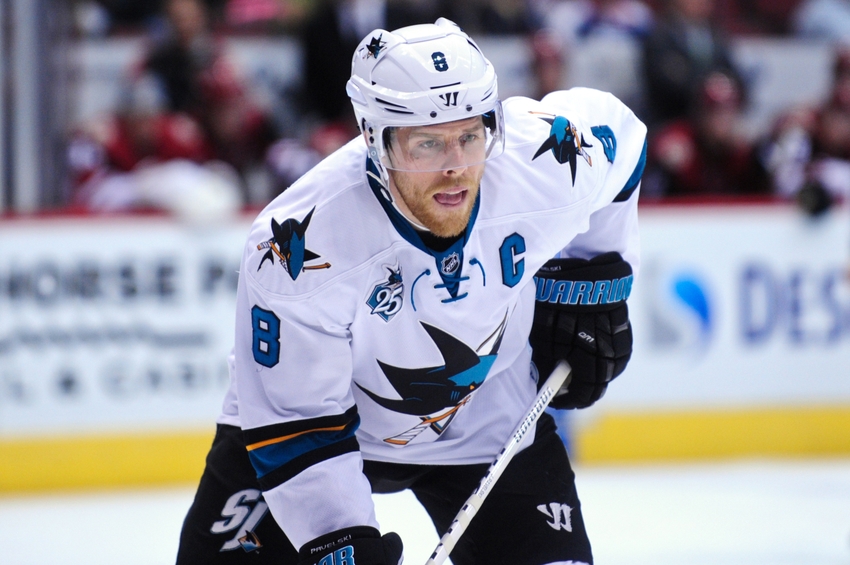 The San Jose Sharks scoring was even unable to break through against the struggling Arizona Coyotes defense Tuesday, Nov. 1…
So far there has been one theme to the 2016-17 NHL season. The lack of San Jose Sharks scoring continued against the Pacific Division rival Arizona Coyotes Tuesday, Nov. 1.
Backup goalie Louis Domingue was in net for the Coyotes. They had yielded at least three goals in each of the first eight games of the 2016-17 NHL season.
However, the Sharks could not score more than one goal until they pulled Martin Jones. It was too late by the time former Coyote Mikkel Boedker put home the second with 11.9 seconds left.
San Jose has just 15 goals past a goalie in 5-on-5 play through in the first 10 games of the 2016-17 NHL season. Even including the power play, the team has only scored three goals on a manned net three times.
The Sharks are 2-1-0 when beating a goalie three times. The fact they won four of the other seven games is a testament to their defensive commitment. They have given up 17 goals total outside of the egg laid against the New York Rangers—seven including the two into an empty net.
San Jose's defensive commitment seems to wane on the road. Arizona took advantage of a few bounces to beat Jones three times in the second period alone. Every host has scored twice in a period and/or three goals total in six games away from the SAP Center so far this 2016-17 NHL season.
Moving Forward
Fortunately, the Sharks come home for two more games this week. A Pacific Division battle with the Calgary Flames awaits Thursday, with a Stanley Cup rematch looming Saturday.
The Pittsburgh Penguins came back from a 2-0 deficit in the first rematch in October. They scored three goals in the third period with their blue-line stud scratched and two players injured during the game.
A win Saturday would give them a sweep in the 2016-17 NHL season series to follow their 4-2 Stanley Cup finals victory. Meanwhile, San Jose can at least redeem the October loss by coming away with two points Saturday. A win Thursday keeps a Pacific Division rival down and keeps a perfect home record going after two seasons of losing more often than winning at SAP Center.
What to Build On
For one thing, the Sharks got a big full-strength goal from veteran Patrick Marleau in the first period. His lack of those of over the last two seasons has been noticeable. Playing on the third line will only exacerbate that, but little more than that is justified with the talent on this roster.
As long as Marleau remains good enough to keep the best power play unit in the NHL intact, he should be okay with his role. He has lost a step but is still a great skater with skill. He is durable and more physical than most people assume, usually leading the scoring lines he has been on in hits dating back three head coaches.
Marleau can fill the admirable veteran role of checking-line center and fill in on scoring lines, especially on the power play. Those roles become key in the Stanley Cup playoffs. How great would it be to have the all-time franchise player win the Conn Smythe?
For now, getting Marleau going can only help. The same can be said of his new teammates from Arizona, Boedker and David Schlemko.
Improvement
There are other signs of San Jose's offensive awakening. The scoring showed up in a win over the Nashville Predators.
The second power play unit has looked good. All four lines are generating pressure, with frequently-scratched enforcer Micheal Haley even getting two assists in his first four games (all wins). Domingue had to make a career-high 39 saves to win Tuesday, including a few highlight-reel stops.
Finally, the Sharks corrected one of their greatest areas of weakness Tuesday. The second-best faceoff team in the league over the tenure of its last two coaches came into the game the worst this 2016-17 NHL season. They won 45 of 76 against the Coyotes—the only team better over those past six seasons.
Trend vs. Anomaly
The rest of the event summary shows San Jose spent more time on the attack: 41-30 shots and 86-60 attempts. Arizona countered with modest edges in turnovers (8-5 giveaways but 9-2 takeaways) and hits (17-13) supported by a bigger one blocking shots (27-12).
It is always important to remember that it is still early. Sometimes things are trends and sometimes they are anomalies.
To that point, the Sharks are the top team in the league in 5-on-5 shot percentage. It would be nice to see more of those shots go in, but their scoring will be fine if that is maintained.
This article originally appeared on