San Jose Sharks Prospects Update: October Edition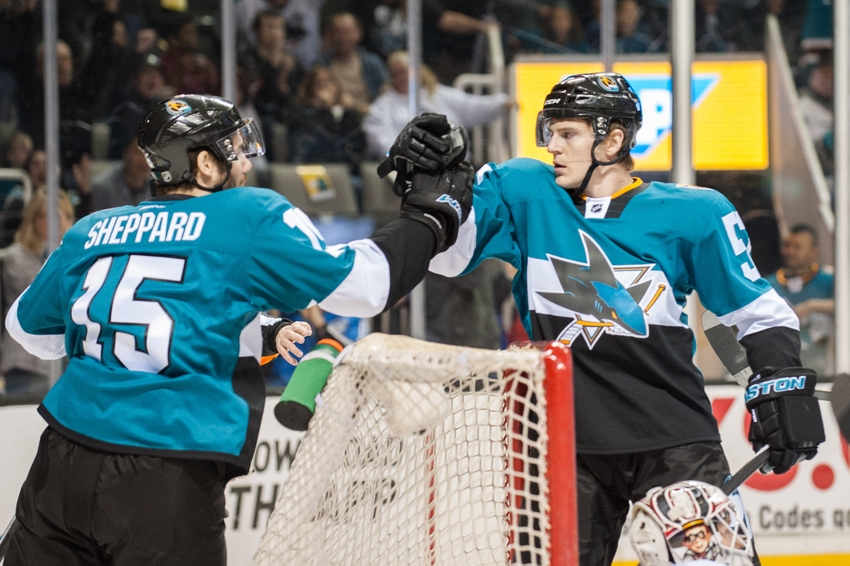 While the team is busy blowing leads, let's take a look at some San Jose Sharks prospects who are building solid seasons towards the future.
After blowing a two-goal lead in the third period to the Pittsburgh Penguins, the focus of this organization is clearly on the future. There are San Jose Sharks prospects not losing games giving fans plenty of reasons for excitement about the future.
QMJHL
Some Sharks fans were surprised that Cavan Fitzgerald was cut from training camp and sent back to juniors. In response, Fitzgerald is having a year to remember, becoming a leader on the top-ranked team in the CHL.
Fitzgerald is having such an amazing season that scoring a point-per-game this week seems normal. Even without Shark-killer Anthony Beauvillier, the Shawinigan Cataractes look like a favorite to represent the QMJHL in Windsor.
Another contender in Quebec includes Jeremy Roy and the Blainville-Boisbriand Armada. After a mediocre start, the Armada are another team that are rolling. As for Roy, his three games in eight points doesn't look flattering.
However, fans should keep in mind that he is likely getting less ice time than he did in Sherbrooke. The Armada are a better team that don't have to lean on him as much.
While Roy and Fitzgerald are expected to earn long playoff runs this spring, the Moncton Wildcats aren't a favorite to contend this season. Despite that Manuel Wiederer is putting up a solid season before turning pro. With four points in his last three games, he is putting up the production that the Sharks are expecting of him this season.
OHL
One of the most interesting stories of the season was watching the development of North Bay Battalion defenseman Mark Shoemaker. Ten games is a small sample size but having only one assist in that span isn't a glowing start. However, no one is freaking out over a sixth-round pick—for now, fans should remain patient over Shoemaker's development.
WHL
After an okay start, Noah Gregor is building a solid season. Putting up four points in the past four games is a good streak to build upon. Considering Gregor is younger than other Sharks' prospects, there is plenty of time to watch his development blossom.
Ten points in twelve games won't blow most fans away. But Gregor's season is enough to make Sharks fans feel good about the James Sheppard trade right now.
Gregor is further back in his development, one player the Sharks are depending on to accelerate his development is Rudolfs Balcers. He is struggling to meet expectations so far.
Most fans would feel satisfied with seven points in 11 games, but his lack of scoring at even-strength scoring is concerning. Like Roy and Shoemaker, patience is key before assessing these players seasons—especially since this is his first season in North America.
Just take a look at Joachim Blichfeld. After starting the season facing the possibility of being a healthy scratch, he now has nine points in ten games. That is an impressive feat considering the circumstances.
For now, we will continue to wait and see how these San Jose Sharks prospects develop this season.
This article originally appeared on