San Jose Sharks Forward Depth Keeps Matt Nieto Scratched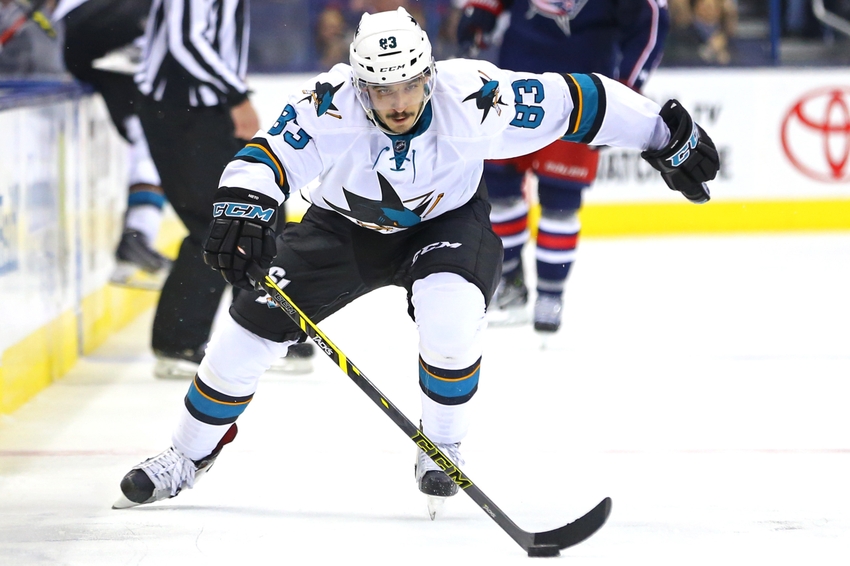 With the San Jose Sharks forward depth leaving and many forwards challenging for a roster spot, are they planning to move Matt Nieto?
The San Jose Sharks forward unit has depth and skill. That became apparent with Kevin Labanc making his NHL debut last Tuesday. With only 12 active forward spots on their roster, leaving good players off is inevitable.
That is where Matt Nieto comes into the equation. A healthy scratch for the last handful of games, he is on the outside looking in. So what are the Sharks planning with him moving forward?
Money
Before a team decides on their plans with a particular player, the first factor that comes to mind is the salary cap.
After calling up Labanc, the Sharks have just over $10,000 in cap space per Cap Friendly. That is nothing.
Moreover, Nieto took a pay-cut from an entry-level deal. That is almost unheard of for a everyday NHL forward.
This is concerning. The Sharks still have to worry about extending Joe Thornton, Patrick Marleau and Brent Burns. If Nieto is looking for the raise he deserves, it would take a miracle to get everyone under contract.
Playing Time
While the salary cap tells a lot, it still doesn't explain Nieto's playing situation. Why is he always a healthy scratch?
No points on the season might say something. But a deeper look reveals that he hasn't played terribly this year. Despite the small sample size, Nieto ranks sixth among forwards in shots per 60 with 7.12. He also ranks seventh in individual Corsi per 60 at 11.12.
Generating shots and offensive pressure isn't the problem. The problem lies in Nieto's production.
In his short career, Nieto has always been a very low-percentage shooter. He struggles to convert scoring chances on a regular basis.
That explains the bad rap he receives from many Sharks fans: Nieto directs play in the right direction, but those chances aren't dangerous.
With his results, the Sharks would create offensive pressure. But it's not like they need more of that right now.
His Future
So are the Sharks going to trade him? All signs are pointed in that direction.
San Jose has limited cap space and many forwards challenging for a roster spot. At this pace, players like Nieto, Tommy Wingels and even Patrick Marleau are being threatened by the rise of Labanc, Timo Meier and Nikolay Goldobin.
However the expansion draft could keep Nieto a Shark. With the reality of losing a player for nothing, the Sharks might benefit from benching Nieto, keeping his trade value low so Las Vegas would select a different player.
After all, Nieto is a young, effective forward that can fit in on the third line of many teams. With room to grow, there is demand for a player like that.
The Sharks have many options going forward, but based on his usage, the likelihood of Nieto remaining with the team for long is slim.
This article originally appeared on