San Jose Sharks Defense Allows Anaheim Ducks Win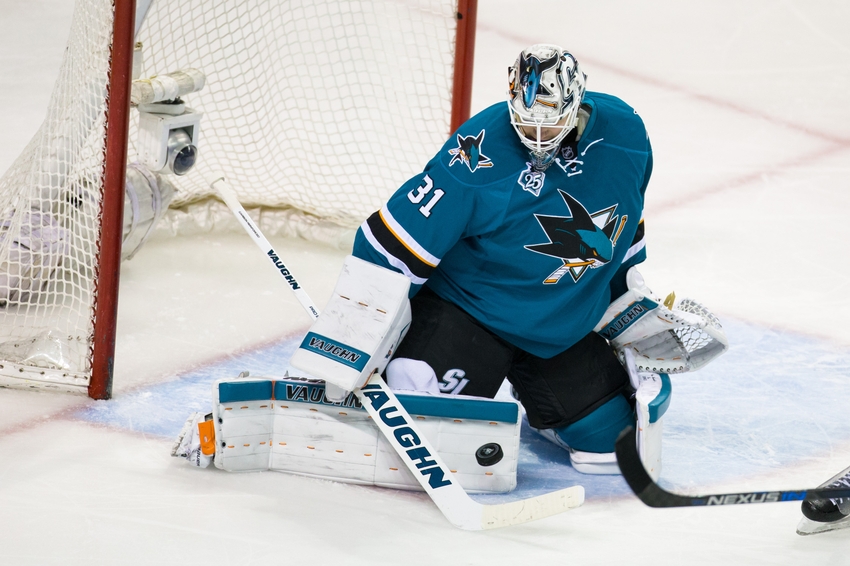 The San Jose Sharks defense had a rare bad game Saturday, Nov. 26. The four-time defending Pacific Division champion Anaheim Ducks made them pay…
Just one point was needed to take over the Pacific Division lead Saturday, Nov. 26. Instead, the San Jose Sharks defense suffered a letdown against the Anaheim Ducks.
Anaheim lost the previous matchup this 2016-17 NHL season 2-1 in San Jose on an overtime goal by Marc-Edouard Vlasic. He is now among the walking wounded, missing the entire third period. Blue-liner Brenden Dillon also missed this game while forwards Tomas Hertl, Melker Karlsson and Tommy Wingels were already out.
The game was a reversal of fortune for both teams. The Ducks broke a three-game losing streak. Meanwhile, the Sharks snapped a three-game winning streak.
San Jose was sloppy in all three zones and all three periods Saturday. The event summary registered over 20 giveaways (23) for a second straight game. Anaheim had just 12, making up for deficits of 34-35 in faceoffs and 13-4 takeaways.
The Sharks were also uncharacteristically bested in blocks (15-26) and thus outshot 23-26 despite having more attempts (61-53). The Ducks were uncharacteristically outhit 31-26 and still committed two more penalties, but it did not matter.
San Jose seemed to be a few inches from coming up with several loose pucks or from connecting on several passes. Anaheim is a four-time defending Pacific Division champion because it can exploit those mistakes.
Controversial Goal
In fact, the Ducks had two goals on their first four shots. They also had help. How the league can say Joe Pavelski did not score in the 2016 Pacific Division finals but Ryan Garbutt did Saturday is beyond comprehension.
Pavelski was driven into Pekka Rinne much more last May than Garbutt was into Martin Jones. Contact from a trailing Brent Burns was minimal enough to consider a penalty for goalie interference. The best call would have been no penalty and no goal.
Interestingly, the Sharks had a Martin Jones Bobblehead promotion. It was merely coincidence officials allowed his head to be flung into the net ahead of his body by Garbutt. Head coach Peter DeBoer lost a replay challenge on the play.
Other Scoring
Logan Couture scored San Jose's first goal on the power play 8:40 into the game. Anaheim potted another goal before intermission. Longtime line-mates Ryan Getzlaf and Corey Perry combined to push the puck to the slot where Rickard Rakell was able to redirect it past Jones.
The Sharks tied it back up near the midpoint of the second period after sustained pressure form the fourth line. Ryan Carpenter set a screen in his first game of the 2016-17 NHL season (and second in his career). Dylan DeMelo fired through the traffic for his first goal in just his second game this fall.
However, the Ducks took advantage of their only power play just over seven minutes before intermission. Getzlaf was wide open in the slot on consecutive shifts and buried a goal on the second.
That scoring ended despite multiple defensive letdowns by both teams over the final 27:01. Jones was at his best in the third period but faced several grade-A chances throughout.
San Jose generated fewer quality chances despite the favorable attack time. It was the 15th time in 22 games this 2016-17 NHL season that the offense failed to score three goals against a manned net.
Where They Stand
Barclay Goodrow was the odd-man out for a second straight day after being called up. However, he may get his chance to dress for his first game of the 2016-17 NHL season. The Sharks have placed Karlsson on injured reserve and will not get Hertl back for weeks.
San Jose reported almost nothing on Vlasic, Dillon or Wingels to determine the length of their injuries. However, it seems any climb to the top of the Pacific Division will come significantly shorthanded.
The Sharks would already be in first place in the Pacific Division had their defense been sound. Of course, the same is probably true had the right call been made on their first official goal allowed…
This article originally appeared on