San Jose Sharks Back End Grades Well Through Two Months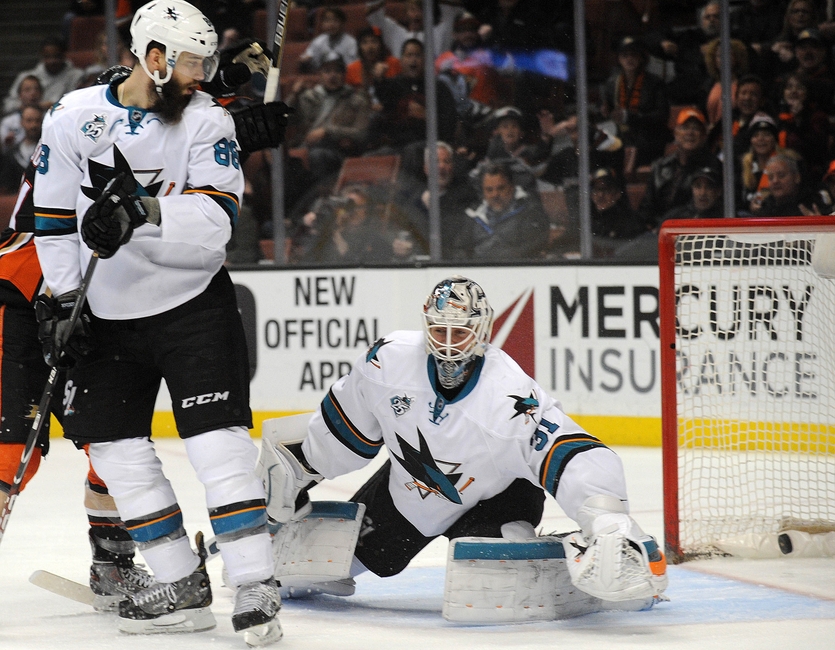 The San Jose Sharks back end has been stellar through the first two months of the 2016-17 NHL season. Here are the individual grades…
The first two months of the 2016-17 NHL season are in the books. That represents a large enough sample size for analysis. The San Jose Sharks back end carried them into a five-day weekend providing a perfect opportunity.
San Jose's Pacific Division lead is because of its defensive game. It boasts the best goals-against average (GAA) on the 2016-17 NHL season (2.04 per game). Its penalty kill is 12th (84.4 percent) and rising.
The Sharks have taken play in their end to a new level recently. Opponents have scored nine goals in the last seven games, and one was only because the scorer was allowed to plow into Martin Jones.
Defensive prowess is not limited to the goalies and blue line, of course. San Jose has some of the best defensive forwards in the world. All the skaters sell out to block shots, achieving the lowest ratio of shots allowed per block on the 2016-17 NHL season (1.33). They also use their stick adeptly to gain control of the puck, ranking ninth in takeaways despite attacking more than they defend.
Still, hockey defenses are built from the back end. The foundation of that is the goaltending position. The analysis of most NHL duos is almost entirely based on the starter.
What better place to start than at the top? Sharks are graded according to total contribution rather than expectation…in other words, against the standard of Nicklas Lidstrom or Martin Brodeur.
Martin Jones: A
Jones has been San Jose's best player through 25 games of the 2016-17 NHL season. He carries the heavy workload of a No. 1 with an untested backup, starting 22 games.
Only Cam Talbot of the Edmonton Oilers has more starts (24). He is also one of four other goalies tied with Jones for the league lead in wins (13).
Jones is fourth among goalies to start more than a dozen games with a 1.99 GAA and 10th in save percentage (sv%) at .924. He earned third star last week (3-0-0, 1.01 GAA and .962 sv%) per CSN Bay Area Insider Kevin Kurz Monday, Dec. 5.
However, it is important to note that this history shows this to be a less-than-sustainable model. Brodeur is the only goalie to play more than 83 percent of his team's games and still win a Stanley Cup dating at least as far back as the expansion era.
Brent Burns: A
Brent Burns is probably the best player on the Sharks. That is why they signed him to a reported eight-year, $64 million extension. He would have been a free agent after the 2016-17 NHL season.
Burns currently leads all defensemen in shots (107), goals (10) and points (22). He is also far from the offensive-only defenseman narrative that many still cling to with him, as well. Only a dozen defensemen have more than his 14 takeaways.
He also averages 1.1 hits and 1.8 blocks per game and probably is San Jose's second-best defender on an odd-man rush. He is also the team's ice-time leader at 24:02 per game.
Want your voice heard? Join the Blades of Teal team!
Marc-Edouard Vlasic: B+
There is no better defensive hockey player in the world than Marc-Edouard Vlasic. It does not show up as well as expected in his real-time statistics: 42 blocks but just seven hits and six takeaways. His 21:35 average ice time and even plus-5 rating might seem modest to the outsider.
However, Vlasic routinely shuts down the opposition's most dangerous offensive player. Similarly, his offensive contributions do not always show up in personal scoring.
Vlasic has just three goals and four assists in 25 games this 2016-17 NHL season. However, two of the goals are winners including the Bobby Orr-like overtime winner Oct. 25. That was especially big since it came against the four-time defending Pacific Division champion Anaheim Ducks as that two-point swing represents the current margin between the rivals in the standings.
Justin Braun: B-
There is speculation the Sharks could expose Justin Braun to the expansion draft. That should be a last resort to fit the team under the salary cap.
Sure, Braun has 24 shots, no goals and three assists on 20:05 average ice time. Even his defensive numbers do not blow one away: 47 blocks leads San Jose and 14 takeaways is special, but 32 hits is modest for someone with three points.
However, it should be noted that he only has 17 giveaways. Moreover, he deserves almost as much credit for shutting down the opposition's best scorers as his defense-mate Vlasic.
Paul Martin: C+
The San Jose Sharks back end is the best in the NHL because they have talent from top to bottom. Paul Martin can be credited with solidifying both when he was signed in 2015.
Martin still plays the reliable hockey that allows Burns to be an offensive force for the Sharks. His play is slipping: 40 blocks but just 14 hits and six takeaways against 18 giveaways, seven assists and 18 shots. He missed one game this 2016-17 NHL season and is averaging 18:48 because the biggest moments are not too big for him.
David Schlemko: C
San Jose's third defenseman on the power play is David Schlemko. That may make his 44 shots, no goals and five assists seem a disappointment. However, he has been better than expected.
Schlemko has just 16 hits but also 16 takeaways—tied for ninth on the 2016-17 NHL season. That makes him that rare defensemen with more takeaways than giveaways (15). He gives the third pair a mobile player and thus averages 17:20 ice time.
Brenden Dillon: D
The Sharks boasts a sixth defenseman capable of playing a second-pair role. Brenden Dillon is the blue-line leader in hits (53) despite missing a game.
However, his 19 blocked shots are unimpressive and his one takeaway pathetic. Moreover, he is an offensive liability with six giveaways to just one assist and no goals in 25 shots.
Aaron Dell: Incomplete
A goalie making just 95 saves through 25 games can only get two grades—incomplete or F. The fact is Aaron Dell has not been important this 2016-17 NHL season.
Still, he has excelled on the rare occasion he was trusted and thus cannot be considered a failure whatsoever: 2-1-0, 1.93 GAA and .931 sv%. The more of Dell's starts like the first three of his NHL career, the more games he must start.
Dylan DeMelo: Incomplete
What applies to Dell obviously applies that much more to Dylan DeMelo. He has played just two games on the San Jose Sharks back end—less than 30 minutes of total ice time.
However, he is off to a great start scoring a goal on four shots with five hits and three blocks. That is exceptional given his limited experience coming in and action during this season.
This article originally appeared on