San Jose Sharks Attack Cannot Overcome St. Louis Blues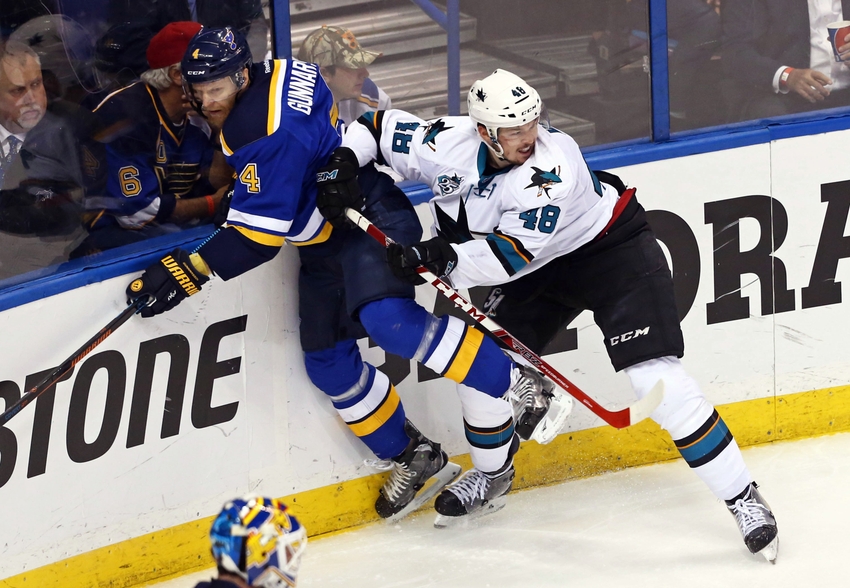 The San Jose Sharks attack failed to score three goals once again vs. the St. Louis Blues Thursday, Nov. 17…
The San Jose Sharks attack is still missing 17 games into the 2016-17 NHL season. They failed to beat an opposing goalie for three scores for the 12th time Thursday, Nov. 17.
This time it was Jake Allen stymying San Jose shooters. The St. Louis Blues won the 50-50 puck battles as the event summary possession statistics suggest (38-24 faceoffs, 4-5 giveaways but 3-5 takeaways).
However, the Sharks spent more time on the attack as they often do. They attempted far more shots (55-41) and were therefore outhit 18-8. Unlike the flat effort Tuesday, pressure was there and just did not result in goals.
That has been the case much of the 2016-17 NHL season. San Jose is back to ranking first in shot percentage while games are close. One problem Thursday: St. Louis is second.
The Sharks were also uncharacteristically deficient at blocking shots, losing that battle 17-6. That kept the Blues alive, allowing 31 shots through to Allen while putting 26 on Martin Jones.
San Jose got the first goal. Logan Couture got just his first full-strength goal of the 2016-17 NHL season 6:16 into the game. New line-mate Joel Ward got his own scoring going by lifting the puck through the neutral zone. Joonas Donskoi got the primary assist for sending a bouncing puck from the blue line to the slot.
Counterpunch
However, the night belonged to Jaden Schwartz. He scored the next two goals to match the opposition's entire output.
The Sharks answered 18 seconds after the second goal. Rookie Kevin Labanc whipped in the first of his NHL career and the game was tied back up.
Labanc looked as good as anyone has on the top line with Joe Thornton and Joe Pavelski, both of whom got assists on the play. He has had mostly positive impact on both sides of the ice and could be one offensive answer.
However, St. Louis had one more counterpunch—on the power play. San Jose's streak of 26 consecutive penalty kills ended 4:04 before intermission. There was no scoring after that.
The Sharks were without Tomas Hertl for the final 24-plus minutes of the game. The sixth and final game on the longest road trip of the 2016-17 NHL season comes Saturday. The Arizona Coyotes come in ranked 29th defensively, allowing 3.38 goals per game thus far.
This article originally appeared on