San Jose Sharks at Pittsburgh Penguins: Getting Ready For Game 7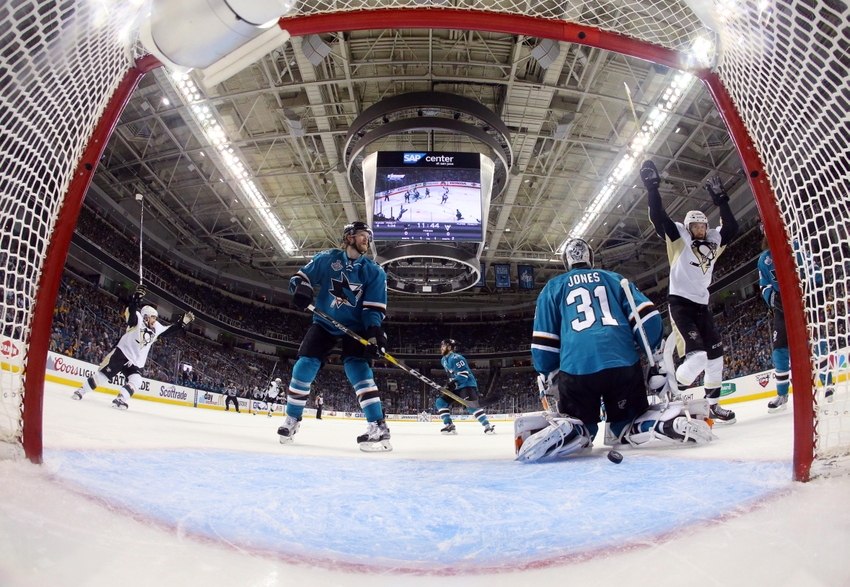 The San Jose Sharks wanted their next game against the Pittsburgh Penguins to be for the Stanley Cup, but Thursday's will play a role in this season…
Pulling out a thrilling victory in Game 6, the San Jose Sharks are prepared to face the Pittsburgh Penguins in the biggest game in franchise history. After two months of grinding through the playoffs, the entire season comes down to one game.
That is the gravity the next meeting between these teams would have had the Sharks actually won Game 6. Instead, they are in the middle of a challenging first road trip of the 2016-17 NHL season. The fourth contest in this five-game, eight-day Eastern Conference swing is in Pittsburgh Thursday, Oct. 20.
San Jose is 2-1 so far and finishing the trip with a winning record would be a huge victory. On the other hand, a bad road trip could get this season off on the wrong skate. Catching up with the rest of a deep and competitive Western Conference becomes a tall order.
One Night at a Time
The Penguins come into Thursday looking like a much different team. With Sidney Crosby injured and Marc-Andre Fleury starting, the depth of the Penguins has shifted. The Sharks will face different line combinations then what was seen in June.
Otherwise, this game is a welcome sight early in the season. The additions of Mikkel Boedker and David Schlemko were made with the goal of beating a team like the Penguins.
Therefore, this contest serves as an early litmus test to the offseason that general manager Doug Wilson had. It is always a good thing to have early measuring sticks to inform decisions with plenty of time to adjust.
Winning this game will not wipe away the loss in June. However, it will go a long way in establishing confidence for the rest of the 2016-17 NHL season.
Road trips also help players develop chemistry. Thus, having one this early gives San Jose a full season to take advantage of being ahead of the curve bonding.
Looking Forward
Should the Sharks lose, they still have a great chance to finish the road trip with a winning record. With a Crosby-less Penguins and a Detroit Red Wings team with depleted depth on the itinerary, achieving this goal is likely.
Even if the NHL season is only one week old, this is an important game that might play a factor for the rest of the season. No matter the result, this game is a foundation the Sharks will build on.
The toughest challenge for fans watching this game might be not imagining it as Game 7 of the Stanley Cup Finals. Maybe the Sharks should throw all of their gear on the ice with a win.
More from Blades of Teal
This article originally appeared on