San Jose Sharks Analysis: 2016-17 NHL Season Quarter Pole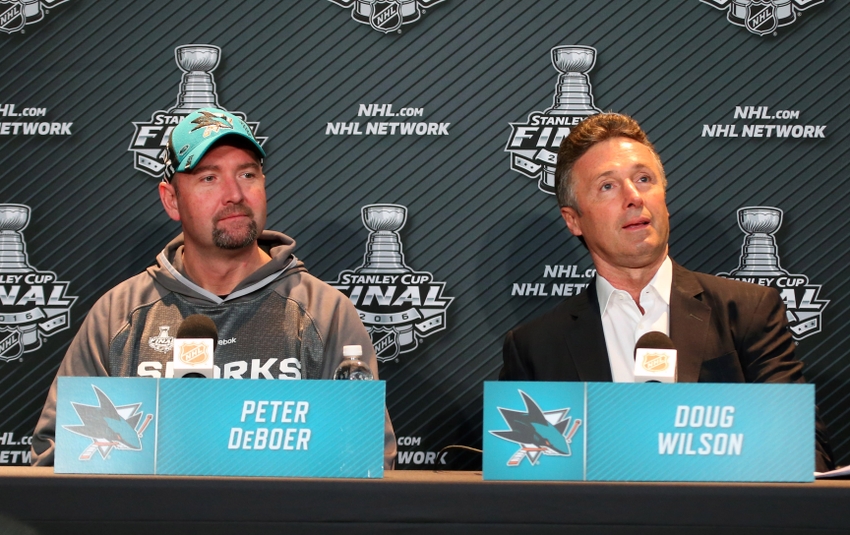 The 2016-17 NHL season quarter pole is a perfect time for a San Jose Sharks analysis…how do they stack up?
The 2016-17 NHL season has reached the quarter pole, making results a better measure of a team than preseason roster evaluations. Thus, it is the first chance to do an accurate San Jose Sharks analysis.
Record is the most important measure. The Sharks are tied with the Los Angeles Kings for the top point percentage in the Pacific Division but have more regulation and overtime wins.
That said, San Jose is only three points over .500—a 93.2-point pace. It cannot count on everyone else to play badly the rest of the way.
Hence, the Sharks have been disappointing but are in the right position. There is no hole to dig out of despite enduring the two longest road trips of the 2016-17 NHL season.
That adds up to an above-average start. The more interesting thing to examine is how San Jose got here.
The Good
For starters, the Sharks have been amazing in their own end. They are top-10 penalty killers and only the Minnesota Wild and Montreal Canadiens have allowed fewer goals per game.
Defensive play is the most important aspect of any team's game. However, there are also plenty of individual performances that stand out.
Specifically, Aaron Dell has been everything San Jose hoped despite limited action. Tommy Wingels has been the brightest spot on an excellent fourth line so far this 2016-17 NHL season. Brent Burns and Marc-Edouard Vlasic are picking up right where they left off. David Schlemko has been even better than advertised.
The Bad
The biggest problem is the Sharks are not scoring. Only seven teams averaging fewer than their 2.36 goals per game. They are also the only team yet to score five goals in a game.
In fact, San Jose has only scored three goals on a manned net in 16 of 22 games this 2016-17 NHL season. Even the trademark perilous power play ranks just 16th.
There are plenty of Sharks to blame, but chief among them is Mikkel Boedker. He was practically named by head coach Peter DeBoer after being left off the ice in the third period of Saturday's 3-2 loss to the Anaheim Ducks.
Want your voice heard? Join the Blades of Teal team!
Boedker was the top free-agent acquisition at $4 million per year. He was signed for speed and scoring.
Thus far he has only displayed the former in spurts and the latter not at all. With time on all four lines, he single-handedly explains San Jose's lack of scoring.
Still, others are struggling. Many of the older Sharks are struggling most. Did last summer's Stanley Cup Finals run wear them down?
Paul Martin stands out as perhaps San Jose's biggest disappointments. His seven assists and plus-1 rating are solid, but he has no goals and only 16 shots on net in 22 games of the 2016-17 NHL season. He is average on the unit in blocks, managed just 11 hits and has 14 giveaways to just three takeaways.
Two other elder statesmen are closer to their expected performance, but definitely not scoring enough. Patrick Marleau has just six goals and two assists. Joel Ward has just two goals and three assists.
And the Ugly
The Sharks are likely to get their offensive game going. There is evidence they already have: 11 goals in four games on the home stand and six in a row with at least two.
However, there is a larger problem looming. After an almost injury-free October, San Jose has caught the injury bug.
The Sharks were without Melker Karlsson, Brenden Dillon, Tomas Hertl and Wingels for Saturday's game. They lost Vlasic during the contest.
Hertl will be out for weeks after a "minor procedure" on his oft-injured right knee. Little is being said about Wingels. However, San Jose dodged a bullet elsewhere.
Dillon was simply ill and the San Jose Mercury News reported an end to the other two injuries Monday, Nov. 28. Vlasic will not miss any more than Saturday's third period and Karlsson appears ready to return. Thus the Sharks optioned Barclay Goodrow back to the AHL San Jose Barracuda Monday.
If this is true, the ugly injury report could be in the past. Get Boedker to look less like Martin Havlat and the San Jose Sharks analysis points to a Pacific Division title.
This article originally appeared on