Road Warriors: A Look at the Carolina Hurricanes Upcoming Road Trip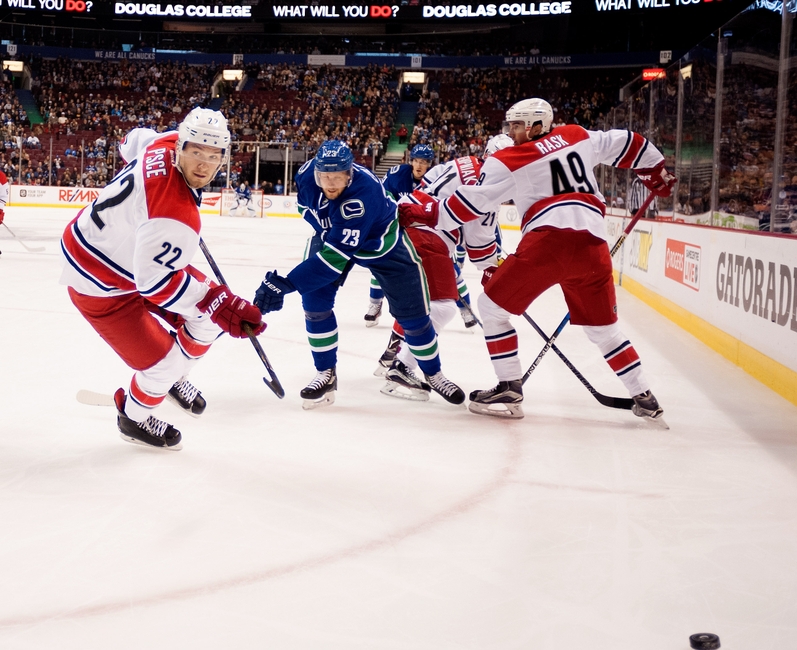 Wouldn't you know it? The Carolina Hurricanes are playing another 3 game road trip. This time, its out in California.
It has been a crazy way to start the season. Now over a quarter of the way into the season (25 games played), the Carolina Hurricanes have played only 10 games at home. That is tied with the Minnesota Wild for least amount of home games played. The Canes are soon going to be in sole position of that dubious title though.
Once this upcoming road trip ends, the Hurricanes will have played close to only a third of games on home ice. The disparity is already showing up in the team's record. Carolina is a fantastic 7-3 in Raleigh. They are a rough 3-7-5 away from PNC Arena.
After a 6th straight win at home, Carolina is back on the grind this week. They travel to Southern California to do battle with Anaheim and Los Angeles and wrap up their California adventure in San Jose. If the Canes can grab a couple wins on the West Coast, there is reason to believe the club can get on a run once they actually play in North Carolina.
Playing out West will have its challenges though. The big bodies of Getzlaf, Kesler, Kopitar, Carter, Thornton, and Marleau are going to be tough opposition. The absence of Jordan Staal leaves Carolina very undersized down the middle. It remains to be seen if the Canes can compete in front of the net with bigger Pacific Division centers.
Anaheim Ducks
The first stop is the Honda Center and the Anaheim Ducks. The Ducks have been rolling along just as anyone would expect. Despite the recent resurgence of the Edmonton Oilers, the perennial Pacific Division power is still in a playoff position.
Anaheim has been able to win a majority of their games at home and be NHL .500 on the road. Led in scoring by Ryan Getzlaf, who already has 20 assists, the Ducks will be a stiff challenge for the Canes who are coming cross country.
While they have been solid this season, lowly Calgary blitzed the Ducks in their last game 8-3. For a team that is struggling for offense right now, the Canes will have a great opportunity to get some offensive confidence back. The last time Carolina was in Anaheim, a Jeff Skinner hat trick led the Canes to a 5-1 win.
Los Angeles Kings
Just a single point behind their local rivals sit the Los Angeles Kings. While they occupy a playoff spot, the Kings have had a tough start to the year. Their road record has been worse than even Carolina's. They also lost Jonathan Quick after only one game.
Backup Peter Budaj was thrown into the crease and has made 23 appearences already. He has been alright, but nothing spectactular. Relatively slow starts from Anze Kopitar and Tyler Tofolli haven't helped the Kings out either.
Luckily, Jeff Carter is having a bit of a resurgence this season. He has 21 points in 25 games and is LA's biggest offensive threat by far.
The Kings are very much the mold in which Carolina is trying to be built. Both teams are extremely solid defensively and don't have terribly potent offenses. Like the Tampa Bay game, this one could be close checking hockey.
San Jose Sharks
Sitting atop of the Pacific Division with Edmonton are the San Jose Sharks. The former Western Conference champs are doing everything they need to do to repeat last year's performance.
The Sharks identity begins and ends with their two leaders, Joe Pavelski and Brent Burns. The captain Pavelski is pacing his team in points while Burns is turning in a Norris Trophy worthy season. Containing these two will be vital for Carolina.
Where the Sharks are really excelling is in net. Martin Jones has a stellar save percentage, .924, and is average less than 2 goals per game conceded. If the Canes expect to get a win in the Shark Tank, they are really going to have to capitalize on their opportunities. With Cam Ward playing exceptional, this should be a really great goalie battle. The Hurricanes have had the Sharks number as of late.
This article originally appeared on