Preds' Viktor Arvidsson Making Case for Expansion Protection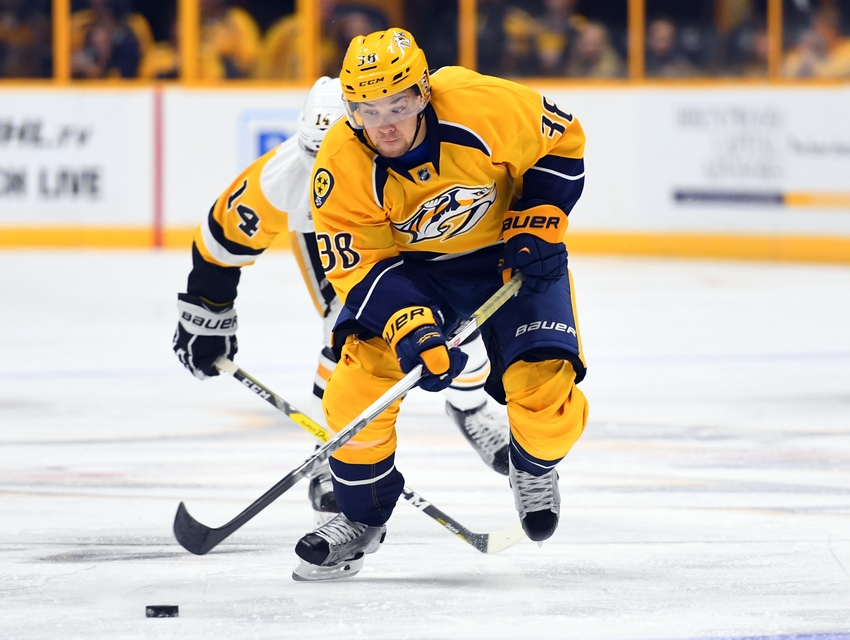 Nashville Predators Forward Viktor Arvidsson is Leapfrogging both Colin Wilson and Craig Smith for that Final Spot on the Expansion Protection List – Assuming the Preds Use a 4-4-1 Scheme to Protect all Four Defensemen (Subban, Josi, Ellis, Ekholm).
Nashville Predators forward Viktor Arvidsson is excelling in his new role this season. The Swedish winger saw an early promotion in 2016-17 to the top line alongside Filip Forsberg and Ryan Johansen and shows absolutely no signs of relinquishing it.
Through 24 games, Arvidsson has seven goals, seven assists (14 points), an even plus/minus rating, three power play points, 77 shots, all while averaging 15:48 in ice-time/game. He's on the second PP unit and also kills penalties (between 40 to 50 seconds/game).
The 23-year-old has come a long way in a short period of time. After being passed over twice in the NHL Draft, Nashville finally selected the Swede 112th overall (4th round) back in 2014. Viktor immediately crossed the pond from the SHL to join AHL Milwaukee in 2014-15 and had a very strong rookie campaign. He posted 55 points in 70 games and even enjoyed a short six-game stint with the big club due to his early success. In 2015-16, Arvidsson split time between the minors/NHL. He appeared in 17 games for Milwaukee, tallying 18 points, and 56 games for the Preds, racking up 16 points.
What Viktor Arvidsson Emergence Means for Expansion
The Preds were already facing difficult decisions regarding expansion heading into the 2016-17 season. They could either save four forwards, four defensemen, and a goalie. Or, seven forwards, three defensemen, and a goalie.
Given the state of their roster, that means Nashville is set to lose a quality player either way. If they save seven forwards (which they'd probably love to do), that means leaving a guy like Mattias Ekholm exposed. On the flip side, if you save Ekholm, that means protecting James Neal, Filip Forsberg, Ryan Johansen, and just one more forward. Talk about a lose-lose situation.
Colin Wilson vs. Craig Smith
Oddly enough, the real debate for that final forward spot was thought to be between Colin Wilson and Craig Smith. It was assumed the pair would duel it out to see which makes the strongest case to be a core piece. As of today (Dec.5), Wilson sits with 11 points, while Smith has 10 points and both of these guys are seeing less average ice-time in comparison to Viktor Arvidsson.
The Swedish winger entered the year in that next tier of forwards below Wilson/Smith. It's a group of forwards that Las Vegas was certainly keeping a close eye on, including Calle Jarnkrok, Miikka Salomaki, Austin Watson, Colton Sissons, etc.
But if we're talking about a new three-man race for one spot, it's pretty obvious that George McPhee and company over in Las Vegas should have their pick at a decent top-six forward. This is big news for the NHL's 31st franchise, as most mock drafts seem to point at them being strong between the pipes/defensively. The Golden Knights won't have much top-six talent up front to pick from, so this seemingly fairly minor news could be a major development for Vegas.
Time will Tell
It's important to remember that we did just pass the quarter mark of the season. The Preds still have 58 games to play, so things could change just as quickly over the next 24 games or so. Still, this is a situation worth monitoring as 2016-17 grows older.
Who knows, a sustained breakout by Viktor Arvidsson could potentially pave the way for a trade deadline deal including one of Colin Wilson of Craig Smith – although that becomes less likely if Nashville feels ready to make a strong Cup push. Then again, if this team falls flat on their face and find themselves fighting for a Wild-Card spot around the deadline, the Preds might consider moving someone like Ekholm – although, they only do that if they need to break up a failed defensive experiment.
This is an intriguing scenario that we'll keep a close eye on it as we enter the new year and beyond. It's been pretty quiet so far on the trade market, but it's only a matter of time before the floodgates burst open.
This article originally appeared on