Philadelphia Flyers Young Defensemen on Display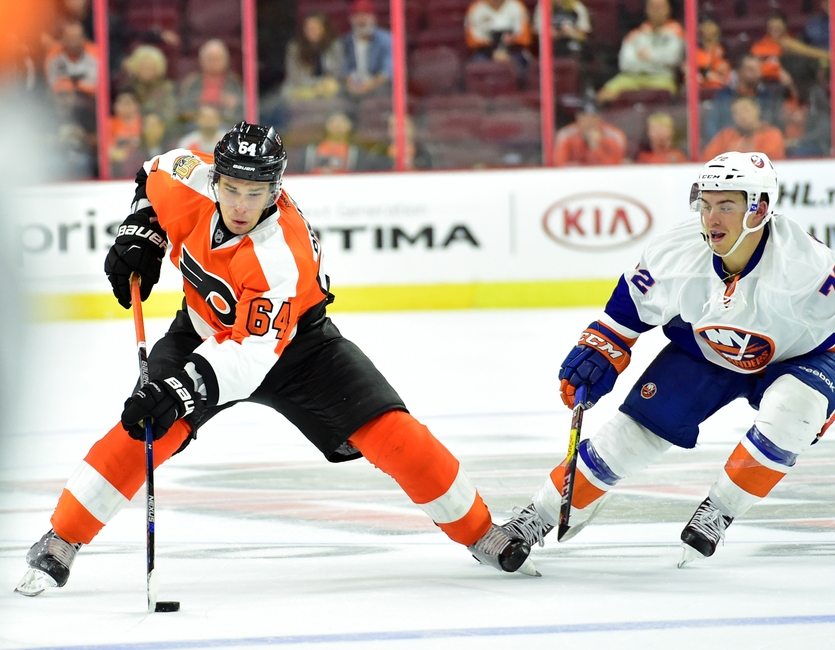 Philadelphia Flyers fans have heard so much about it the last few years, but last night they could actually see a sneak preview of the next generation
The Philadelphia Flyers started their preseason schedule on Monday night with split squads. The teams the Flyers put out on the ice that night were far from full strength, and indeed a number of those young players have already been dismissed from camp. Nonetheless, the result was a combined scoreline of 5-0 against.
The Flyers were back at it tonight, with many more NHL regulars in the lineup. In turn, the results were very different. This time it was a 4-0 victory for the good guys, largely due to some "ugly" goals.
It would be accurate to say preseason hockey's not about wins and losses, however. It's really about getting ready for the season, and evaluating and growing players. On this more important note, the game might've been even more important.
This game featured what are probably the Philadelphia Flyers' 3 best defensive prospects: 19-year old Ivan Provorov, 20-year old Travis Sanheim, and 19-year Philippe Myers (my apologies to Sam Morin). All 3 players played significant roles last night.
First Hand Impressions
To start, all eyes are already on Ivan Provorov. Despite Hextall's preference for slow promotion, there is a growing tide of expectation that Provorov will be a Flyers regular this season. After all, there's little left to do for the CHL's reigning defenseman of the year.
Last night, Provorov was paired with Andrew MacDonald. In the game you could see what sets Provorov apart from other 19-year old defensemen. Provorov plays with a decisiveness beyond his years. He transitions the puck up the ice quickly and confidently, and is a dynamic player who will assert himself and can do just about everything on the ice.
More from

Broad Street Buzz
Things weren't quite clicking for the pair of MacDonald-Provorov last night, however, partially evidenced by their Corsi percentage of <40% (5v5 on-ice shot attempt differential). It's not a serious derailment to Provorov's camp, and his young mates had better nights.
Philippe Myers, who went undrafted at the same time that Provorov was a top-10 pick, played the game paired with the team's top defenseman, Michael Del Zotto. Myers isn't the quickest skater out there, but his big, lanky frame is hard to miss.
Myers also looked pretty confident last night, and in fact he led the team in total ice time at 22:39. He also finished +2. There's almost no chance Myers makes the big team this year, but it's easy to see him being a core defenseman in the near future.
Perhaps the most impressive night belonged to Travis Sanheim. Another big kid at 6'4″, Sanheim was carrying the puck all over the ice. He and partner Nick Schultz led the team in Corsi, while Sanheim individually led the team at 75% Corsi.
By the end of the night, Sanheim piled up 9 shot attempts–by far the most on the team. This ultimately translated into 2 assists, as well. Had it not been for Ghost's arrival last year, I normally would say the Flyers haven't had a puck-carrying defenseman like this in quite some time.
Overall, it was a very successful night for the Philadelphia Flyers, bagging their first preseason win with strong showings from top youngster. Last night's successes probably doesn't (yet) do much to change the math of what the final roster will look like, but in the preseason it's okay to take things one step at a time.
More from Broad Street Buzz
This article originally appeared on