Philadelphia Flyers Unveil New 50th Anniversary Jersey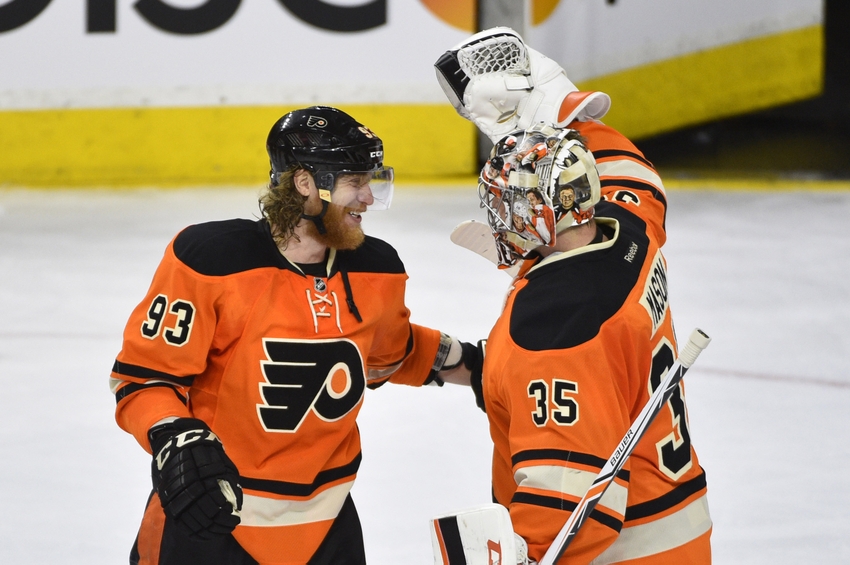 At a press conference downtown this afternoon the Philadelphia Flyers unveiled a new uniform for their 50th anniversary season
This is an historic year for the NHL, being the 50th anniversary of the landmark expansion of the NHL in 1967. At that time the NHL expanded from their long-standing "original six", doubling the size of the league by adding the Philadelphia Flyers, Pittsburgh Penguins, St. Louis Blues, Los Angeles Kings, Minnesota North Stars, and California Seals.
Now it's been 50 years, and it's hard to imagine an NHL without these teams. Although the Seals are gone, and the Minnesota North Stars are now the Dallas Stars, these NHL expansion franchises succeeded in changing the league forever.
To celebrate, the 4 expansion teams above with uninterrupted histories have all unveiled 50th anniversary commemorative logos for this season.  Furthermore, back in February the Philadelphia Flyers announced plans to commemorate their upcoming 50th anniversary season.
Within those season plans, the Flyers announced and teased a special 50th anniversary jersey. Based on those images, some had speculated that jersey would be a white version of the Flyers 3rd/Winter Classic sweater, with orange shoulders. Now we know.
Flyers' 50th anniversary jersey revealed https://t.co/FWPzG6G68s pic.twitter.com/hcTkPOyGKi

— Sean Leahy (@Sean_Leahy) August 31, 2016
Not quite as expected! It has the shoulders like the current orange 3rd jersey, but the elbow bars are thicker. Of course, the real big change is the implementation of gold into the jersey, outlining the logo, player name, and coloring the numbers. This appears to be a reference to the 50th anniversary being the 'golden' anniversary.
Holmgren also announced at the unveiling that the team will wear the jersey 12 times at home this year, on a schedule to be announced.
What do you think the new jersey? Time to add another Flyers jersey to the collection? Personally I already have 7 Flyers jerseys, but I'm sure my wife would understand why I always need one more. This one is…odd, though. I  don't hate it (variety is the spice of life), but I'm nore sure yet.
More from Broad Street Buzz
This article originally appeared on