Philadelphia Flyers: Spitballing Trouba Trade Offers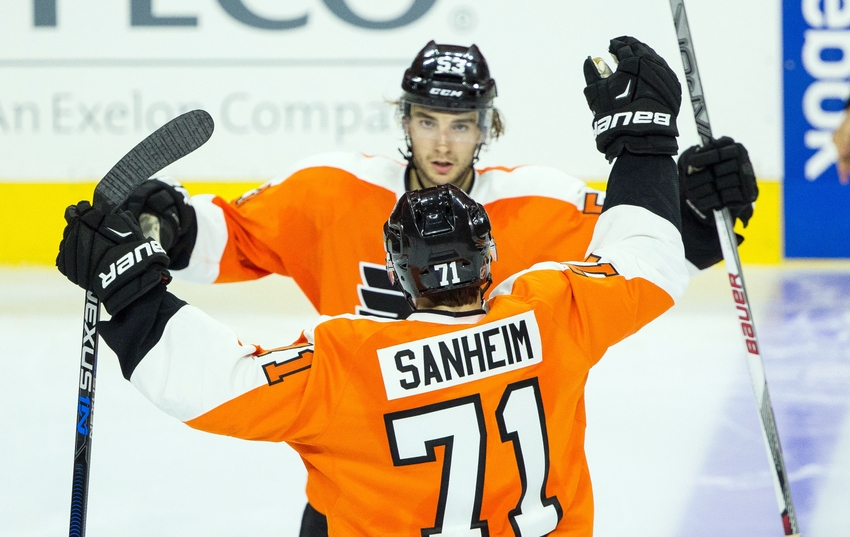 Every NHL GM probably took note when Winnipeg Jets defenseman Jacob Trouba requested a trade yesteday, and here's what the Philadelphia Flyers could offer
The situation has been simmering the entire offseason. Young Winnipeg Jets defenseman Jacob Trouba has been in need of a new contract as an restricted free agent, and negotiations have been unproductive.
Now preseason is opening, and the issue languishes. The situation took a dramatic turn yesterday, as Trouba officially asked for a trade. His stated reason for doing so is that he wants to play top-4 NHL minutes, specifically on the right side of the defense. The Jets have a few righty defensemen like Dustin Byfuglien and Tyler Myers, relegating Trouba to playing on his off-side.
That seems an extreme reason to request a trade, but Trouba insists it's not a matter of money. Either way, here we are.
To be very breif on Trouba, he was the number 9 pick in the 2012 NHL draft. At the age of 22, he already has 3 full NHL seasons under his belt, playing more than 20 minutes a night. Style-wise, he's a tough defender with good size, who also skates pretty well. Interestingly enough, in the recent World Cup Trouba was paired with Philadelphia Flyers' own Shayne Gostisbehere on defense.
So why would a team flush with defense prospects like the Philadelphia Flyers be interested in another young defenseman? The simple answer lies in the reason for Trouba's request–playing the right side. The Flyers current overflowing defense corps has only 1 righty shooter–Radko Gudas. Furthermore, of their stable of hot defense prospects, only Philippe Myers shoots right.
Long story short, Trouba could immediately jump into the Flyers lineup as a top-4, righty defenseman. Presuming the Flyers could then get him signed (a pre-requisite for any trade for Trouba), he projects as a core defenseman for many years to come.
Putting the Trade Pieces Together
The flip side of that equation is, what do the Jets want? Reports are that the Jets want lefty defenseman of similar pedigree and age. The Flyers can't get there exactly, but may accomplish that in a roundabout way.
lots of teams have spoken with #nhljets about a trade for Jacob Trouba. Ask is very clear – left hand D of same calibre and age

— gary lawless (@garylawless) September 25, 2016
First, if the Jets need a lefty top-4 defenseman RIGHT NOW, Mark Streit can fill that spot for the short term. The Flyers would be more than happy to move Streit, and would need that cap space anyway to fit in any new contract for Trouba.
Of course a soon-to-be 39-year old defenseman is no replacement for a 22-year old. To get in the same ballpark of the Jets' needs, the Flyers would have to dip into their pool of "hot prospects." Ivan Provorov is surely off limits, but Travis Sanheim and Sam Morin aren't.
Sanheim and Morin both project to be AHLers this year, but they are on the cusp of NHL arrival. I think the Flyers would probably be willing to move either for a player that fits needs like Trouba, and I suspect the Jets might like Sanheim more as a potential 20-minute plus NHL player.
Would the Jets be willing to take a 2-part, staggered return in order to accomplish their trade desires? They'd probably prefer something more straightforward, but who knows what kind of better trade offers they will actually receive.
At this time, plenty of NHL teams are stalking the Jets to poach Trouba, but the serious suitors aren't yet clear. To that end, the Philadelphia Flyers have not been specifically mentioned in connection with Trouba either.
Like the rumblings around Jonathan Drouin this past spring, there's no guarantee that the player will get traded at all. If the trade offers aren't quality, the Jets will pass and figure out how best to deal with a player who is still their property. Therefore I don't really expect that any trade is imminent.
There's lots of things to keep GM Ron Hextall busy at training camp right now. Regardless, it's his job to investigate possible ways to improve the team. The Flyers can't meet the Jets' desires in a 1v1 trade, but a package as outlined above might pique the Jets' curiosity.
More from Broad Street Buzz
This article originally appeared on