Philadelphia Flyers: Searching for Identity 20 Games In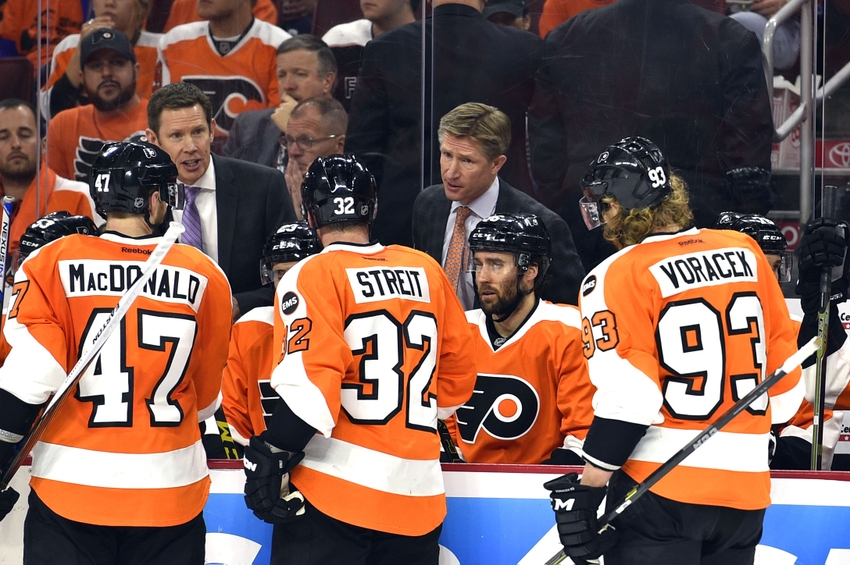 The Philadelphia Flyers are now 20 games into the season. What have we learned at the quarter point of the season and what questions still remain?
Somehow this season is no longer 'just getting started.' The 2016-2017 Philadelphia Flyers have played 20 games so far and have put up a 9-8-3 record. They are just about 25% of the way through a season that still feels brand new. There is still a ton of hockey left to be played, but the first quarter of the season can still give us a good idea of where the Flyers stand. So with the season no longer as young as it feels, let's take a look at some of the things that have worked for the Flyers, and some that has not
Wayne Simmonds
Wayne Simmonds needs his own category to discuss how good he has been. Simmonds is a 28 year-old winger coming off a career best 32 goal season in 2015-16. He was a dominant powerplay forward, a solid even strength player, and one of the more physical players on the team all season. It was reasonable to expect more of the same from him.
To this point of the season, however, we have actually seen Simmonds improve on his game. Through the first 20 games, Simmonds has 10 goals (half of which have come on the power play), a team high 18 points, and has shown improvement in his possession metrics as well. These numbers put him on pace for career highs across the board, but Simmonds has been given an increased roll in other areas as well. Head coach Dave Hakstol has started using Simmonds as a penalty killer in the early season, something Simmonds had not done in years. And he has responded well to the task, already netting his first career shorthanded goal in a game against Toronto.
Wayne Simmonds was always a great weapon for the Flyers on the power play but this year has seen him playing a complete game. He may not end up scoring the 40 goals he is currently on pace for, but another 30 goal season is completely reasonable.
The Rookies
Coming into the season, I was ecstatic about the fact that the Flyers finally had a blue chip defensive prospect with the big team. Shayne Gostisbehere, as good as he is, was a third round draft pick and didn't make the team out of camp last season. Ivan Provorov was the #7 overall pick and forced his way onto the team with his strong play. With the way some rookie defensemen have played in past seasons, it was hard not to get excited that Provorov could be a beast right away.
Through 20 games, that hasn't quite happened. Provorov has been just fine, but he certainly hasn't set the world on fire. He's had some good games where you can see just how good a player he could be some day and he's had his struggles. There have been stretches where he looked like one of the best defensemen on the team and there have been stretches where he looked like a 19 year-old rookie who is still getting used to the best league in the world. He hasn't found the back of the net yet, but picking up 7 assists in 20 games (a 28 point pace) is fine.
And that's probably the best way to describe Provorov's play this season. He's been fine. He hasn't looked out of place and he's flashed his true potential more than a few times, but he's had his problems adjusting to the league just like most rookies do.
And then there's Travis Konecny. Konecny has not had problems adjusting to the NHL. Konecny has not had stretches where he looked like a 19 year-old rookie. Travis Konecny has had long stretches where he has been the Flyers' best forward. He's scored goals like this and been part of a second line that has looked dangerous all season. Konecny has 12 points on the season and with the way he's been playing, he won't be slowing down on that pace any time soon. He has been a great addition to the Flyers and looks like an amazing pick by Ron Hextall from the draft a few seasons back.
The Goalies
The Flyers' 3-1 win over Florida on Tuesday night was the first game all season in which the Flyers did not allow at least two goals. Steve Mason and Michal Neuvirth both have save percentages that are south of .900. There have been a number of games where the starting goalie has been pulled early on and the Flyers have already lost four games this season when they have scored four goals.
The Flyers goalies have been bad this year.
This isn't exactly breaking news, but it is a massive concern going forward. Mason and Neuvirth carried the team for long stretches last season, leading to some real optimism between the pipes this year. And unfortunately, the nicest way to put it is to say that the goalies haven't been good enough this year. The defense has hung them out to dry on occasion, but there have been too many weak goals that have been demoralizing during a game.
The Flyers are tied for the third most goals scored so far this season but still find themselves at right around .500 because they've let up the most. That needs to change quickly. With Neuvirth injured, Steve Mason needs to grab hold the starting job and not let go. The win over Florida was a good start, stopping 38 of 39 shots. He needs more of those going forward.
Dave Hakstol
Dave Hakstol has had an interesting start to his Flyers coaching career. He was an unconventional pick when Ron Hextall hired him, but his first season was generally a success. He took a somewhat talented but deeply flawed team into the playoffs and gave the #1 seeded Capitals a scare in the first round. I'm a big fan of Hakstol's in game tactics. I love the aggressive forecheck and neutral zone strategies that he employs. I think he does a good job in on of the most difficult places to coach and that he often gets the most out of what is still a flawed roster.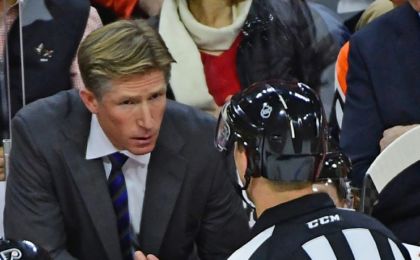 The lineup decisions, however, can be maddening. Benching Shayne Gostisbehere and Michael Del Zotto for Andrew MacDonald on two separate occasions is, at best, a highly questionable move. At worst, it's a decision that could keep the Flyers out of the playoffs. The Flyers won both games where Hakstol made these moves, but it was not because of strong play by MacDonald. These types of moves don't put the Flyers in a better position to win, and for a team chasing a playoff spot, they need all the points they can get. If the insistence on playing MacDonald continues, it could end up costing the team in the long run.
The bottom six situation is also no clearer than it was at the start of the season. Hakstol juggles players in and out of the bottom two lines almost on a nightly basis. Michael Raffly, Boyd Gordon, Nick Cousins, Roman Lyubimov and Dale Weise have all spent time as healthy scratches. Scott Laughton is still in the minors. Chris VandeVelde continues to be in the lineup every night despite have fewer points in 20 games than Del Zotto has in seven. Sometimes a shakeup to the lineup is necessary. Sometimes, a coach needs to let his team play together for more than a game or two. Hakstol has done a lot right in his time as the Flyers coach but his lineup decisions are getting to be a real concern.
Looking Forward
So where exactly do the Philadelphia Flyers stand after 20 games? The positive spin is that they're in a better place than last season, when they were just 6-9-5 after 20 games.  The negative spin is that they've left a lot of points on the ice and will have to work to make them up. The offense is firing on all cylinders, Claude Giroux and Jakub Voracek look fantastic, and the power play has been one of the best in the league to this point. But the defense still has a long way to go, the penalty kill is in the bottom 10, and the goalies have to be a lot better.
There is still a lot of hockey left to go on the season so there is certainly no reason to panic yet. But the season is not young anymore. We're 20 games in and there are legitimate questions about this team. The Flyers can't wait too long before they start supplying some answers.
More from Broad Street Buzz
This article originally appeared on