Philadelphia Flyers Pull One Over on Jets: Stats and Notes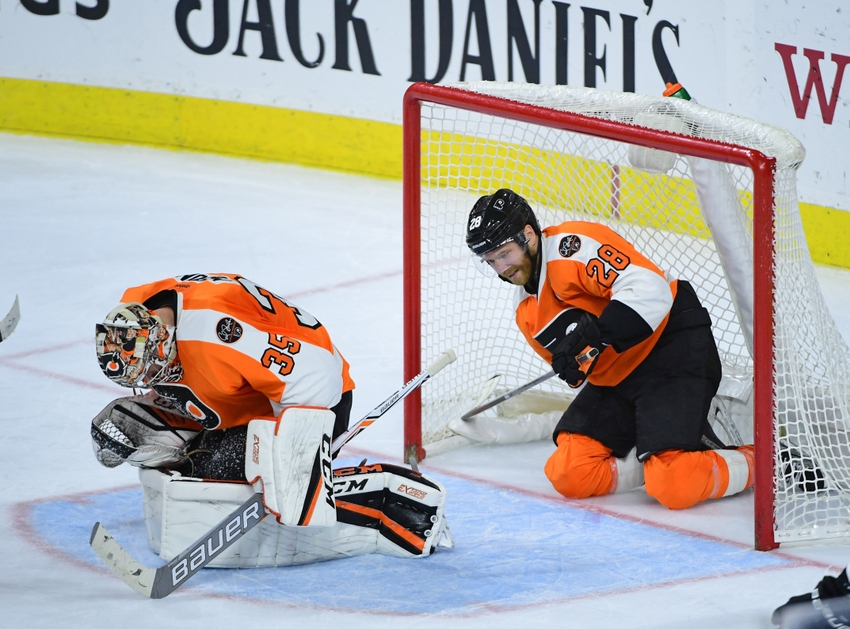 The Philadelphia Flyers managed to keep the high-powered Winnipeg Jets' offense in check  and get back on the winning track
Philadelphia Flyers fans were braced for the worst, as the Flyers' league-worst defense faced the powerful Winnipeg Jets offense. Even more worrying, the Flyers faced the Jets without defenseman Shayne Gostisbehere, who was a controversial scratch.
Actually on the ice, the Flyers got a huge boost from two early goals. The Flyers' first goal in particular came on their first shot on goal of the game after perhaps getting away with a trip. This put the Flyers in position to play with the lead most of the game, which made all the difference. Thanks to some good goaltending from Steve Mason and more good bounces on offense, the Flyers made good on the early lead for a 5-2 victory.
Forwards
Deceptive Numbers. The Flyers scored 5 goals in this game, but there wasn't really much to be excited about on offense. In particular, the Flyers top two lines didn't create much offense, while bleeding chances against.
More from Broad Street Buzz
Defense
Ghost Busted. Clearly the story of the pre-game was Hakstol's decision to scratch Ghost for recent defensive lapses. Flyers fans were outraged by seeing Ghost scratched in favor of Andrew MacDonald.
MacDonald Survives. Truth be told, MacDonald had an okay game. His Corsi was in the middle of the defense, he had a (perhaps lucky) assist on Simmonds' goal, and he actually had the best expected goals against per 60 of all Flyers defenders at 1.89. He still does Andrew MacDonald things, however, like when he allowed Mark Scheifele (NHL points leader) time and space with the puck in the zone and the Flyers' defense was ripped open on the Wheeler goal.
Provorov With Some Doozies. Ivan Provorov, coming off perhaps his best NHL game, had a few defensive lapses in this one. He didn't get burned much, as Steve Mason bailed him out on this one for instance. Overall, Provorov had a team worst expected goals against of 4.17.
Gudas and Manning Do the Dirty Work. Radko Gudas had a busy game, with 6 hits and 2 assists. Manning meanwhile had 6 shot attempts. Overall each player finished +2.
Goaltending
For once, the Flyers were on the positive end of suspect goaltending and "puck luck." Steve Mason played one of his best games of the season from start to finish, while the Jets were victimized by some bad bounces mixed in with a very soft goal.
Up Next
The Philadelphia Flyers' next game comes Saturday afternoon against the Tampa Bay Lightning. The Lightning are near the top of their division, but are now coping with the news that star forward Steven Stamkos will be out injured for a few months.
On the Flyers end, the big question will be if Ghost returns to the lineup after the win. The Flyers only allowed 2 goals, but it's hardly the case that it was a great defensive performance.
This article originally appeared on