Philadelphia Flyers October Player Stats Analysis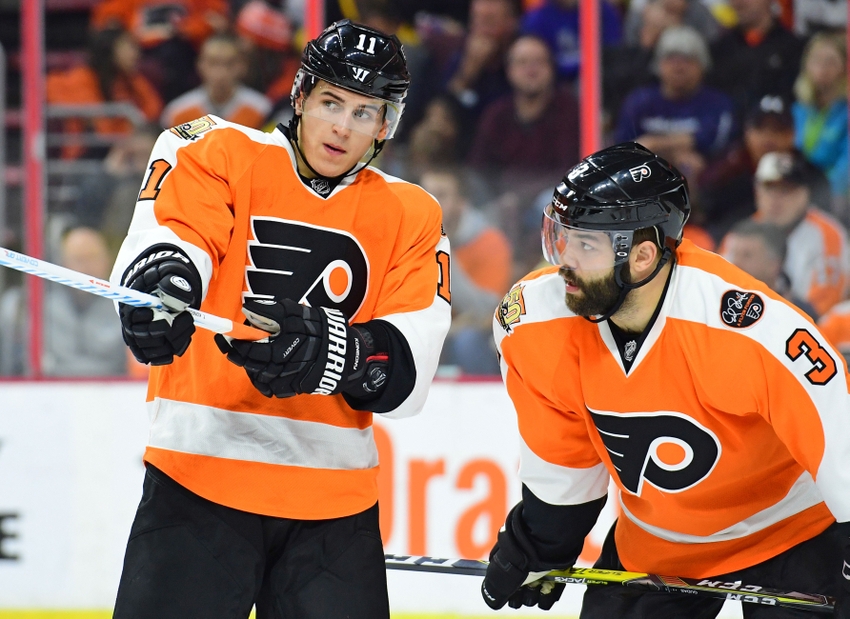 With one month and 10 games down, a look at a few stat snapshots of how individual Philadelphia Flyers players are performing thus far
At the close of October, we can say that the Philadelphia Flyers failed to get off to a better start this season. The Flyers currently sit at 9 points, with a record of 4-5-1. This puts them 5th in the division, despite having played the most games.
After so much talk about getting off to a better start this season, the Flyers continued their trend of October mediocrity. They were 4-4-2 in each of the last 2 Octobers, and were 3-8 in October 3 seasons ago.
Having failed to get off to a running start, November stands to be a more important month. Recall that last year, the wheels were about to come off in November. After a 1-7-1 stretch, the Flyers' season was revitalized by the call up of Shayne Gostisbehere from the AHL. No such reinforcements are waiting for this team.
More from Broad Street Buzz
Going one layer down from wins and losses, the stat that jumps off the page is the goals are flying in. They lead the league in goals, while also "leading" the league in goals conceded. This obviously makes them the most goal-happy team in the league.
That may be okay for fans (so long as you're winning), but no coach likes feeling so helpless. Loose defense, and poor goaltending are leading culprits on that front.
The inverse of that many Flyers are racking up points. Giroux is tied for the league lead in points, while Simmonds is tied for the lead league in goals. Voracek is at a point-per-game as well, and Schenn is close. We can look deeper, however, to see how players are performing. We're still in the world of sample sizes, but it's a start.
Forwards
Beginning with the chart above, the first thing is that Michael Raffl kind of breaks the chart. Part of that is that he's only played 3 games, all with top linemates. Still, he's always been a fantastic Corsi/possession player.
Surprising for the better is Roman Lyubimov. He's played 7 games now, and his ice time has increased in every one. He's also been playing with poor teammates, making that number more impressive.
Also a positive is that not only is Matt Read scoring goals, but he's been good both ways. Beyond that, it should no surprise to see Couturier, Giroux, and Voracek the next names up.
On the disappointing side are Brayden Schenn, Pierre-Edouard Bellemare, and Nick Cousins. Although Schenn is up to 6 points in 7 games, 4 of the 6 came on the power play, and he's never been good as measured by possession.
On the other hand, Nick Cousins was very good on possession last season. He's struggled this year in both the preseason and regular season, although some of that may be from an ill-advised attempt to play the wing.
In terms of points, we see likely suspects Giroux, Voracek, Simmonds and Read near the top, with Couturier and Raffl just behind. Surprising leaders are Nick Cousins and Travis Konecny, particularly when Cousins is not as good by shot numbers as last year.
From there, there's a pretty big drop off to bottom-sixers. Schenn joins them, as measured by 5v5 production anyway.
Defense
On defense, we have another chart-breaking player in Radko Gudas. Like Raffl, it's partially attributable to having played only 4 games, but no doubt he has been excellent. He's been the Philadelphia Flyers' best defenseman the last few games.
On the other end, it's no surprise to Nick Schultz and Andrew MacDonald bringing up the rear. That's usually where those players are via 5v5 Corsi.
Adding point production to the mix, the analysis gets a little more interesting. For starters, Brandon Manning's production is through the roof. This is happening when his relative Corsi is only mildly positive, which is about the same as last year.
We also see decent, but not great, production from Ghost. Combined with his negative relative Corsi, it shows Ghost is having merely an okay start, not full "ghost-busters." The Andrew MacDonald factor is probably weighing on him.
Lastly, we can probably expect a few more points from Streit. He's been a high-scoring defenseman his whole career, and his Corsi is solid.
Overall, there aren't too many easy or unexpected scapegoats among the Flyers skaters this year thus far. Most of what the Flyers need to change is in net, and overall team defensive tightness. That and get Ghost away from Andrew MacDonald.
This article originally appeared on