Philadelphia Flyers Ghost at High Risk of Sophomore Slump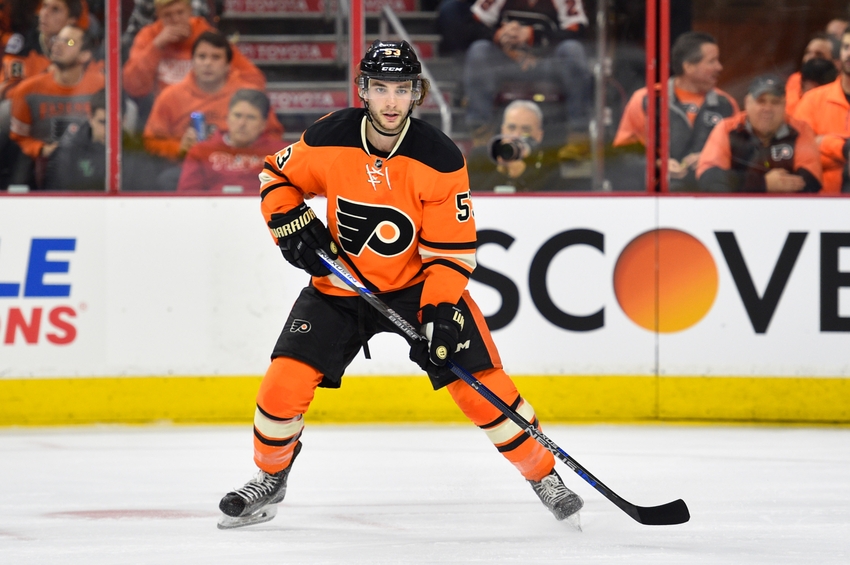 Philadelphia Flyers defenseman Shayne Gostisbehere had a nearly perfect rookie season, but don't be surprised if things aren't so perfect this year.
The sophomore slump; it's definitely a thing. It doesn't really have a definition, but you know it when you see it.  Just recently, it has struck players such as Calder trophy winner Nathan MacKinnon, who scored 63 points as a rookie, then slumped to 38 in his sophomore year. A few years earlier, a player like Jordan Staal comes to mind, scoring 29 goals as a rookie and 12 in his sophomore year.
When it does strike, it's incredibly discouraging to the fans and the player. For the fans, it shatters pure dreams of their favorite rookie doing nothing but great things in the future. For the player, it's mystifying and frustrating.
While ambiguous in its cause and effect, we can look at some things that happened in the player's rookie year that are not likely to repeat themselves. Looking back at Shayne Gostisbehere's nearly perfect rookie season with the Philadelphia Flyers, we can see a few factors that aligned for him last year and that may not favor him this year.
Scouting
The league getting "a book" on a player happens as every player settles in to the league. A good player is still a good player, but the opposition will eventually be ready for the little tricks and skills the new player utilizes, reducing their effectiveness.
When Ghost went on his big points run last season, he was the talk of the league. I even recall seeing articles on national NHL sites breaking down his skating tendencies and talking about his past skating coaches. That kind of attention makes opposition take notice.
This already began to happen at the end of last season. The Flyers power play struggled pretty badly down the stretch. Teams aggressively pressed Claude Giroux and Gostisbehere, denying them room to work. The Flyers were unable to counter. Hopefully the coaching staff has been working on remedies for that this summer.
Season Length
Ghost played 64 NHL games last season. That's nearly a full season, but still short of the 82 game grind. Longer season length is always a factor when a young player becomes a full pro.
This effect may not be so bad with Ghost, however. If you include his AHL play, he's up to 78 regular season games last year, which is a big load. Second, Ghost isn't a 19 year old–he's 23 now. Lastly, he doesn't play a physical style. Bumps and bruises are inevitable playing the in NHL, but Ghost sees less contact than most, which should help him.
Advanced Stats
Ghost's basic stats last year were fantastic;17 goals and 46 points in 64 games., 5 game winning goals, and +8. His advanced, underlying stats however, aren't quite as rosy.
These charts show a few things. One, Ghost's 5v5 Corsi (on-ice differential of shot attempts for/against) was pretty much middle of the pack amongst Flyers defenseman. Of course when you shoot like Ghost you don't need as many shots to make an impact as Nick Schultz, but the weight of numbers catches up with you.
Second, Ghost did receive a lighter load than many Philadelphia Flyers defenseman. His total even-strength minutes were on the lower end, and he got more offensive zone faceoffs than anyone. Lastly, his quality of competition was about in the middle.
Expect to see Ghost with tough assignments this year. That just comes with the territory of growing up in the NHL and being a star. Furthermore, his so-so Corsi gives reason for caution.
Streakiness and Luck
Ghost's 15-game point streak grabbed all the headlines. It was the 3rd longest such streak by a rookie in almost 30 years, and the longest by any defenseman in 20 years.
Streaks, however, are inherently lucky. A player can be playing great and never build a point streak past a few games, while another player may be just playing so-so and get a streak of several games. The pucks don't go in at a constant rate, even you're playing about the same the whole time.
Likewise for Ghost's record-pace on OT, game-winning goals. No doubt Ghost is a dynamic force at 3v3, but the combination of scouting (as mentioned above) and luck will probably slow down his historic scoring rates.
Additionally, last year Ghost scored on 11.2% of his shots on goal. That was second highest among all regular NHL defensemen. Expect to see that come down a little bit as well.
Patience Required
Put all those things together and some sophomore slumping feels almost inevitably. If you head into the season setting the bar for success as another double-digit point streak, 50 points, and a bunch of game-winning goals, you will probably be disappointed.
This isn't to say Ghost will have a "bad" season, it just might feel like it at times. His goal scoring rate will probably come down (probably), and honestly I expect Ghost to improve his Corsi performance over last year, even accounting for tougher assignments.
Sometimes a sophomore slump is a sign that a player's rookie exploits were a one-time flash in the pan. You might say this about a defenseman like Tyler Myers, or a goalie like Andrew Raycroft (and Steve Mason until he reclaimed his career in Philadelphia). There's no reason to think this about Gostisbehere, and he's looking pretty good in World Cup warmup games as we speak.
The thing to remember is, that despite his grand rookie season, Ghost is still a developing player at the NHL level. His game will mature, and he'll see ups-and-downs along that path. The thing to remember is that these good and bad stretches are completely expected.
If you find yourself getting discouraged that his points are down at some point next season, take a deep breath. Be patient. It's probably just a sophomore slump, but not a sign of long term trouble for Ghost.
This article originally appeared on