Philadelphia Flyers G Steve Mason Folding in Contract Year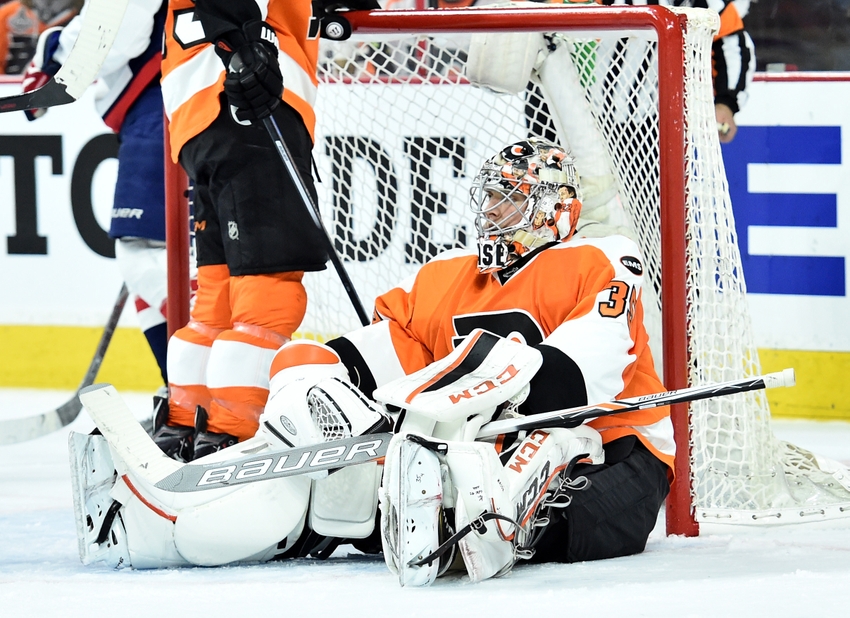 Philadelphia Flyers G Steve Mason has turned in some truly awful starts this season. Looking at past years, there's reason to believe Mason can still right the ship. Is the pressure of a contract year getting in Mason's head and hurting his game?
In what has been a slightly bizarre year for netminders, Philadelphia Flyers G Steve Mason is floundering and failing his team. In 10 games this season, his stats are horrendous. Mason is posting a goals against average of 3.56 and a save percentage of .874. Compared with the league average, 2.60 GAA and .912 save percentage, Mason is trailing well behind.
In what could easily be his last year with the Flyers, Mason needs to find his form from past seasons and quickly.
Best Season
Mason's best stats come from the 2014-15 season (two years ago). Mason posted a 2.25 GAA and a .928 save percentage. Unfortunately, for all that hard work, the Flyers were not rewarded with too many wins.
Mason started 48 games with a record of 18-18-11. He still posted well above league average across the board, despite owning a near .500 record. The average stats in 2014-15 for goaltenders was a 2.52 GAA and a .915 save percentage. The next season Mason regressed and basically matched the league averages at 2.51 GAA and .918 save percentage. Funny enough, Mason recorded more wins with lower statistics that season winning 23 games.
Calder Winner
Mason burst onto the scene during the 2008-09 season with the Columbus Blue Jackets and hasn't looked back. As a rookie, Mason started 61 games, going 33-20-7. Mason posted a 2.29 GAA and a .916 SV% with 10 shutouts.
For his brilliant effort with a struggling Blue Jackets team, Mason was awarded the Calder Trophy; an award for the NHL's best rookie that season. Mason was also a finalist for the Vezina trophy; awarded to the NHL's best goaltender that season.
Mason remained with the Blue Jackets for five years, before eventually being traded to the Philadelphia Flyers. That offseason Mason became the de-facto starter replacing the Flyers then bought out Ilya Bryzgalov.
Broad Street Bullied
There's no worse nightmare for a goalie than a center ice goal, and maybe last season's playoff series has had some psychological impact on Mason's game this season. Mason is getting plenty of offensive support and decent enough defensive play in front of him by proven players; Claude Giroux, Wayne Simmonds, Jakub Voracek, and Shayne Gostisbehere. Not to say that Mason's stats are all his to blame, but his goaltending hasn't been up to his own past level of play.
If Mason wants a new contract after this season with the Flyers or any other team, he's going to have to figure out his game fast. Luckily for Mason, backup goaltender Michal Neuvirth isn't doing any better. Coach Dave Hakstol is going to have to figure out how to get Mason and Neuvirth performing better or the Flyers season will be decided early.
This article originally appeared on