Philadelphia Flyers Fall Hard in Chicago: Stats and Notes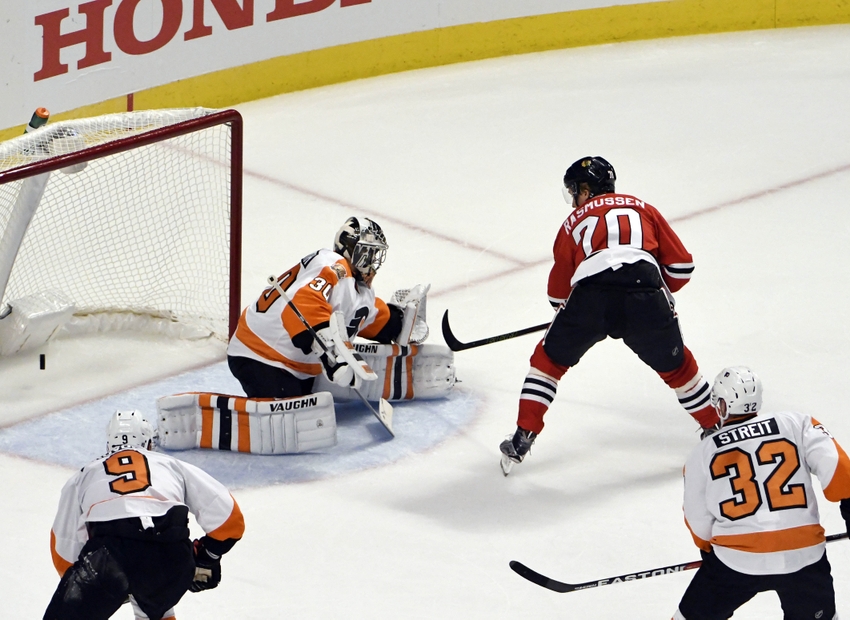 The Philadelphia Flyers started with a thud and finished with a whimper in a 7-4 loss to the Chicago Blackhawks, leaving a bitter taste
Only a few games into the season, there's already a disturbing pattern. The Philadelphia Flyers continued their sleepy first periods, this time allowing 3 first period goals. The Hawks aren't the team they used to be, but you won't win many games when you are down 3-0 (and later 4-0).
A goalie change and a late 2nd period goal led to 5 minutes of madness. The Flyers tied up the game 4-4, before the pendulum swung back to Chicago and creating the 7-4 final line. The loss leaves a sour taste in the mouth heading into the home opener Thursday night.
Forwards
More from Broad Street Buzz
Still Scoring – It wasn't a great game for the Couturier line, although they still made some contributions. Sean Couturier scored his 3rd goal of the season, while Voracek added 2 pretty assists (both on the power play).
Third Line Treading Water – The third line of Matt Read, Dale Weise, and Pierre-Edouard Bellemare was okay. Weise had a decent game, and even was on the ice in the final minute with the Flyers pushing for a late goal. Bellemare missed a great chance to get on the board after intercepting a terrible cross-ice pass from Chicago, but couldn't beat Crawford.
Lyubimov Debut – Roman Lyubimov made his NHL debut, although there's not much to say about it. He was -2 with 0 shots in 11 minutes. Notably, he also didn't appear on the penalty kill.
Defense
Provorov's Nightmare – If anything could go wrong for Ivan Provorov last night, it did. Every mistake, large and small, ended in a Chicago goal. Provorov tripped for an embarrassing goal against in the 1st period, and finished -4 after being on the ice for 2 late Chicago goals. Maybe call it a learning experience, and don't expect to see less of Provorov in the Flyers' next game
Ghost Skating until he Drops Dead – Shayne Gostisbehere played big minutes, and was again very active. His 7 shot attempts led the team, although he's still looking for his first goal of the year despite a team leading 13 shots on goal in 3 games. This is a heavy load on the player.
Don't Mind Me – The unsexy pair of Nick Schultz and Brandon Manning were quietly the Flyers' most effective last night. Manning has been playing very well, and Schultz even added a smooth assist on Couturier's goal
Up Next
The Philadelphia Flyers will finally have their opener on Thursday night, against the struggling Anaheim Ducks. The Ducks are 0-3-1, and are playing without their top defenseman, Hampus Lindholm, due to a contract holdout.
The Flyers will get back Brayden Schenn for this game from his suspension. It will be interesting to see if Schenn slots right back into the top line and top power play unit, or if Matt Read has earned more time alongside Giroux and Simmonds. Also, there is no injury update on Michael Raffl's status for Thursday.
This article originally appeared on