Philadelphia Flyers F Brayden Schenn Not Adding Anything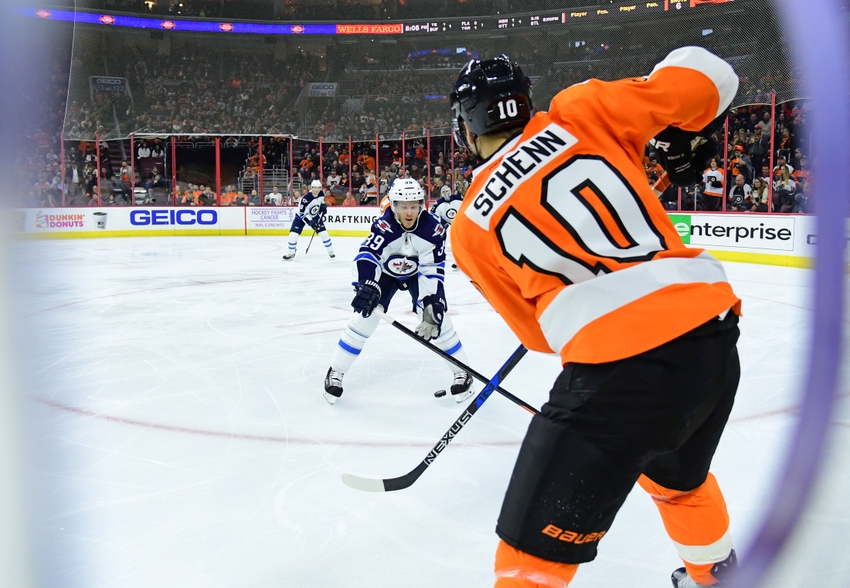 Philadelphia Flyers forward Brayden Schenn has a shiny new contract this season, but he has not looked worthy to it in the first part of this season
Every Philadelphia Flyers fan really wants to see Brayden Schenn blossom into a legit top-line player. For one, they could use another winger to create offense. Two, he came over in the Mike Richards trade, and fans have watched him slowly claim a spot in the Flyers top-6.
Despite being a former high first round pick, I have had reasons for to doubt his NHL ceiling. After signing his contract that made him the 3rd-highest forward on the team over the summer, I took a look at Schenn's NHL development. To sum up, while his production has slowly been ticking up, his shot metrics have not shown the same improvements.
Schenn's slow start this season demands a fresh look at the numbers. For one, Schenn has 13 points in 19 games this season in mostly top-line duty. This is about on track for a 50-point player, which is about right for Schenn, in my opinion. The main source of concern is offensive streakiness and reliance on power play points. For instance, in 19 games mostly on the top line this season, Schenn and 0 goals at even strength, and just a lone even-strength assist over his last 11 games.
More from Broad Street Buzz
This lack of production demands a closer look. Looking into shot numbers, the news is worse. Now Schenn has never been a good "Corsi player," as his percentage often hovers around 50% or dips below there. Even considering this, Schenn's Corsi performance is really poor this season.
Schenn's 5v5 Corsi percentage this season is at 48.48%. This is the worst on the team. Furthermore, Schenn's on-ice shot-attempt rate is 56.21 per 60 minutes. This is 4th worst on the team, only better than Nick Cousins, Andrew MacDonald and Nick Schultz. For a supposedly offensive-player, this is highly troubling.
Lastly, the combination of Giroux and Schenn has been particularly toxic. When on the ice together, Schenn and Giroux have gotten terrible results down the line: they are -4 in goals, have a Corsi percentage of 43.9%, and shot attempt rate of 49.34 per 60 minutes. Those are very low numbers, and they don't need to be. Both players have significantly better numbers when in part. Giroux, in fact, is a 57.4% Corsi player when apart, generating shot attempts at a rate of 60.47.
I don't think I'm the only one who has noticed this issue. The latest news from Philadelphia Flyers practice today is that Schenn has been sent down to the 4th line. Hopefully this won't last for long for a $5+ million dollar player.
I like to watch Schenn play. He's an enthusiastic forechecker, and he's willing to go to the dirty areas of the ice to score. He's had several close misses to get that first even-strength goal recently, but even if one or two of those had gone in it wouldn't significantly change his production numbers, and it wouldn't change his shot numbers at all. Unfortunately, he's just been poor with the puck, and he has to play better than he has in the early stretches of this season.
This article originally appeared on