Philadelphia Flyers End Grueling Week with Win: Stats and Analysis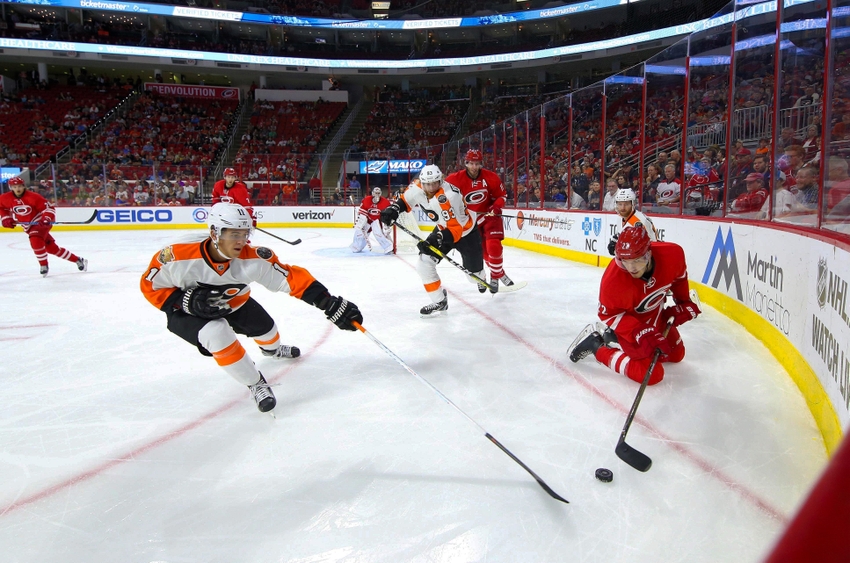 The Philadelphia Flyers ended a grueling week by finally finishing on the right side of a 50-50 game, beating the Carolina Hurricanes 4-3
The Philadelphia Flyers will be sleeping a little easier heading into a short 2-day break after topping the Carolina Hurricanes 4-3. The Flyers had lost 3 of their last 4, all in tight games. Being on the other side of tight game is a relief.
Like every Flyers game recently, there was lots of focus on their start. The Flyers managed to avoid falling behind early, although they didn't attempt a single shot in the first 5 minutes. After this warmup period, both teams got going and played a pretty even game.
Shayne Gostisbehere opened the scoring late in the first period with a power play goal. From there, the lead see-sawed back and forth in the second period, which the Flyers usually own. After 2, it was 3-3 and anyone's game.
It looked like the Hurricanes would have a chance to break the deadlock with a power play, but instead Brandon Manning was a stone cold sniper with a shorthanded goal. The Flyers basically packed it in from there, not attempting a single shot in the final 10 minutes, but it was still enough to hold on.
Forwards
Team Effort. The chart above reflects the most even distribution of ice time we've seen all season. I'd like to think some of that may be Cousins being a more competent 4th line center than Gordon, but I suspect it's mostly a result of playing 5 games in 7 days.
Two For G Line. The Couturier line had one of their poorer games of the season, never really getting much going on offense. Fortunately for the Flyers, the Giroux line has come on in the last few games, and supplied both of the Flyers' even strength goals. Claude Giroux is now tied with Connor McDavid for the league lead in points, while Simmonds is tied for the league goal scoring lead.
More from Broad Street Buzz
Finding a Third Line. The third line of Bellemare, Lyubimov and Read played their second consecutive game together, and got a lot of ice time. While Read has gone off the boils from his red hot start, Lyubimov is coming on, playing fast and hard, and piling up some shots on goal.
Weise and Cousins Buried. Two presumed 3rd liners, Dale Weise and Nick Cousins, are now buried on the 4th line. This is better than being scratched for Cousins, but I'd rather see him than Bellemare on line 3. I also don't think Hextall signed Weise to put him on the 4th line.
Defense
Goaltending and Special Teams
Neuvirth continued duties in net after relieving Steve Mason against the Penguins, and played well enough for the win. His second period could've been better, however. All that said, his counterpart in the net for the Canes yielded some softies, giving the Flyers the edge in net in this one.
The Flyers can largely thank special teams for this win. They lost the game 3-2 at even strength, but a power play goal and a shorthanded goal delivered the win.
Up Next
The Philadelphia Flyers get the briefest of breaks, with 2 days off. They'll be back in action Wednesday night against Detroit. The Wings are off to a good start, sitting second in the Atlantic Division.
It will be worth keeping an eye on injury news for the Flyers. Michael Raffl, Scott Laughton, and Michael Del Zotto have all resumed skating, reportedly. We'll have to wait and see just how healthy they are, and how the Flyers deal with the lineup and salary cap crunch of their return from injury.
This article originally appeared on