Philadelphia Flyers Buzz: Gone Gudas, Kony2016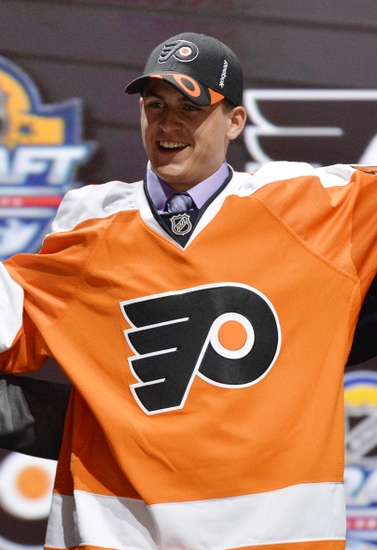 With the season opener just days away, there's good and bad news for the Philadelphia Flyers roster
Gone Gudas
The Philadelphia Flyers began bracing for bad news when Radko Gudas was offered an in-person hearing, and the official decision pretty much went as expected. The NHL suspended Gudas for 6 games.
With the decision, the Flyers are possibly down to 5 available defensemen, despite carrying 8 on the roster. Michael Del Zotto is out 4-5 weeks due to a lower body injury, so Brandon Manning is scrambling to be ready for Friday to get the Flyers back up to the standard 6 defensemen without further moves.
This is not the way for Gudas to start his first season with the Flyers when they are relying on him to play a key role.
Schenn Pressbox Pals
Fans must also recall that forward Brayden Schenn will be suspended for the first 3 games of this season. This is due to a high hit from the playoffs last spring.
Next Generation to the Rescue
On the brighter side, GM Ron Hextall made the announcement Flyers fans have been waiting for: Ivan Provorov and Travis Konecny will be on the team.
For the last week or two, it's been pretty clear that Ivan Provorov was going to make the team. We even ranked him as the Flyers 3rd best defensemen last week.
Travis' Konecny's prospects were more tenuous, but in the end his irresistible preseason performances got him onto the roster. He will begin the season playing on a line with Sean Couturier and Jakub Voracek.
Even more encouraging is Hextall's presumption that both players will be here for the entire season. "If I felt like either player wasn't ready to be here the whole year, they wouldn't be here right now," Hextall said. A 9 game audition had loomed much more likely for Konecny than Provorov, particularly considering Schenn will be reclaiming a top-6 forward spot after his aforementioned suspension.
#Kony2016
Another Twitter tidbit is that Konecny has picked up the nickname "Kony" amongst the Flyers.
A different kind of, ahem, "locker-room talk:" Some #Flyers teammates are calling Travis Konecny "Kony."

— Sam Carchidi (@BroadStBull) October 10, 2016
Still no word on Provorov's nickname, but given that he models himself after Nicklas Lidstrom, maybe they will recycle his nickname of "The Perfect Human." Or maybe Ivan the Great?
The Philadelphia Flyers fun officially begins on Friday night at 10:30 PM EST against the Los Angeles Kings.
This article originally appeared on