Phil Kessel fires rocket to score his first goal of the season (Video)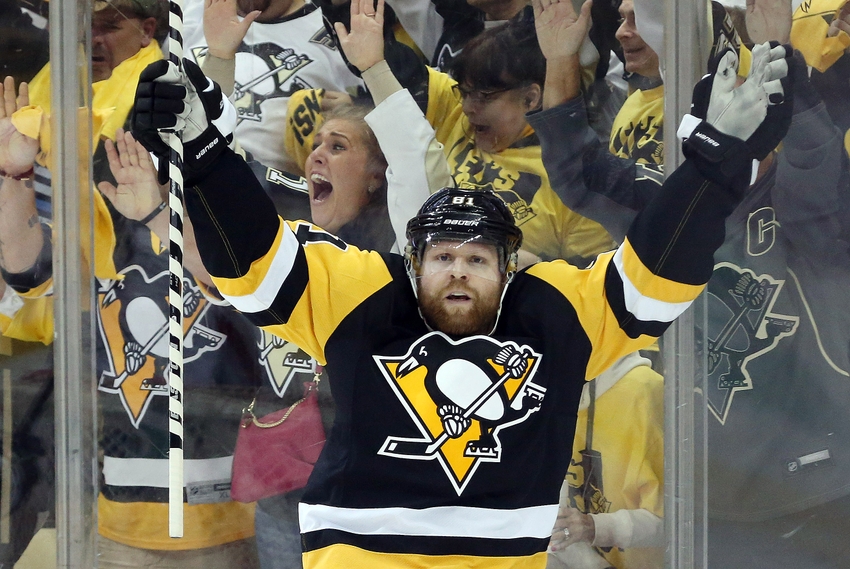 Phil Kessel has scored his first goal of the 2016-17 NHL season. 
Entering Saturday's game against the Anaheim Ducks, Phil Kessel hadn't scored in the 2016-17 season. Granted, he technically got the game-winning goal on Thursday against the Washington Capitals in the shootout but shootout goals don't count on the scoresheet. But Kessel's power play goal against the Ducks will. His first goal of the season gave the Penguins a 3-1 lead.
Kessel's first official goal of the season was assisted by Patric Hornqvist. With Bryan Rust and Sidney Crosby out, Kessel has seen his role increase. He typically plays on the Penguins' third forward line, giving the Penguins three elite forwards on separate lines. However, with Crosby out, the Penguins need more scoring in their top six, so Kessel has been seeing more time than usual.
The Penguins' success can be attributed to Kessel. He led the Penguins to a series win over the Capitals despite Crosby and Evgeni Malkin being relatively quiet during the series. Kessel led the Penguins in postseason points as they won their fourth Stanley Cup in franchise history.
Last season, Kessel scored 26 goals and he has 51 goals over his past two seasons. Originally drafted by the Boston Bruins with the fifth pick of the 2006 NHL Draft, Kessel scored 66 goals in three seasons with the Bruins before getting traded to the Toronto Maple Leafs.
With the Maple Leafs, Kessel scored 181 goals with 394 points in 446 games. He was never a fit with the Maple Leafs, who had unrealistic expectations of him. After being traded to the Penguins, Kessel has finally found a happy home in Pittsburgh. He has put his days in Toronto behind him and is thriving in the Steel City. Kessel's Penguins are looking to defend their Stanley Cup title.
This article originally appeared on