Pekka Rinne, Nikita Kucherov, Connor McDavid named NHL three stars for November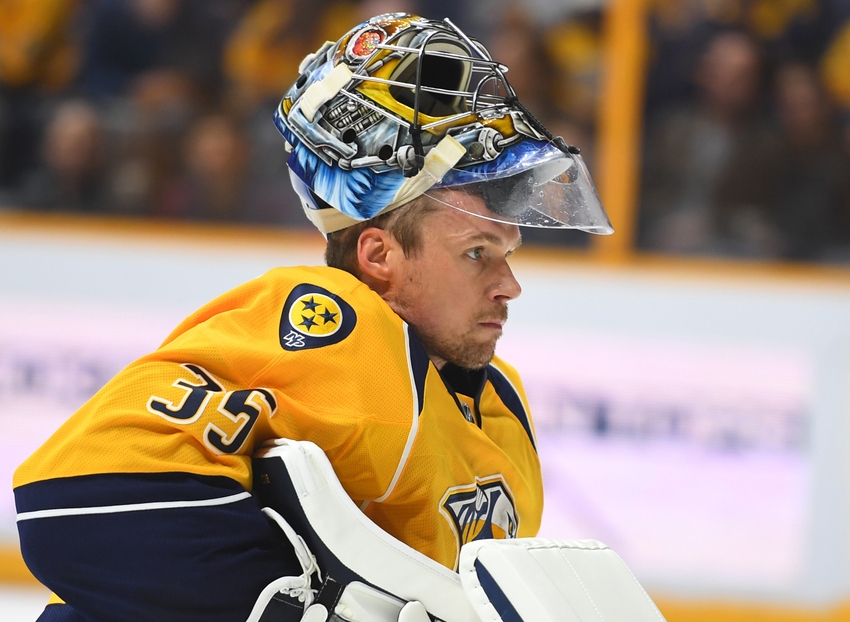 Nashville Predators goaltender Pekka Rinne has been named the NHL's first star of the month for November. Nikita Kucherov and Connor McDavid were also named. 
The Nashville Predators entered the month of November struggling. However, thanks to a very strong month, they are finally starting to look like the Stanley Cup contenders everyone assumed they would be. A lot of that is due to the impressive rebound season from Pekka Rinne. His performance hasn't gone unnoticed, as the NHL named him the first star for the month of November.
Rinne shared the League lead with nine wins (9-1-2) and paced the NHL with a 1.49 goals-against average and .949 save percentage in 12 appearances to guide the Predators (11-8-3, 25 points) to a 9-3-2 November.
He has a record of 10-5-3 in 18 games this season. Many thought he would be a liability this season after a very weak 2015-16 campaign. However, give him credit for silencing his critics for the moment. Rinne is a very important part to the Predators' Stanley Cup hopes. If he can keep playing like he did in November, that dream could become a reality for them.
Nikita Kucherov of the Tampa Bay Lightning is the second star for the month of November. He finished second in the league in both goals and points during the month. After signing a last minute deal with the Lightning, he's a huge reason they're able to have success even without their captain Steven Stamkos.
Connor McDavid of the Edmonton Oilers has been named the third star of November. He led the league in points during the month with 19. McDavid also had six goals. Moreover, he has emerged as a true captain for the Oilers at such a young age. While Sidney Crosby isn't quite ready to yield his "best player in the world" crown, McDavid is clearly his successor.
This article originally appeared on