Orlov's New Contract: What The Washington Capitals Can Expect from The Young Russian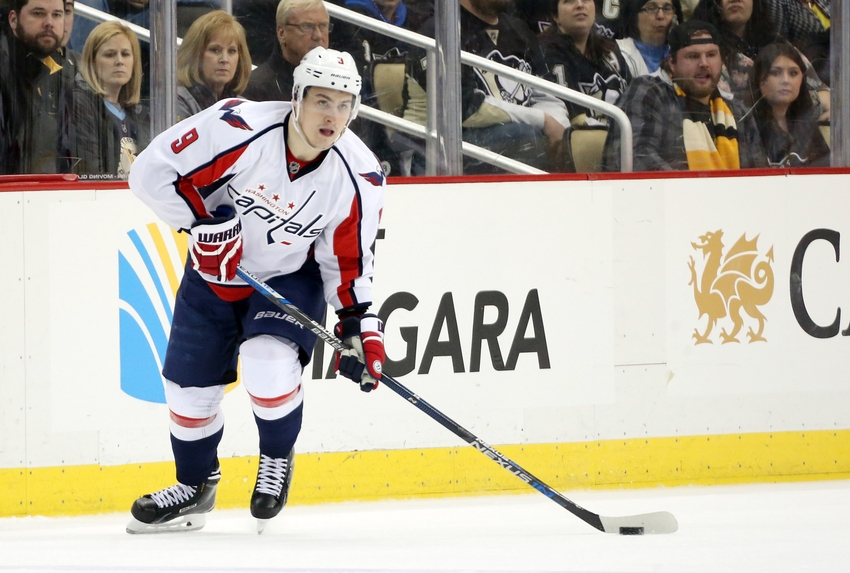 The Washington Capitals solidify their blue line with the re-signing of the shifty defenseman. What increased role can we see from Orlov this season?
As the dog days of Summer have winded down and NHL fans are gearing up for the start of what promises to be an exciting season, looming thoughts have clouded us Washington Capital fans these past few weeks. One being that Cindy Crosby (Sydney) is still crying his way through the World Cup, and two being, our shifty young defenseman Dmitry Orlov was still without a contract. That was until this Wednesday, when the Hockey gods answered our prayers and granted us at least one more year with the elusive puck-moving defenseman.
After a long offseason of negotiations, both sides finally came to a sensible solution of a one-year deal for $2.57 million. Not only does this solidify a deep Capitals blue line but it also frees up $880,000 in cap space to work with. This opens up the possibility to add another forward to an already talented mix of players. In addition, after what hopes to be a Stanley Cup season, Orlov will remain a restricted free agent, which is good news considering the upcoming expansion draft.
More from Stars and Sticks
Coach Barry Trotz has expressed he has big plans for Orlov this season and plans for him to be skating top 4 minutes. Orlov has been praised in the past with his offensive dazzle and he has been criticized as well. With his crafty offensive instinct comes his inexperience and sometimes poor decision making. Since recovering from his wrist injury that kept him out of the 2014-2015 season, Orlov made a strong comeback tallying 8 goals and adding 21 apples to his basket. 29  points in total for all you math magicians out there.
With Orlov being given the opportunity this year to play top 4 minutes alongside the likes of either John Carlson or Matt Niskanen, we should see an increase in those numbers and well as a decrease in mistakes. This contract not only gives Orlov the opportunity to prove he belongs in the top 4 but also a chance to show he belongs in Washington for a few more years. Capital fans should be overall pleased to this low risk, high reward contract.
This article originally appeared on