One player from each NHL team who should be on the NHL 18 cover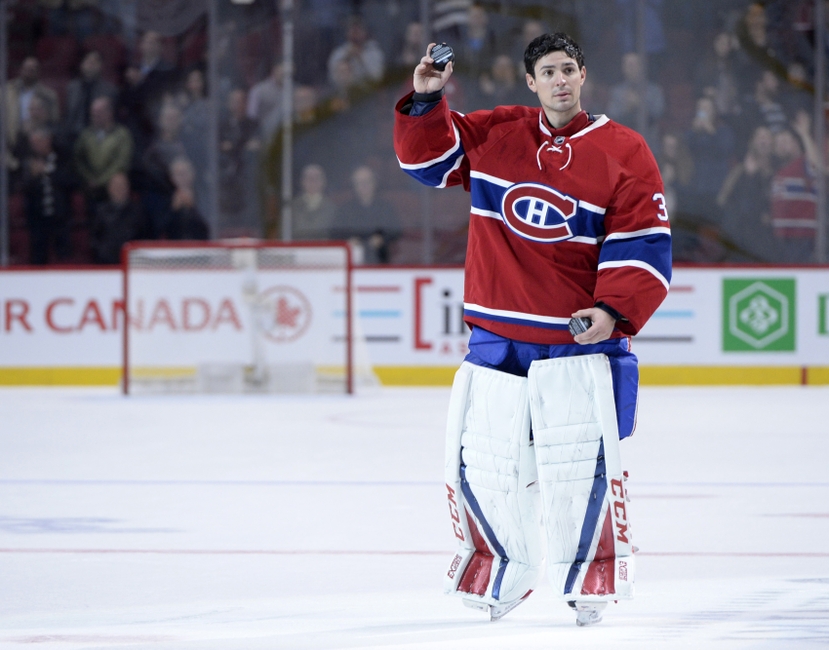 Even though we're only one month into the NHL season, it's never too early to look ahead to who should be on the cover of NHL 18.
Ever since Vince Vaughn tried to make Wayne Gretzky's head bleed in Swingers, the NHL video games have become a staple for hockey fans. Even when the NHL was locked out during 2004-05 and the start of the 2012-13 season, EA still pumped out a video game to help people fill the void. And on the next-gen consoles, no one would blame you for confusing it with the real thing.
The NHL games are always fun since fans get the chance to win the Cup, regardless of who they root for. Anyone who says that NHL is the same every year with a roster update doesn't actually own the game, because they always add lots of cool new features every year. And even if it was just a roster update, playing as the Toronto Maple Leafs with Auston Matthews, or as the Montreal Canadiens with Alexander Radulov is worth the price of admission.
Even though the NHL season is only a month old, while fans have only been playing NHL 17 for two months, it's never too early to look ahead to NHL 18. And unlike Madden, where landing on the cover spells the end of your career, players are always honored to carry that distinction. After all, the cover athlete is part of the reason why people buy each game, so why not look at one player from each team who's worthy of that honor?
As a rule of thumb, anyone who has already been on a cover is disqualified from this list. And while EA might create a voting contest with eight random players, this list aims to be much more comprehensive, and fair to every fanbase in the league. My only regret is that John Scott can't be included.
Anaheim Ducks: Ryan Getzlaf
Even though the Ducks are a deep team, their success is wholly dependent on two players: Corey Perry and Ryan Getzlaf. And while Perry is a player that everyone loves to hate, Getzlaf is the proto-typical center. He's got an imposing physical presence, he's an elite scorer, he has great vision, and is excellent in the defensive zone as well. When he charges down the ice, he's almost impossible to stop.
Getzlaf is typically among the top of the league in assists every year while Perry is the finisher. They're a dynamic duo, but when they're not producing, the team suffers as a result. Last year was considered a down year for Getzlaf, as his 63 points were his lowest tally since 2011-12. Despite winning the division, the Ducks ended up losing in the first round to Nashville.
Getzlaf is one of the longest-serving players in Anaheim – he was part of the Ducks team that won the Cup in 2007. He's also got two Olympic Gold medals to go along with that. He has established himself as a leader in the Ducks' locker room, but despite his tireless work ethic, he hardly ever gets Selke love. Then again, Bergeron, Kopitar, and Toews is a pretty hard trio to break through.
As long as his team's doing well, he doesn't care about individual awards. Though he might get stoked if he ever landed on the cover of an NHL game.
Arizona Coyotes: Max Domi
The Arizona Coyotes are a fun team to watch, mostly due to their injection of young forwards. With Shane Doan looking like he's never going to retire, he has a lot of wisdom to impart on the next group of players in the desert as they look to make the playoffs for the first time since 2012.
With all the exciting young players they have, this team is like the Minnesota Timberwolves of the NHL. But one forward stands out in particular, and that's Max Domi. Whenever anyone hears that last name, they think of a gigantic pest who makes a living out of fighting and being an overall dirtbag. But Max is seeking to revive his family name, and make fans think of a finesse forward with a likeable personality.
A big reason why Domi has flourished in the NHL so quickly is because of his teammates. Anthony Duclair, who was acquired from the Rangers in exchange for Keith Yandle, developed an instant connection with Domi after they previously won Gold together at the 2015 World Juniors. Last year, they were put on the same line, and had 96 points combined. But Domi excelled, collecting two points in his NHL debut, then getting a hattrick later in the year.
And a year after they drafted Domi, Arizona reunited him with Christian Dvorak, his teammate from London. Having just broken into the team this year, he'll no doubt seek to learn something from Domi on transitioning to the NHL level.
This team has an exciting young forward on every line, but Domi's on the top line for a reason. He is the future of this team, and his rapid ascension in his rookie season only validated that. He may be famous because of his dad, but he's looking to make a name for himself in this league.
Boston Bruins: Tuukka Rask
Normally, Patrice Bergeron would be a shoo-in for this. But considering he was already on the NHL 15 cover, which was voted on by fans no less, he's disqualified. The three best candidates after him are Brad Marchand, Zdeno Chara, and Tuukka Rask. But Marchand is a serial pest, and picking Chara would be wrong after he almost killed Max Pacioretty. That leaves us with Rask, who has become one of the most dependable goalies in the NHL.
Leafs fans know that all too well. In the 2006 World Juniors, the two best goalies were Justin Pogge and Tuukka Rask, and the one thing they had in common was that they were both in the Leafs' system. But in one of the worst trades of the last decade, the Leafs traded Rask on draft day to Boston for Andrew Raycroft, while Pogge only played seven games at the NHL level. Rask's first career NHL win, meanwhile, came against… you guessed it, the Maple Leafs.
While he technically has a Stanley Cup to his name, he rode bench to Tim Thomas that year. But in 2012-13, he took over the starting job full-time while Thomas was traded to the New York Islanders. He brought the Bruins to within two wins of the Stanley Cup that year, then won the Vezina the very next season.
While the Bruins have yet to make the playoffs since his Vezina-winning season, Rask is a consistent force, as his save percentage has never dipped below .915. And this season, he's in killer form having started 8-1 with a .938 save percentage. The Bruins committed a lot to Rask when they signed him to an eight-year extension worth $56 million back in 2013. But so far, that deal looks like a bargain.
Buffalo Sabres: Zemgus Girgensons
Jack Eichel would be the obvious choice for the Sabres given that he's the face of the franchise and all. But putting Zemgus Girgensons on the NHL 18 cover would be their way of protesting the NHL for taking a page from the No Fun League's book for the All-Star Game.
According to The Hockey News, they're going to keep fan voting for all-star rosters open, but will only limit the choices to "bona fide NHLers." This comes a year after fans voted in John Scott to show how little people cared about the All-Star Game. Despite the league's best efforts to prevent him from playing, he did play and won the MVP. It was easily the best All-Star Game they've ever put on because of Scott, and now they want to get rid of that aspect.
But before Scott, Zemgus Girgensons was famously the leading vote-getter in the 2015 All-Star Game because Sabres fans and all of Latvia stuffed the ballot boxes. He didn't get nearly the same amount of attention that Scott did, but that's because he was a new commodity. It was only his second season in the NHL, while Scott had been around for 11 years, and everyone knew exactly who he was.
Girgensons deserves props for being with the Sabres during arguably their worst season in franchise history – when they finished 23-51-8 and still lost the Connor McDavid sweepstakes. Through all that misery, he still made it to the All-Star Game, where he had a blast. And although his numbers don't indicate that he's an all-star – he has yet to score more than 30 points in a season – at least he's capable of scoring goals unlike John Scott.
Zemgus is still young, and he has yet to reach his prime. It might only be a matter of time before he has a breakout season, and the NHL will consider him bonafide enough to go to the All-Star Game. Certainly landing on the NHL 18 cover would boost his profile even more.
Calgary Flames: Johnny Gaudreau
The Calgary Flames are a team with lots of great young talent, but in the end, you've got to go with the guy with a last name of Hockey. With every goal he scores, he puts to bed the notion that size matters in the NHL. He may only be 5'9", but he kills you with his speed.
Looking back on the 2011 Draft class, there's no way you can justify calling 103 players better than him. He was ranked 193rd in Central Scouting's prospect rankings that year, so he decided to enter the league as a late bloomer by spending three years in college. He broke out in a big way at Boston College, especially in his last year when he put up 80 points in 40 games.
It translated to the NHL, as Gaudreau had 28 goals and 73 points in his rookie year. He followed that up with 30 goals and 78 points. He's a special talent, and is already emerging as a leader on the Flames. He came into this season with enormous expectations after signing a 6-year deal with a $6.75 million AAV. So far, he has 10 points in his first 15 games. It's just a shame that he can't play defense and goalie as well, because if he did, the Flames would be a playoff team every year.
Gaudreau not only has the best nickname in hockey, he's on his way to being an elite American winger like Phil Kessel and Patrick Kane.
Carolina Hurricanes: Cam Ward
Cam Ward is still going strong as the Carolina Hurricanes' netminder even after 12 seasons. They have only made the playoffs in two of those seasons, but Ward has remained a consistent force. And while he may not be considered one of the best goalies, he's still a high-end one.
Cam Ward is an elite company of goalies who won the Stanley Cup in their rookie season. He replaced Martin Gerber in the middle of their first round series against the Montreal Canadiens, then led a comeback from 2-0 down. The rest was history as the Hurricanes went on to beat the Edmonton Oilers in the Stanley Cup Final. Only three other goalies have won the Cup in their rookie year: Ken Dryden, Patrick Roy, and most recently Matt Murray.
The Hurricanes haven't sustained that success at all, as they only made it back to the playoffs in 2009. But Ward's numbers tell the whole story. He has a career save percentage of .910, and only dipped below that mark six times. One of those times was in his rookie year, but he more than made up for it in the playoffs. And in 2009-10, his season was marred by a gruesome injury.
Ward doesn't get the plaudits that he deserves, and a lot of that has to do with the team he plays for. The Hurricanes are off to another bad start this year, but more often than not, Ward is keeping them in it. Someone has to give him credit for the work he puts in, which is why he would be more than deserving of landing on the NHL 18 cover.
Chicago Blackhawks: Marian Hossa
The Chicago Blackhawks have been accused of favoritism by the NHL, and EA's treatment of them has only further backed up those claims.
Following a deep playoff run, NHL 10 had Patrick Kane plastered on the cover. They also included a song written specifically for the Blackhawks, "Keys to the City", on the soundtrack. But unlike Madden, that move didn't jinx them. Instead, Kane finished with the same number of points that he wears on the back of his jersey while the Blackhawks won their first Stanley Cup since 1961.
EA looked like they were tempting fate when they put Jonathan Toews on the cover the very next year. But it didn't have the same effect as the Blackhawks lost in the first round that season despite almost coming back from a 3-0 deficit.
In the ultimate troll move, EA decided to forego a fan vote for NHL 16's cover athlete. And after winning the Cup, they made a special cover of Toews and Kane holding it together. But Kane's trial prompted EA to remove him from the cover, while the Hawks lost in the first round to the St. Louis Blues – a team that they always beat in the playoffs.
If they went with a Hawks player for NHL 18, there might be actual riots. But if there's one player they can choose that everyone would be okay with, it's Marian Hossa. Despite being 37, he's proven that he can still be a premier goalscorer as he has started the season with eight goals while averaging a point per game.
His path to the Cup was also one that everyone could root for. Within a year of getting dealt to the Pittsburgh Penguins, they made it to the Cup Final, but they were too inexperienced, and lost to a juggernaut Detroit Red Wings team.
Following that loss, Hossa rejected a five-year deal to instead sign with Detroit because he thought they would give him a better chance to win a Cup. He was betraying teams before Kevin Durant made it cool. Sure enough, they got back to the Finals, but they lost in seven games to… you guessed it, the Pittsburgh Penguins.
Hossa became a highly sought after free agent, and this time he signed with a team that he beat: the Chicago Blackhawks, in the Conference Finals. They proved they were all-in on winning when they inked him to a 12-year deal worth $62.8 million. The Blackhawks' Cup Final appearance in 2010 was the third straight time Hossa made it there, but they proved that the third time was the charm when they beat the Philadelphia Flyers in six games.
With a contract like that, the Blackhawks were going to ride or die with Hossa, but so far, they've been riding. After it looked like he would never win a Cup, he's won three with Chicago. He's a great presence in the locker room, and is one of the guys the younger players look up to.
With five more seasons, including this one, left on his deal, many are wondering how much longer Hossa can be productive. But given what we've seen from Jaromir Jagr, it's not crazy to think that he can still put up good numbers even when he's well into his 40s.
Colorado Avalanche: Nathan MacKinnon
The Colorado Avalanche have lots of talented young forwards, and picking out just one of them was hard. But in the end, I went with the only first overall pick in franchise history.
In his first season in the NHL, Nathan MacKinnon proved to be a tremendous impact player. Right after he got drafted, the Avalanche went from second last in the league to third best. A lot of factors played into that drastic turnaround, including Semyon Varlamov's superhuman efforts in net, but MacKinnon played a big part of it too.
Matt Duchene was the leading scorer that season with 70 points, but MacKinnon wasn't far behind. He put up 24 goals and 63 points to lead all rookies. And even though Varlamov lost the Vezina to Tuukka Rask despite putting up better numbers, MacKinnon's efforts were good enough to win him the Calder.
Once they got to the playoffs, though, the Avalanche were exposed as a bad possession team with a high shooting percentage that got bailed out by their goaltender. They lost in the first round to the Minnesota Wild, and missed the playoffs the next two seasons which led to Patrick Roy getting fired.
MacKinnon also hasn't achieved the same success as he did during his rookie season, but he has proven to be a human highlight reel. His greatest attributes are his speed, he out-raced an Olympic speed skater, and his excellent stick-handling. That was never more on display than in his absolutely jaw-dropping overtime winner against Sweden:
Even at just 21, MacKinnon possesses great hockey IQ. He's already a ton of fun to watch, and will be even moreso when he enters his prime. The Avs have a special player on their hands – just imagine what he can do when he's led by a competent coach.
Columbus Blue Jackets: Sergei Bobrovsky
The Columbus Blue Jackets have made a lot of bad moves in their history, but acquiring Sergei Bobrovsky for three draft picks that never really panned out was one of their better deals.
His time in Philadelphia was very inconsistent. He had a .915 save percentage in his first season there, but he was disappointing in the playoffs. They shipped him off to Columbus after shelling out money on Ilya Bryzgalov, which they still deeply regret to this day.
Within his first year of arriving in Columbus, he won the Vezina trophy, and made Steve Mason expendable. Sure it was a lockout-shortened season, but a .932 save percentage is impressive no matter what.
He followed that up by getting the Blue Jackets to the playoffs for the second time ever, and the first time since 2009. While they lost in the first round, they won their first two playoff games in franchise history and gave the Pittsburgh Penguins a run for their money.
Bobrovsky has made the most of his new surroundings to establish himself as an elite goalie. If you can win a Vezina while playing for Columbus, you must be doing something right. And after Jay Onrait started treating him like a cop on the force, he's achieved somewhat of a cult following.
A lot of people are hoping the Blue Jackets can figure it out and build a respectable team around Bobrovsky. It would be a shame if he wasted his talents there, but he's already accomplished so much for an undrafted goaltender.
Dallas Stars: Jamie Benn
Jamie Benn is yet another example of a late-blooming star. He was drafted 129th overall after playing local hockey in British Columbia, then spent two seasons with the Kelowna Rockets before making the transition to the NHL.
Once there, he looked like a good, but not great, goalscorer. He scored 41 points in his rookie year, then steadily improved that mark to 63 by his third season. That's a respectable tally, but it was hardly indicative of the player he would later become.
After Brad Richards was out and Tyler Seguin came in, Benn blossomed into an elite scorer. The moment Seguin arrived, he and Benn put up 84 and 79 points, respectively, while he made the playoffs for the first time in his career. But Benn has proven that he can succeed in spite of Seguin, and is capable of individual brilliance. Few will forget when he scored four points on the last day of the 2014-15 season to win the Art Ross trophy by one point.
Despite his heroics that year, the Stars didn't make the playoffs as their atrocious goaltending held them back. They were able to trim the dead weight of Jhonas Enroth and Anders Lindback while adding Antti Niemi, and while their goaltending improved, Benn knew that he had to keep putting up big tallies to keep his team afloat. He scored a career high 89 points last year as the Stars won the Central Division, but lost in the second round.
Benn was recently anointed with an eight-year extension with an AAV of $9.5 million. He has proven to be one of the best even-strength goalscorers in the NHL, and as long as he's producing at a high level, the Stars should win a Cup sooner rather than later. But even if they don't, at least Benn can boast an Olympic Gold medal.
Detroit Red Wings: Henrik Zetterberg
For a long time, there were two players who symbolized the Detroit Red Wings' model of consistency, and that's Pavel Datsyuk and Henrik Zetterberg. Both of them were late-round gems – Datsyuk was taken in the sixth round, Zetterberg in the seventh – to serve as a testament to how well the Red Wings draft. They both went on to have extraordinary careers – they each have over 800 points, a Stanley Cup ring (Datsyuk has two), and never once missed the playoffs.
But now that Datsyuk is retired, while his NHL rights are held by the Arizona Coyotes, it's Zetterberg's turn to serve as the franchise cornerstone. His play has been steadily declining, which is a natural inclination of his age and the fact that he suffered chronic back pain just three seasons ago.
But at this point, he can still contribute to a playoff push, and he'll be on milestone watch. For example, if he plays in every game this season, he'll reach the 1,000 game plateau. A 64-point season would also get him to 900. And that's not out of the realm of possibility considering he had 66 in 2014-15.
Considering that Datsyuk was drafted a year ahead of Zetterberg and retired this year, it would be fitting if Zetterberg decided to hang them up at the end of this season. Whether that's the case or not, Zetterberg's career is one full of remarkable achievements, and it would be great if NHL 18 honored him, especially since they never had Datsyuk on a cover.
Edmonton Oilers: Connor McDavid
There's no point in pretending this should be anyone else. He may just be 19, but Connor McDavid is already the best player on the Edmonton Oilers, and the second best player in the world.
Everyone knew how great he was going to be during the draft, when he was mentioned in the same breath as Sidney Crosby. The Buffalo Sabres fought tooth and nail to get him, but the Oilers stole him out from under the rug.
Although his rookie season was marred by a clavicle injury that made him miss half the season, his second half of the year was a marvel to watch. He scored an all-timer of a goal in his first game back, and against his favorite team since childbirth, the Toronto Maple Leafs, he had a five-point game. Despite playing in 45 games, he finished with 48 points and was third in Calder voting. It made many wonder what could've been had he been able to play the full season.
This year, McDavid is taking even further strides towards greatness. Through his first 15 games, he already has five multi-point games, with his most memorable one being his three-assist night in his first ever meeting against Sidney Crosby. His greatest attribute remains his speed, which resembles that of a fighter jet, and makes him impossible to defend against.
McDavid may not put up 120 points in his second season like Crosby did, but he's always giving his team a chance to win. However, McDavid won't vindicate Edmonton's decade-long period of futility until they can compete for a Cup. They're off to a good start so far, but a playoff position is far from guaranteed.
Florida Panthers: Jaromir Jagr
It was a tough to choose between Roberto Luongo, who has one of the best social media personalities in all of sports, and Jaromir Jagr who continues to defy expectations. But having Jagr plastered on the NHL 18 cover in a full mullet would be an amazing tribute to one of the best hockey careers of all time.
Jagr has won five Art Ross trophies, a Hart, two Stanley Cups, an Olympic Gold medal, and is a member of the Triple Gold Club. He was in a Cup Final as recently as 2013 when he joined the Boston Bruins on their playoff run, but while most players would've retired after coming up short, Jagr keeps chugging along.
He signed with the New Jersey Devils afterwards and put together a 67-point campaign to lead the team in scoring. He later got traded to the Florida Panthers where, at the behest of Luongo, he brought back the mullet, and led the team with 66 points. Even in the twilight of his career, he keeps breaking milestones and moving up the all-time scoring charts. Just this season, he potted his 750th career goal.
Nobody knows how he does it at this age, but it's better to marvel at him rather than to question it. If he retires at the end of this season, EA might decide to put Jagr in a Penguins jersey since that's where he accomplished the most in his career. But there's no doubt that having him on there would boost sales significantly.
Los Angeles Kings: Anze Kopitar
Now in his 11th NHL season, Anze Kopitar remains one of the best two-way players in the game. Save for his rookie season, he has led the Kings in scoring every year. And after being nominated for the Selke twice, he won it last year.
Even though he was just appointed captain this offseason, he has always been a leader for this team. The Kings are a balanced offensive unit with scoring threats on every line. On the top line, Marian Gaborik usually finishes the scoring chances while Kopitar and Dwight King help shut down the opposition's top offensive threats.
And internationally, his individual brilliance is on display when he's consistently carrying Slovenia and getting them farther than anyone expects. You had to think he was thrilled to get some help during the World Cup when he played alongside some of the best players in Europe. Nevertheless, Kopitar was still the one who stood out, and propelled them to their second place finish.
Having just been named captain while signing a big contract extension, this has the potential to be Kopitar's best season yet. You'd also think that nobody's more pissed off at how last season ended than him, meaning he will play every game with a purpose.
There's hardly a moment when Kopitar isn't influencing the game, even if it's not on the scoresheet. He remains one of the hardest workers in the league.
Minnesota Wild: Devan Dubnyk
Devan Dubnyk's career revival in Minnesota has been special to watch. While in Edmonton, he was just one in a carousel of goalies who couldn't survive behind a weak defense and got blamed for losing as a result. After that, he bounced around the league serving mostly as insurance options to starting goalies. But just when it looked like he was down and out, the Wild came calling.
In 2014-15, Minnesota acquired Dubnyk from Arizona for a third-round pick, and looking back, that was one of the greatest return on investments you could ever ask for. He was immediately thrust into the starting role and made 38 straight starts to take the Wild from eight points out of the playoffs to sixth in the West. In that stretch, he went 27–9–2 with a .936 save percentage and five shutouts, and even got Vezina consideration.
If you sent his story to a movie studio, they'd turn it down because it'd be too unbelievable. A lot of people also criticized the Wild for signing him to a six-year contract because they didn't think his play was sustainable in any way. While his numbers were nowhere close to his first half season, he still fashioned a .918 save percentage and brought the Wild to the playoffs in back-to-back years.
So far this season, he's off to a spectacular start again. Three of his first six wins have been shutouts, and his save percentage is up to .947. Injuries have contributed to a slow offensive start, but defense and goaltending remain their strong suit. If you want to revive your career, just get Ryan Suter and Matt Dumba to play in front of you.
But even with Minnesota's strong blue line, Dubnyk deserves all the credit for his spectacular turnaround.
Montreal Canadiens: Carey Price
Looking back, it was criminal of EA to not have Carey Price on the cover of NHL 16. In 2014-15, he went 44-16-6 with a .933 save percentage. He led the league in both of those categories, and propelled the Canadiens to second in the East. Despite getting no help during the playoffs, he cleaned up at the NHL Awards by winning the Jennings, the Vezina, Ted Lindsay, and Hart Trophy.
It was one of the best seasons by a goalie ever, but EA's Blackhawks bias shone through when they chose Toews and Kane over him. Then again, after that remarkable season, he was only limited to 12 games which severely derailed Montreal's playoff hopes. Had he been placed on the NHL 16 cover, EA would've taken all the blame for his injury.
On the international stage, Price dominated in the Olympics and World Cup of Hockey, and won Gold on both occasions. The only thing that's missing from his resume is a Stanley Cup, and considering he plays for the Habs, it might stay that way.
Even though he's the best goalie in the league right now, he had a rough start. When he got drafted, Pierre McGuire derided the Habs for picking a goalie at No. 5. While everyone loves it when Pierre is wrong, this might be his finest work yet.
But few will forget the year when the Bruins swept them in the 2009 playoffs, and in the final game, he made the same gesture that Patrick Roy did before he requested a trade out of Montreal. Then a season later, he lost the starting job to Jaroslav Halak who took them all the way to the Conference Final. Despite Halak's heroics, they stuck with the younger Price and the rest, as they say, is history.
After missing most of last year, he's off to a scintillating start this season with the Habs. He has fashioned a perfect 10-0 start while allowing just 14 goals, and a save percentage of .957. At this point, they may as well rename the team the "Montreal Careydiens" because as they proved last year, and in their 10-0 loss to Columbus, they are nothing without him.
Nashville Predators: PK Subban
It hasn't been the start to the season that Subban, or any of the Nashville Predators, had hoped for. After they made it to the second round of the playoffs, before losing in heartbreaking fashion to the San Jose Sharks, many thought that this was a team that's on the rise. And the acquisition of P.K. Subban has only bolstered their blue line.
The Predators are the second worst team in the Central Division after getting off to a 6-5-3 start. And even though Subban has struggled out of the gate, he has eight points in 14 games while his counterpart Shea Weber has 13 in 16 games, he's already a massive star in Nashville. Just look back to when he scored his first goal – the crowd didn't stop cheering until after the goal announcement:
Find someone who will love you the way Nashville Predators fans already love PK Subban. Didn't stop cheering until the goal call was done! pic.twitter.com/oh0KJb4ejg

— Jeff Veillette (@JeffVeillette) October 15, 2016
Subban has always been one of the best personalities in the game, and his actions off the ice are just as well-regarded as his on-ice play. Few will forget the time he donated $10 million out of his salary to the Montreal Children's Hospital. He's one of the most recognizable faces in hockey, and someone who would be a perfect video game spokesman.
The Weber trade looks bad for Nashville now, but Subban is still getting settled into his role. He's generating chances, and is too talented to let this bad start continue for much longer. And while Weber has been great, his goalscoring numbers don't reflect the fact that the Habs give up a ton of shots on a nightly basis.
It might take until the middle of the season for the Predators to hit their stride, but once they do, the rest of the league better watch out.
New Jersey Devils: Cory Schneider
All the attention on the New Jersey Devils heading into this season may have been on Taylor Hall, but Cory Schneider is easily their best player. It's not like he emerged from out of nowhere too, as he was always stellar in Vancouver. But poor management led to him getting unceremoniously shipped out, while the Devils have been reaping the rewards ever since.
Schneider's breakout campaign was in 2011-12, a year after the Canucks failed to win the Cup. He took over the starting job while Luongo was hurt, and held it when he came back. He finished the year with a 20-8-1 record with a .937 save percentage, but when the playoffs rolled around, they did a poor job of handling the two goalies and lost in five games to the Kings.
A year later, everyone was led to believe that Schneider would keep the starting job while Luongo would get traded. But they moved Schneider instead for New Jersey's first-round pick, which they used to select Bo Horvat. It looked like the Canucks had done well when they got to keep Luongo while Horvat was playing well, but they traded Luongo too and haven't recovered since then.
Schneider, meanwhile, has put up exceptional numbers for the Devils since arriving. He put up save percentages of .925 and .924 in the last two seasons, but New Jersey's offensive deficiencies prevented them from getting to the playoffs in both those years.
Even though Taylor Hall's been great, they haven't been scoring particularly well this year, either. Their offensive output so far ranks bottom five in the league. As always, Schneider's been the key to their success, as he has a .927 save percentage at the start of this season.
He's in the discussion of elite goaltenders in the NHL, and if he gets them to the playoffs, he should get Vezina consideration. But as long as Price is around, it's unlikely that he'll win it.
New York Islanders: John Tavares
Stamkos watch captivated everyone around the league. He got everyone's hopes up when he liked a tweet and didn't sign an extension during the season, then proceeded to break everyone's hearts by re-signing in Tampa Bay. He might re-sign sooner than that, but 2018 is set to become John Tavares watch. He's an elite playmaker, and at just 26 years old, whichever team signs him will be getting him right while he's in his prime.
Tavares comes from a family of gifted athletes. His uncle, also named John Tavares, was regarded as the greatest lacrosse player of all time and helped him develop a lot of his on-ice skills. He was a highly touted prospect since junior, when he was the first player ever to be granted "Exceptional Player" status.
Even though they didn't make the playoffs until his fourth season, he always played an important part in the Islanders' season. In 2011-12, he famously scored 21 points in 12 consecutive games. The year after that, he had 47 points in 48 games and finished third in Hart voting to get the Islanders to the playoffs for the first time since 2007.
He was headed for a career year in 2013-14, but he suffered an injury at the Olympics, and missed the rest of the season. Up until that point, he had 66 points in 59 games, while the Islanders failed to make the playoffs without him. But he came back even stronger the year after when he put together an 86-point campaign and finished second in the scoring race.
The Islanders finally won their first playoff series since 1993 last year, and Tavares cemented himself in Islanders lore when he scored the game-tying and winning goals in Game 6. They couldn't get past a strong Tampa Bay team, but Tavares has been getting better each year.
He loves playing in Brooklyn, but after a 5-8-3 start to the season, his talents are clearly being wasted. Jack Capuano might not be the only person who won't be with the Islanders by 2018.
New York Rangers: Henrik Lundqvist
If ever there was a tweet that summed up Henrik Lundqvist, it would be this one. Because of his dashing good looks, and the fact that he plays in the most famous arena in sports, he's one of the most recognizable faces in the NHL. But he backs it up with consistently great play, and always makes the Rangers look better than they really are.
He went from a seventh round pick in 2000, and wasn't even the first "Lundqvist" drafted that year, to one of the two best goalies in the league. He's been nominated for the Vezina five times, but only won it once. That was in 2012, when he won 39 games and put together a .930 save percentage. That's the best save percentage of his career, but his average is a remarkable .921.
Offensively, the Rangers are an average team. Their top-line center is Derek Stepan, and while Rick Nash is great, he always tends to disappear in the playoffs. They have a good blue line anchored by Ryan McDonagh, but they're always among the best teams in goals against because of Henrik Lundqvist. His worst season was 2007-08, but he still won 37 games and had a .912 save percentage. And in 11 NHL seasons, he's only missed the playoffs once.
He's off to another great start this season, but he's getting some more offensive support, particularly from new acquisition Michael Grabner and standout rookie Jimmy Vesey. Given all that he's done, Lundqvist deserves a Cup.
Ottawa Senators: Erik Karlsson
EA has already put a defenseman who plays for the Ottawa Senators on their cover once. But that player was Dion Phaneuf… so let's try that again.
Erik Karlsson is the best defenseman in the league. He's known for his offensive versatility, but unlike most defensemen, he doesn't just score by taking slap shots. He's much more creative than that. With three 70-point seasons, he has more of those than Jonathan Toews, and two of those 70-point seasons resulted in a Norris trophy.
He lost it last season, which was the best of his career – he had 66 assists and 82 points – in favor of Drew Doughty because he was long overdue. But without Doughty, the Kings are still a good team. Despite Karlsson's season last year, they finished 11th in the East – imagine where they would be without him.
Because of his outstanding offensive numbers, there's a gross misconception that Karlsson is terrible in his own end. But he has excellent vision, particularly in his outlet passes, and the fact that he's such a mobile defenseman makes it hard for opponents to even enter the Senators' zone. When Karlsson is not on the ice, the Senators give up three more shots against than when he's on the ice.
Forwards get praised for having a two-way game, so why can't defensemen? Having Karlsson is like having a fourth forward, but just because he's not a stay-at-home defenseman, that doesn't mean he's bad in his own zone. And while Craig Anderson has been lights out this season, Karlsson remains their most important player. Hopefully the PHWA will recognize that and give him the Norris again this season.
Philadelphia Flyers: Shayne Gostisbehere
The obvious choice here would be Claude Giroux, but he already made it on the NHL 13 cover. So the next best option was the player who captured the imaginations of hockey fans everywhere last season: Shayne Gostisbehere.
He earned the nickname "Ghost Bear", which became a handy guide to pronouncing his last name. He also got a great feature based on that nickname, and in his first season, the 5'11" defensemen proved that size isn't everything when it comes to playing that position.
Coming into last season, when all the Calder attention was on Connor McDavid, Jack Eichel, and Artemi Panarin, Shayne Gostisbehere snuck up on everyone and finished second in voting. And his rookie season is one that Ivan Provorov, last year's draft pick who just broke into the Flyers this year, will hope to follow.
Last year, Gostisbehere was an advanced stats darling because of his high possession tallies. His Corsi For percentage was 50.6, the team's save percentage when he was on the ice was 92.6, and their shooting percentage was 9.8. In addition, he had 17 goals last season, which led all rookie defensemen, with five of them being game-winners.
With 10 points in 16 games, Gostisbehere is off to another strong start. The Flyers made the playoffs in his first season, and if he can play up to his standards, there's no reason why they can't get back there.
Pittsburgh Penguins: Sidney Crosby
There's no use listing all of Sidney Crosby's accomplishments because there are so damn many. Nobody's debating whether he's the best player in the world, yet for some reason, he's never gotten love from EA. However, they did put his closest rival on the NHL 07 cover after his Calder winning season.
It's ridiculous to think that that's what lit a fire under him, but Crosby deserves his own cover by now after setting himself apart from the rest of his generation. And with Connor McDavid threatening his perch at the top, Crosby is off to one of the best starts of his career by scoring 10 goals in his first nine games.
The only thing about Sidney Crosby that's more baffling than him not getting an NHL cover yet is the fact that he's only played in one All-Star Game his entire career. The NHL's All-Star Game is a joke, as evidenced by John Scott's inclusion in it last year. But there's a pretty simple explanation for every year that he didn't get included.
2006 was his rookie year, there was no game in 2010 or 2014 due to the Olympics, he only played 22 games in all of 2012 (yet still had 37 points), and 2013 was a lockout-shortened season. 2016 was the only year that he truly got snubbed, but that might be because he usually picks up an "injury" that only lasts during All-Star Weekend when he is selected.
The biggest problem with the NHL, and the reason why it's well below the other three North American sports, is because they don't market their stars enough. Just this season, they didn't put McDavid and Crosby's first ever showdown on national TV, and they scheduled it on election night. And when Deputy Commissioner Bill Daly was asked about not marketing individual rivalries, he simply said "Our sport is the ultimate team sport."
With the NHL making an effort to only include "bona-fide" players in the All-Star Game, they should try and prevent things like fake injuries from occurring during All-Star Weekend. EA also needs to have Crosby on an NHL cover because he's long overdue.
By not trying to be a star-driven league, the NHL is only hurting itself. And with this new influx of young superstars entering the league, they'd better start course-correcting if they're serious about trying to grow the game.
St. Louis Blues: Alex Steen
It's unlikely that a Blues player will be featured on the NHL 18 cover, given that Vladimir Tarasenko is already on this year's edition. But while Tarasenk-show has become a superstar in just under five seasons, Alex Steen has been consistently putting up great totals for the Blues since he arrived there.
The John Ferguson Jr. era Leafs were a joke, but their best forward outside of Mats Sundin was arguably Alex Steen. His point totals were generally in the 40-point range, and while that's not a lot, he still ended up being one of the Leafs' top scoring forwards.
But in 2008-09, after Ferguson was relieved of his duties, the Leafs attempted to clean house, and one of the first players to go was Steen. In a move that typified the ineptitude of Leafs' management at the time, they got rid of Steen and Carlo Colaiacovo in exchange for Lee Stempniak. Steen is still with the Blues while Stempniak didn't last longer than two seasons in Toronto. And while Steen never had a 20-goal season with the Leafs, he got one in his first full season with St. Louis.
Not counting the lockout-shortened season, Steen has failed to score 20 goals just twice with the Blues. His best season was in 2013-14 when he put up 33 goals and 29 assists to lead the team in scoring. Given that Tarasenko was still coming along, he must've picked up something from Steen that year. Certainly St. Louis' abundance of scoring wingers have contributed to his rapid development.
It's hard to find a player on the Blues who's more dependable than Alex Steen. Being on the top line makes him a nightmare for opponents to stop, but having Tarasenko right below him only makes it worse. Having advanced to the Conference Finals for the first time since 2001, this is a team that's on the rise. And I'm sure most people would be happy with seeing them take down the Blackhawks again this year.
San Jose Sharks: Brent Burns
It was rough to choose between one of Brent Burns or Joe Thornton for the NHL 18 cover, but either one would be a great choice. They are the two most recognizable faces on the Sharks because of their beards, and the ones they had during last year's Cup run were the stuff of legend.
They've also become two of the best personalities in the NHL. The best example of that this season was when they were playing the Penguins for the first time since the Cup Final. Before the game, they took a stroll around Pittsburgh, and this picture captured the two in all of their glory:
I believe this is Brent Burns and Joe Thornton. They are walking around Pittsburgh's North Shore and don't give ONE HELL. pic.twitter.com/T7t8LiLlBy

— Colin Dunlap (@colin_dunlap) October 19, 2016
But despite the fact that Thornton has put up Hall of Fame numbers throughout his career, he can't seem to catch a break. Lots of people criticize him for coming up short in the playoffs, with 2014's collapse being the most notable example. They held a 3-0 lead over the Los Angeles Kings only to lose in seven games. Thornton, who had just three points in that series, was stripped of his captaincy afterwards, but he's been extremely professional about it.
While Thornton continues to put up great numbers despite his age, Brent Burns is arguably their most important contributor. He's in his prime, and is an extremely versatile player. Despite being listed as a defenseman, he plays like a forward and has even lined up on the wing on a few occasions.
Everyone praises Karlsson for being able to score at a high level, but Burns is an excellent scoring defenseman too. His tallies have grown each year, but last season, he had 27 goals and 75 points, while averaging a point per game in the playoffs. It was by far the best season of his career, and he finished third in Norris voting for his effort.
Winning a Cup on the Sharks is arguably the most difficult achievement in sports. Their best chance came last year, but they couldn't stop the juggernaut Penguins. But if the Sharks can build on the momentum of last season, while Burns continues to play at a high level, a Cup could come to the Bay Area sooner than you think.
Tampa Bay Lightning: Victor Hedman
Steven Stamkos remains the cornerstone of the Lightning, especially now that he's signed an eight-year extension to stay in Tampa Bay. But he already landed on the cover of NHL 12, meaning we've got to go to the next best option. Victor Hedman isn't far behind in terms of importance to the team. After all, there's a reason why they signed him to a similar eight-year extension soon after locking up Stamkos.
He's the anchor on Tampa Bay's blue line, and is a mobile defenseman who's demonstrated great vision in the offensive zone. His most productive season came in 2013-14, when he had 42 assists and 55 points in 75 games.
He's usually paired with Anton Stralman, who's more of a defensive-minded defenseman, and they complement each other well. They were the team's leaders in Corsi last season, while Hedman's percentage of 56.1 was particularly impressive. When he was on the ice, his team's shooting percentage was 92.
Hedman was a highly touted defenseman coming into the draft. He was the number one ranked European skater, and only John Tavares went ahead of him. He was compared to Chris Pronger, which can be a lot to live up to, but he's handled the pressure very well.
In seven seasons, Hedman already ranks third in franchise history in points. Given that he's only 25, he's still got a lot of room to grow, but he's already evolved into one of the NHL's most dominant defensemen.
Toronto Maple Leafs: Auston Matthews
An overriding theme this season has been the strong play of the rookies. As the first overall pick, Auston Matthews has been getting much of the attention, and he has so far powered the youth movement in Toronto. At the start of the season, all three of the Leafs' top scorers are rookies: Matthews, William Nylander, and Mitch Marner, all with 12 points.
After a historic debut in which Matthews scored four goals, he only has two in his next 14. Opposing fans are not keen on Matthews getting shoved down their throats by the media, and his goal drought has given them fuel to criticize him and say that Patrik Laine is better.
Laine may very well beat Matthews to the Calder this year, but the Jets aren't the team going through a full-scale rebuild right now. Toronto is, and it's hard for Matthews to be the savior on a team full of kids. Besides, even when he's not scoring, he's generating chances, and has a great Corsi For percentage at 55.1. And 12 points in 15 games should hardly be considered mediocre.
Fans expected Matthews to be an impact player in his first season, and so far, he has been. And although the encouraging play of all their rookies means the future will be bright, it's Matthews who will naturally get all the attention as the first number one overall pick in Toronto since Wendel Clark.
If Auston Matthews lands the NHL 18 cover, fans will accuse EA of a Toronto bias, while Leafs fans might get worried about an impending curse. But the story of him bringing the Leafs back to contender status writes itself. While fans were either throwing jerseys or too apathetic to have a vested interest in the Leafs last year, their current youth movement has injected plenty of excitement into a long-suffering fan base.
Vancouver Canucks: Henrik and Daniel Sedin
Sure it may be unorthodox to have two players on a cover, but EA found a workaround with Toews and Kane. And unlike Kane, the Sedins haven't had any run-ins with law enforcement.
The Sedins are practically inseparable, and have been that way ever since they were both drafted by the Vancouver Canucks. They complement each other perfectly, with Henrik being the playmaker and Daniel being the goalscorer. However, they have both won Art Ross trophies, and they happened to come a year apart.
But at this point, the Canucks are a dumpster fire, and that's putting it lightly, and there aren't many players who are doing well. If you were to choose anyone from Vancouver for the NHL 18 cover, it should be a Sedin, because of everything they've done, and continue to do, for the team. And if you're going to choose one, you have to include the other.
Vancouver hasn't recovered since losing in the 2011 Cup Final while the city burned to the ground. They finished in first the following two years, but won a total of one playoff game. Then came the hiring of John Tortorella which… well, nuff said.
Mike Gillis also crippled the team with mind-numbingly bad trades, like disbanding the best goalie tandem in the NHL. They have some good rookies, but they either don't pan out (like Jake Virtanen), or get traded (like Hunter Shinkaruk).
It's amazing how the Sedins have been able to put up with all of this, but they are the one thing that remains constant in Vancouver. You can always count on them to put up great numbers, and no matter how bad things get, they remain one of the toughest pairs to defend against.
History will remember the Sedins as one of the best one-two punch combinations ever in the NHL, no matter how much the rest of the Canucks try to drag them down.
Washington Capitals: TJ Oshie
After an outstanding rookie season in which Alex Ovechkin won the Calder by scoring 52 goals and 106 points, EA made him the cover athlete for NHL 07. While that may have been cause for concern for a sophomore slump, he still strung together a 92-point season, and has since gone on to become one of the greatest goal-scorers in NHL history.
But because he already has a cover, he can't be chosen for NHL 18. So why not appeal to the hearts and minds of Americans by plastering TJ Oshie on it?
Despite spending nine seasons in the NHL, Oshie's signature moment remains the 2014 Olympics, when he took six shootout attempts against Russia and scored on four of them, including the winner. Given that USA Hockey hasn't achieved much since the Miracle on Ice, that remains their greatest moment outside of it.
But Oshie is useful in more than just the shootout. In the NHL, he has to be, since he can't just take every attempt. Having spent the majority of his career in St. Louis, his numbers have steadily increased, and when he arrived in Washington, he put up his highest goal tally with 26. And even though they ultimately lost that series, few will forget his hattrick in Game 1 against the Penguins, which felt like a sign of things to come.
Some people questioned how he would get along with Evgeny Kuznetsov and Alex Ovechkin after what he did to them in the Olympics, but he has taken to his surroundings extremely well.
Oshie has no shortage of talented centers to complement him in Washington, and while he played on the top line with Nicklas Backstrom and Ovechkin last year, he plays on the second line this season to balance out the scoring. TJ Oshie is an American hero, so it's no surprise that he's found a home in the nation's capital.
Winnipeg Jets: Patrik Laine
It may just be one month, but people are already likening Matthews vs. Laine to Crosby vs. Ovechkin. While Matthews is a dynamic playmaker, Laine is an explosive goalscorer, and he has proven that so far. When the Jets landed the second overall pick, they knew they were getting a special player.
His strong play in the World Juniors – 13 points in seven games – propelled Finland to a Gold medal, and actually had people in Toronto debating who they should take first overall. Ultimately, the fact that Matthews is a center made it easier, but both Laine and Mark Scheifele have benefited from each other's presence. While Scheifele leads the league in points, Laine leads the league in goals.
And his fast start has also got Jets fans comparing him to another Finnish winger who used to play in Winnipeg. It's a warranted comparison too, because they both scored 11 goals in their first 14 games. Given the way scoring has changed in the NHL, it's highly unlikely that Laine will actually reach 76 goals this year just like Teemu did, but what a story it would be if he did.
Considering this Jets team is a different franchise than the old one, you can already anoint Patrik Laine the greatest Finnish winger in franchise history. And even though they just drafted second overall, they made the playoffs the year before that.
Laine seems to have reinvigorated this lineup, but now that Jacob Trouba is back and Bryan Little hasn't played yet, they're only going to get better. Depending on how far along they progress this season, they might become a dangerous team in the playoffs.
This article originally appeared on