NY Islanders Sign Cal Clutterbuck to 5-Year Extension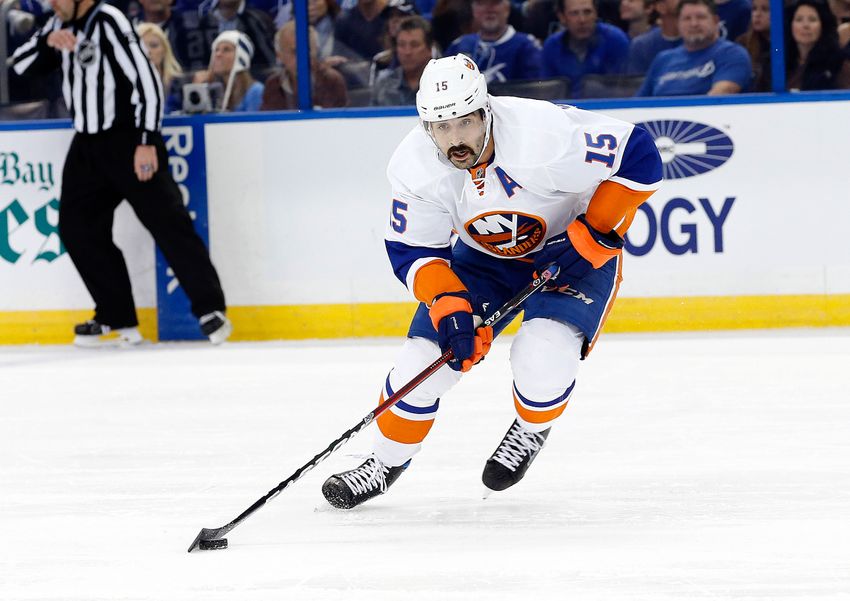 New York Islanders Sign Bottom Six Forward Cal Clutterbuck to a 5-Year $17.5 Million Dollar Extension Worth $3.5M/Year (Signed Through 2022-23)
Announced late Friday morning, it seems the New York Islanders have signed agitator Cal Clutterbuck to a five-year extension worth a total $17.5 million dollars. The new deal carries an annual cap hit of $3.5 million.
Clutterbuck, 29, is in his 4th season with the Islanders. He spent his first six years in the Minnesota Wild organization before being acquired as part of the Nino Niederreiter deal back in 2013.
At 5'11 218lbs, Cal was slated to become a UFA in the summer of 2017. The gritty bottom six forward would have certainly attracted the attention of numerous clubs. Clutterbuck is one of those guys who makes life extremely difficult for the opposition – one of those players you hate to go up against, but would love to have on your team. Plus, let's not forget, Cal Clutterbuck is by far one of the coolest names in all of sports.
NHL Resume
Clutterbuck was selected in the 3rd round (72nd overall) back in 2006 from the OHL's Oshawa Generals. He was a productive player in junior piling up 68 points in 66 games with 139 penalty minutes during his draft year. In his last year of major junior (2006-07), Cal had 89 points in 65 games, including 153 penalty minutes.
Cal spent the majority of his first year in pro (2007-08) down with AHL Iowa (only appeared in two games with Minnesota). After a decent 24-point campaign with 97 penalty minutes, Clutterbuck made the jump to the NHL full-time in 2008-09. He appeared in 78 games his rookie season, posting 11 goals (18 points) with 76 penalty minutes.
He spent four more seasons with Minnesota and posted a career-best 19 goals (34 points) in 2010-11. As mentioned, Cal was eventually traded to the Islanders as part of the Nino Niederreiter deal back in the summer of 2013.
Although his production has slipped a bit with his new team (19pts in 2013-14, 16pts in 2014-15, and 23pts in 2015-16), much of that can be attributed to a limited 3rd/4th line role most of the time. It wasn't until this year that coach Jack Capuano began to tweak his lines in hopes of getting his guys back on track. Cal Clutterbuck was a major benefactor spending a bit of time alongside John Tavares. It might help explain why he has nine points in 25 games already in 2016-17.
Social Media Reaction
Islanders fans are rightfully upset about this one. Have a look at some of twitter's early gems.
The Islanders refuse to pay Okposo and Nielsen, yet give significant extensions to Clutterbuck and Cizikas. pic.twitter.com/VJEvsATAHL

— Dave S (@bmoredaves) December 9, 2016
I just tried to say "That's a pretty good price for Clutterbuck" with a straight face. It didn't work.

— Mike Necciai (@Michael29Angelo) December 9, 2016
Clutterbuck never was, and never will be 3.5M player. Imagine him after turning 32 and further… Baffling. #Islanders

— NHLExpert (@NHLexpertcom) December 9, 2016
Final Take
Don't get me wrong, I'm a big Cal Clutterbuck fan. But this is a classic example of the Islanders overpaying once again. Truth be told, it might not seem so bad if they hadn't just inked Casey Cizikas to a similar contract earlier in the year. Now, the NY Islanders have close to $7 million dollars annually committed to a pair of 4th line players.
You know who might like this contract? George McPhee and the Vegas Golden Knights. They don't exactly project to have much offensive talent to pick from. Imagine adding a personality such as Cal Clutterbuck to your locker room. It's perhaps the one team that could make good use of a $3.5 million dollar player, and best of all, he wouldn't be relegated to 4th line duties.
Of course, there's no guarantee he's left unprotected. Players that are closer to lock status include John Tavares, Anders Lee, Brock Nelson, Ryan Strome, and maybe even Andrew Ladd despite his sloppy start. That leaves two open spots up front for the likes of Josh Bailey, Casey Cizikas, Shane Prince, and Cal Clutterbuck (among others).
Following today's news, you've got to wonder if those extensions to Cizikas and Clutterbuck might help their chances of being protected in June.
This article originally appeared on