Nick Holden is not the problem for the New York Rangers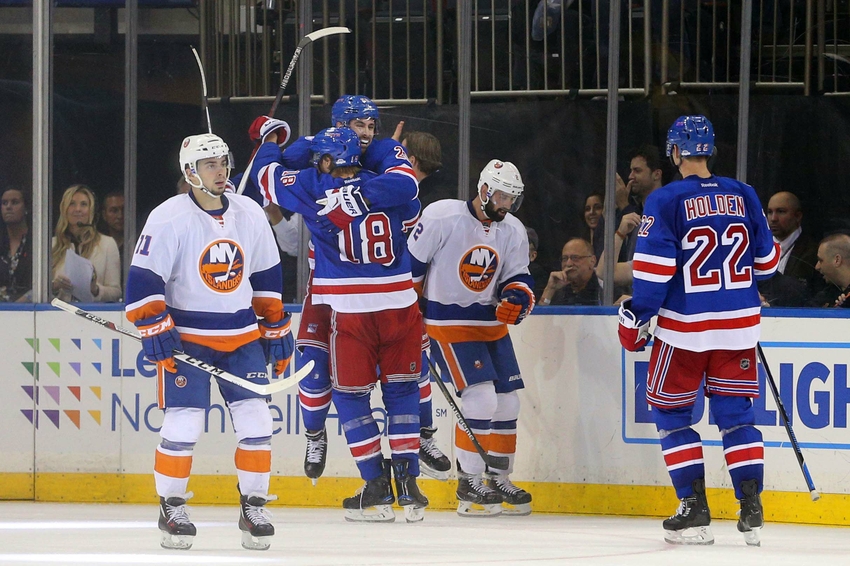 Despite a disastrous start to his New York Rangers career, Nick Holden has become a stable defenseman with additional time in Alain Vigneault's system.
Nick Holden Rangers career began with back to back 20+ minute, one assist games. The pair of contests encouraged out of context, but underlying numbers showed Holden was man-handled in the possession game.
As the season continued, the Rangers continued to win. Holden saw heavy ice time as possession wizard Adam Clendening sat, leading to anger from the Rangers faithful. Yet the animosity towards Holden spiraled out of control, to the point where his struggles faded but the criticism did not.
The argument here is not that Nick Holden is a tremendous defenseman. In fact, Nick Holden is not an above average defenseman. Nick Holden is a perfect fourth-sixth defenseman tasked with playing top minutes for a contending team.
Holden's possession numbers do not inspire confidence, as he owns a putrid 45.75 Corsi For percentage at even strength. In the context of his teammates, however, Holden ranks third in the category. Holden's 63.89 Goals For Percentage leads the Rangers defense, and his 11 points in 22 games have helped the offense keep progressing.
Holden has shined at keeping the puck out of the Rangers net and into the opponents nets despite his poor possession numbers. His ability to prevent scoring chances and aid the Rangers in their own has been impactful.
The newest Ranger owns a 51.94 Scoring Chances For Percentage, ranking second on the defense. Holden's percentage tops Dougie Hamilton, Victor Hedman, and Alex Pietrangelo, among others.
While Holden's turnovers have frustrated, he has grown to understand Alain Vigneault's system and cut out the mishaps. This has helped Holden keep the puck moving towards opponents nets.
Meanwhile, looking at the Game Scores shows Holden has not been a problem. You can find an explanation of game score here. Through November 21st, Holden tallied a 68% Positive Game Percentage, highest of the Rangers defense.
Despite being entrusted with a larger role in a new system, Holden's consistently put together "average" to "great" games. The consistency of avoiding sub-par performances is valuable on a mediocre Rangers defense.
Blaming Nick Holden for the Rangers inability to acquire a top defenseman is an unfit punishment. Scrutinizing Holden for failing to immediately fit in seamlessly is setting oneself up for disappointment each time a new acquisition takes the ice.
Nick Holden is an average defenseman succeeding in not preventing the Rangers from winning. Considering the Rangers defense, that's a feat worthy of praise.
More from Blue Line Station
This article originally appeared on